Housed in a 19th-century spinning mill, the Bradford Industrial Museum has exhibits that examine the city's industrial heritage including Industrial Revolution-era machinery.
The building was originally a textile mill employing around 100 people. The factory produced worsted wool that was used to make suits and First World War military uniforms. The factory was purchased by the city in 1970 and it was opened as a museum in 1974.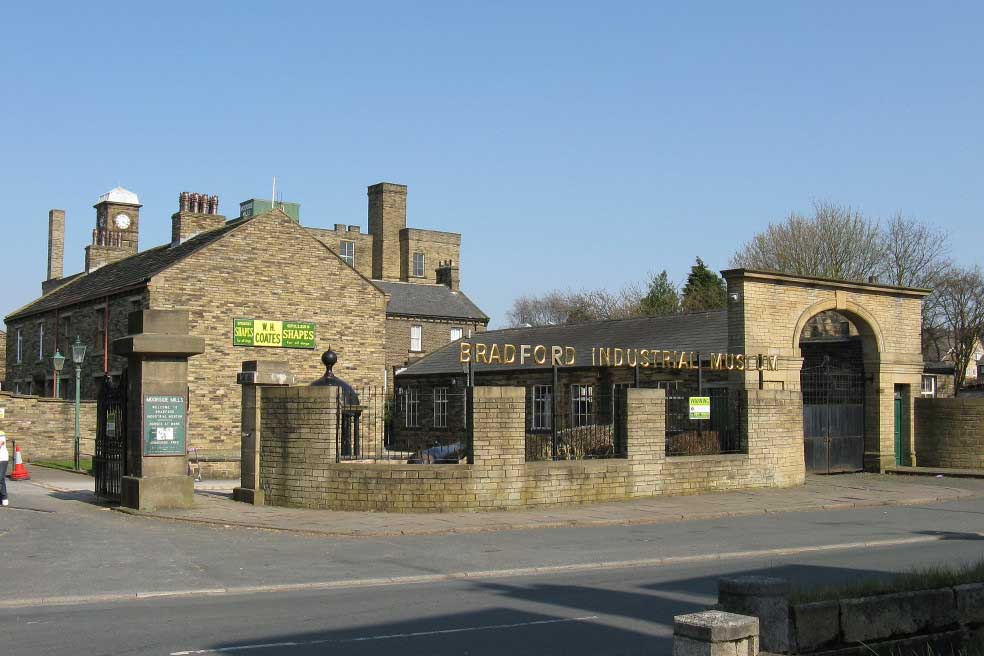 What to see at the Bradford Industrial Museum
The museum has exhibits on local industry with an emphasis on Industrial Revolution-era relics.
Ground floor galleries
The ground floor galleries include the Motive Power, transport and print galleries.
The Motive Power gallery features machinery used during the Industrial Revolution including waterwheels, steam engines, oil engines and gas engines. This gallery includes the Linton engine, a uniflow steam engine from Linton Mill, which was one of the last steam engines to be produced in Bradford. The Motive Power gallery also has a display chronicling the history of steam power.
A large portion of the museum's transport gallery is comprised of locally-produced vehicles including Jowett cars and commercial vehicles, Scott motorcycles and Baines bicycles. This gallery also includes Nellie, a Hudswell Clarke steam locomotive, a tram and a Bradford trolleybus.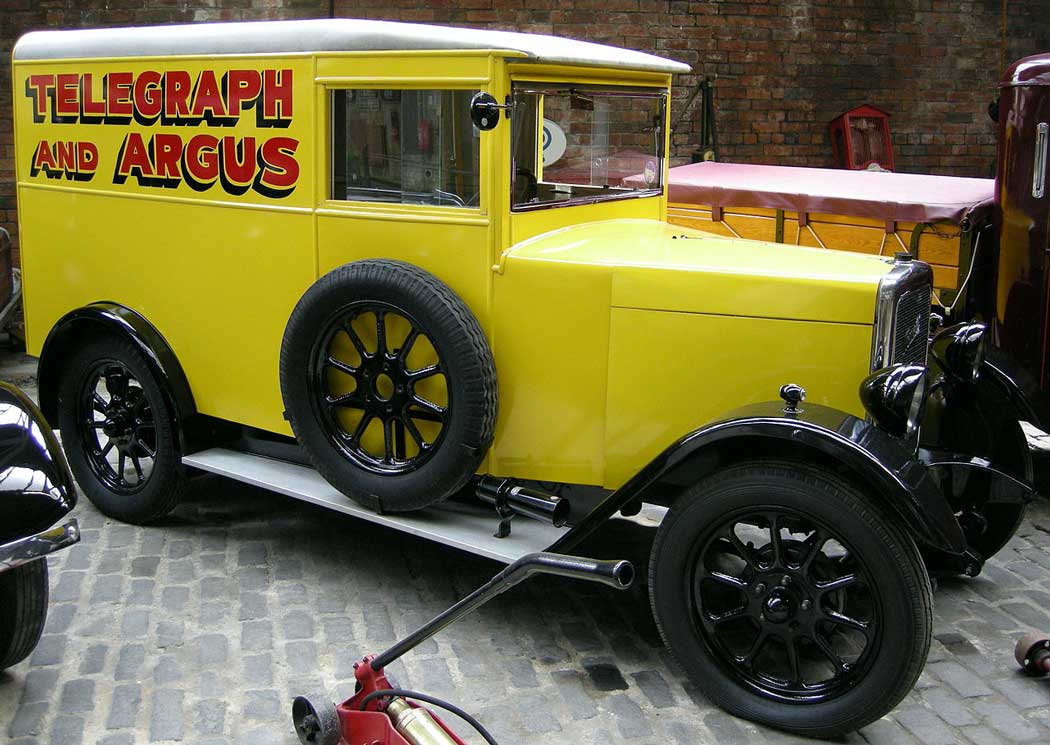 The
print gallery
includes typesetting and printing equipment from one of the last hot metal typesetting printshops used for newspaper production. This gallery includes a display of lead typesetting glyphs and a Wharfdale stop cylinder press.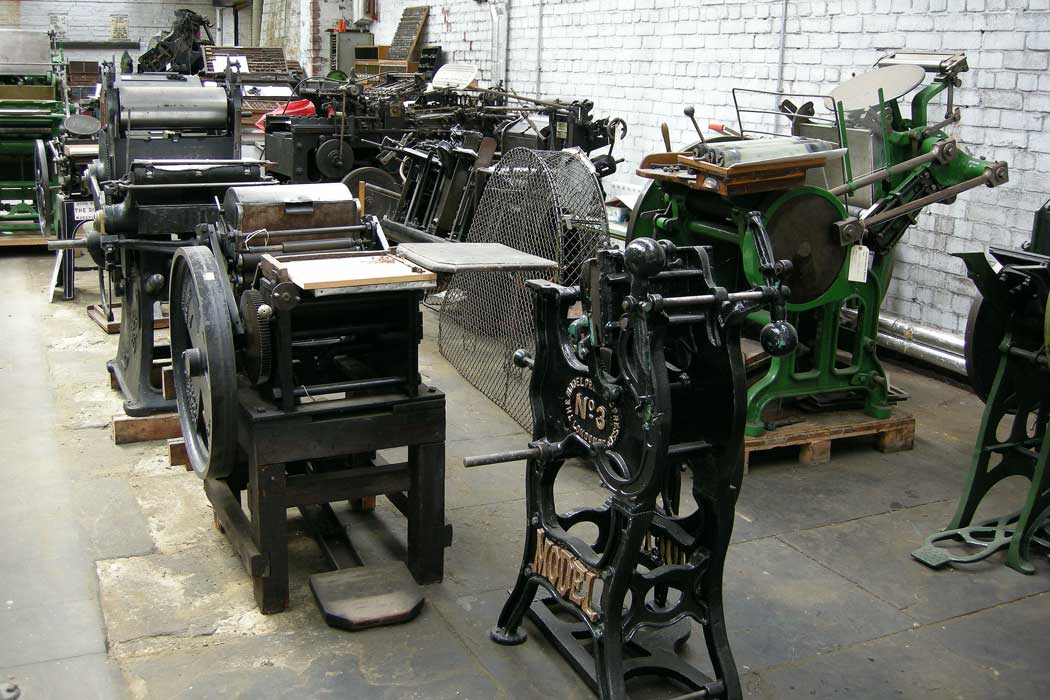 First-floor textile production galleries
The museum's first floor exhibits are devoted to textile production and include spinning and weaving galleries. During the Industrial Revolution Bradford was famous for its worsted wool and even today many of the world's top worsted wool producers are based in West Yorkshire, although they have since been surpassed by the worsted mills in Biela, Italy.
The spinning gallery is organised into separate sections for the different stages of the spinning process. This includes areas dedicated to the preparing process, combing, drawing and finishing and finally, spinning. Essentially, this gallery covers the process of turning freshly shorn wool into woollen thread ready to be woven into worsted fabric used for suiting.
This gallery contains several large machines used in the combing process including the French comb, the Lister comb and the Holden comb. There are also several large spinning machines including a 120-spindle flyer spinner, a 122-spindle flyer twister and a 24-spindle velox ring spinner.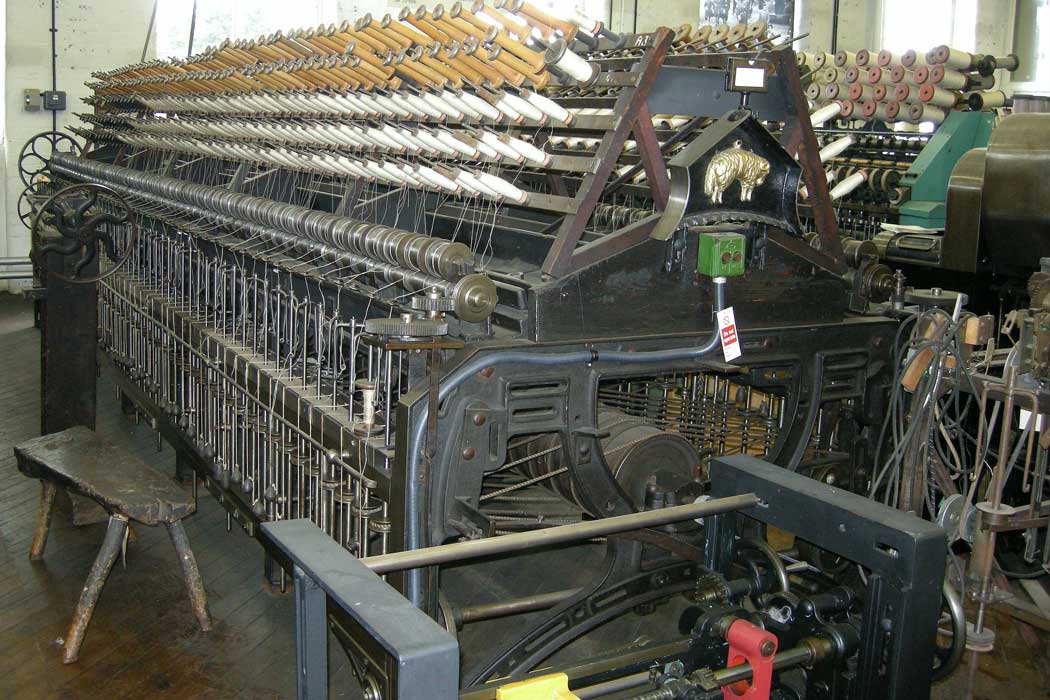 The
weaving gallery
focuses on the process of weaving the spun wool into worsted cloth to be used for suiting. It includes domestic looms such as the Hattersley domestic loom as well as power looms used in a more industrial setting including the Hattersley 6 x 1 revolving skip box, the Dobcross HK box loom and the Sowden worsted coating loom.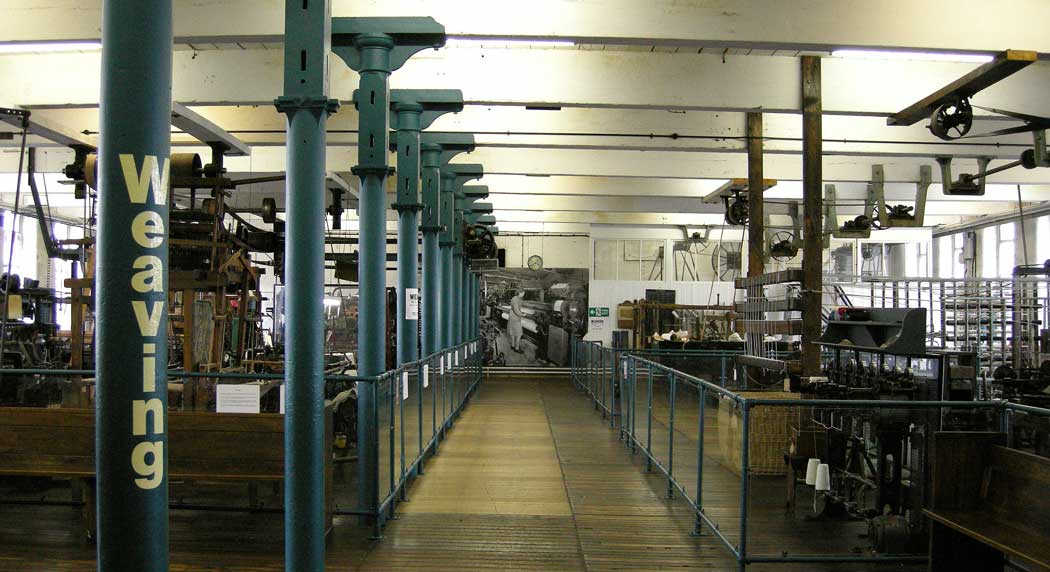 Outside exhibits
Outside exhibits include the house where the mill's original owner lived until 1887, which has been restored to show how it would have looked in the 19th century.
There is also a display about horse power in the mill's former canteen. This includes a blacksmith's workshop and farriery display. The former stables are home to a display of horse-drawn vehicles including a horse-drawn bus, a horse-drawn carriage and a horse-drawn steam-powered fire engine.
The smaller galleries and outside houses are currently closed due to coronavirus-related restrictions.
Temporary exhibitions at the Bradford Industrial Museum
In addition to its permanent exhibits, the museum also hosts a programme of temporary exhibitions. These exhibits include:
Up and Away: Rural landscapes in CH Wood's photography
This exhibition (running until 1 November 2020) showcases aerial photographs of the Yorkshire countryside taken by Bradford photographer CH Wood.
Educating Bradford
The Educating Bradford exhibition (running until 8 November 2020) chronicles 150 years of education in Bradford from 1870 to the present day. It shows how teaching methods have evolved over time and it charts the development of adult learning.
Industrialised Heart – Razwan Ul-Haq
The Industrialised Heart exhibition (running until 31 December 2020) is an art exhibition that depicts Bradford's Pakistani population, many of whom are descendants of Pakistani workers who came to Bradford during the 19th and 20th centuries to fill the demand for labour in West Yorkshire factories.
Visiting the Bradford Industrial Museum
The Bradford Industrial Museum is located around 3.2km (2 miles northeast of the city centre). Bus route 660 from Bradford Interchange stops right outside the museum; however, route 645 (which stops on Harrogate Road) and the A2 Flyer (which stops on Pullan Avenue) also go into the town centre and these may be a good option if you have just missed bus 660.
Admission is free of charge and the museum is closed on Mondays.
The museum is wheelchair accessible and there are provisions to assist visually impaired visitors.
Free on-site car parking is available.
There is quite a lot to see here and anyone with an interest in old machinery or the Industrial Revolution can keep themselves busy for 3–4 hours.