IWM North (also known as Imperial War Museum North) is Manchester's branch of the Imperial War Museum. The museum is housed in a striking building, designed by Daniel Libeskind, on the Manchester Ship Canal in Trafford Park directly opposite Salford Quays and MediaCityUK.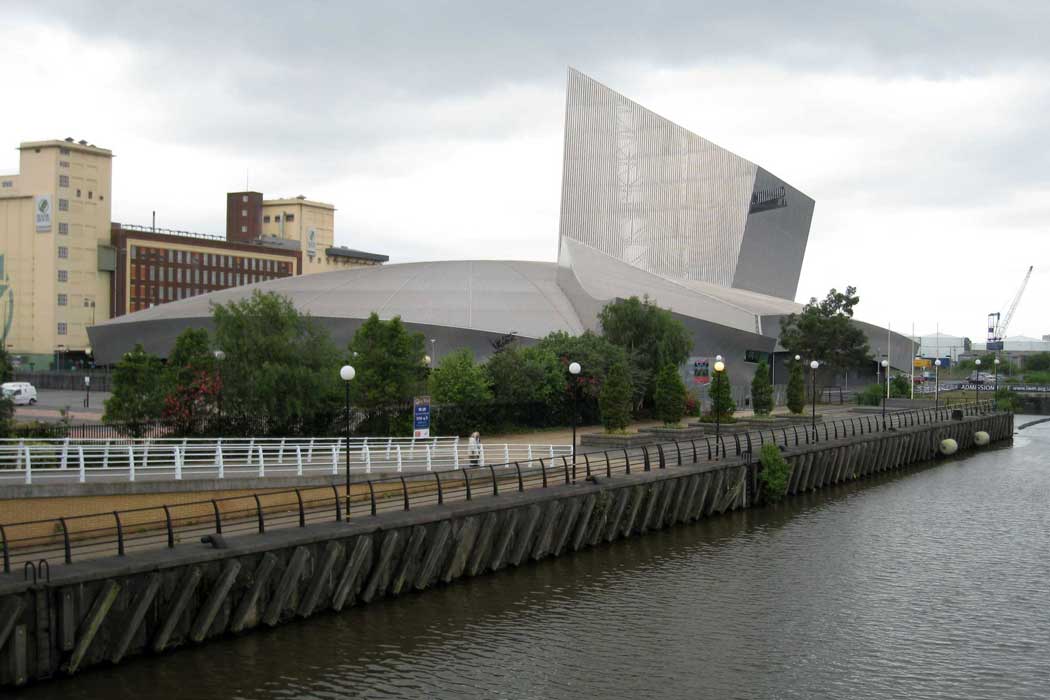 What to see at IWM North
The museum's galleries feature exhibits focusing on how war changes people's lives and its permanent displays include a timeline of conflict in the 20th and 21st centuries. These displays are complemented by audio-visual presentations and a programme of temporary exhibitions.
The main exhibition space has permanent displays showing armed conflicts that Britain and the Commonwealth have been involved in from the First World War until the present day. These displays are made up of artefacts including weapons, aircraft and tanks along with personal stories from people involved in and impacted by war.
Each hour the 10-minute Big Picture Show features a 360º cinematic display highlighting a specific aspect of war.
The Reactions gallery features a programme of art exhibits that focus on the topic of war.
The confusing route through the museum is supposed to feel a little disorienting as it is designed to highlight the unsettling nature of war.
The museum also hosts a programme of temporary exhibitions.
Visiting IWM North
IWM North is in Trafford Park close to MediaCityUK, Salford Quays and Old Trafford football stadium. The Lowry museum is only a five-minute walk from here and Old Trafford football stadium is around a 15-minute walk.
The easiest way to get here is by tram to the Imperial War Museum stop, although you can also take a tram to MediaCityUK and then walk five minutes across the Manchester Ship Canal.
Admission to IWM North is free of charge.
The museum is fully wheelchair-accessible, although the floor of the main exhibition space is on a slight incline that may pose issues for some wheelchair users.
There is a cafe on the ground floor that has a menu of light meals influenced by traditional food from the north-west of England.
It is an excellent museum and many people spend several hours here.