Swindon's Magic Roundabout is a complex roundabout 1.2km (¾ mile) east of the town centre that consists of five mini-roundabouts surrounding a larger roundabout where traffic runs in the opposite direction.
It could be argued that it is not a real roundabout because it has stop lines, which means that circling traffic in the larger circle doesn't have the right of way like in a regular roundabout.
The roundabout is named after the children's television series from the late 1960s/early 1970s.
There are also magic roundabouts in Colchester, Hemel Hempsted and High Wycombe as well as one behind Hatton Cross tube station near Heathrow Airport, but Swindon's is the most famous of these roundabouts.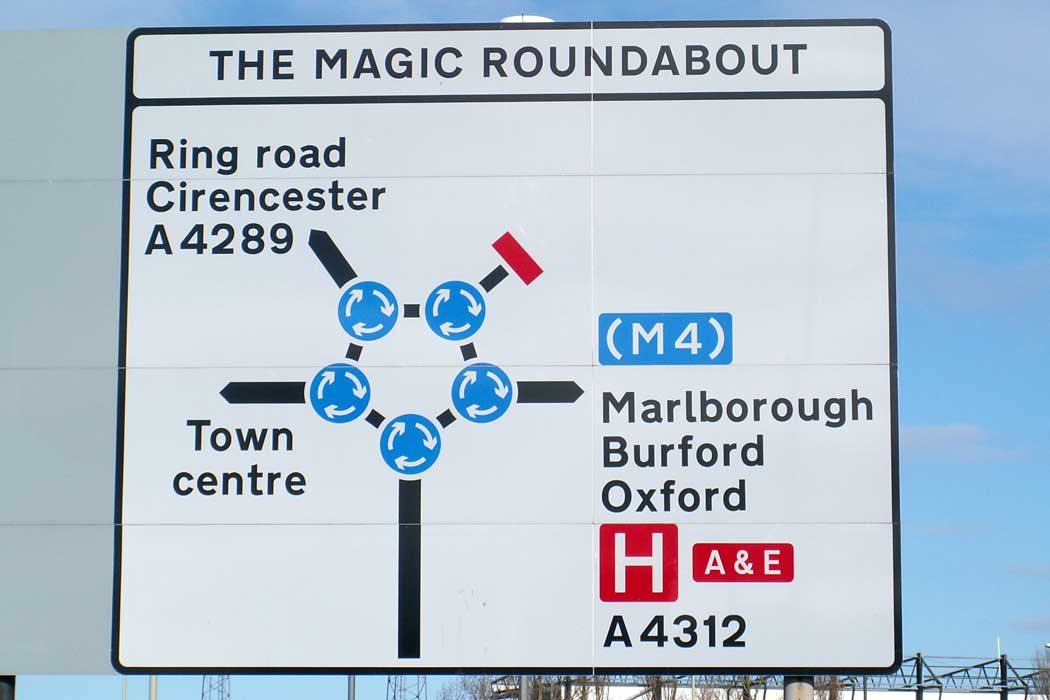 Driving on the Magic Roundabout
Like any other roundabout in the UK, you simply give way to your right and point your car in the direction you want to go, although the larger roundabout in the centre is somewhat different as it flows anticlockwise and has stop lines like a very small ring road.
Although daunting for drivers tackling it for the first time, it is a surprisingly efficient intersection as it gives drivers multiple ways to get to their destination as the quickest route may vary depending on the traffic flow.
It is less stressful if you think of it more like a mini-ring road with a small roundabout at each junction.
Taking a bus on the Magic Roundabout
If you don't have a car or if you prefer to have someone else do the driving, you can take a bus through the roundabout.
Several local bus routes in Swindon go through the roundabout including routes 1, 1A, 2, 5, 13, 13A, 14, 14A, 19B, 23, 46, 46A, 47, 48, 48A, 53, 80, 81, 159, 680, S6 Gold, X5, X46 and X48.