Tate Britain is the original Tate Gallery, which opened in 1897 on the site of the former Millbank Prison and it features an extensive collection of British art spanning from the 1500s to the present day.
What to see at Tate Britain
The art gallery houses a collection of British art dating from Tudor times to the present day. It is particularly noted for its large collection of works of Joseph Mallord William Turner, who bequeathed his personal collection to the gallery.
The gallery is organised chronologically with more prominent artists having a room to themselves and some artists have multiple rooms, such as Turner who has eight rooms in the Clore Gallery.
Most galleries are located on the main floor (ground level if you enter by the Millbank entrance). This includes rooms organised by era starting in 1540 and working up to the present day as well as rooms highlighting specific artists including Henry Moore, Bernard Cohen, Antony Gormley, Craigie Horsfield, Elizabeth Price and John Constable plus the Turner collections in the Clore Gallery.
The upper floor has two rooms dedicated to William Blake.
Highlights of the gallery include The Cholmondeley Ladies (circa 1600–1610); Giovanna Baccelli (1782) by Thomas Gainsborough; Millais Ophelia (1851–1852 by Sir John Everett; Carnation, Lily, Lily, Rose (1885–1886) by John Singer Sargent; Three Studies for Figures at the Base of a Crucifixion (circa 1946) by Francis Bacon; No Woman, No Cry (1998) by Chris Ofili; Ghost of a Flea (1819–1820 by William Blake; The Opening of Waterloo Bridge (1832) by John Constable and Peace, Burial at Sea (1842), the Decline and Fall of the Carthaginian Empire (1817) and self portrait (1799) by JMW Turner.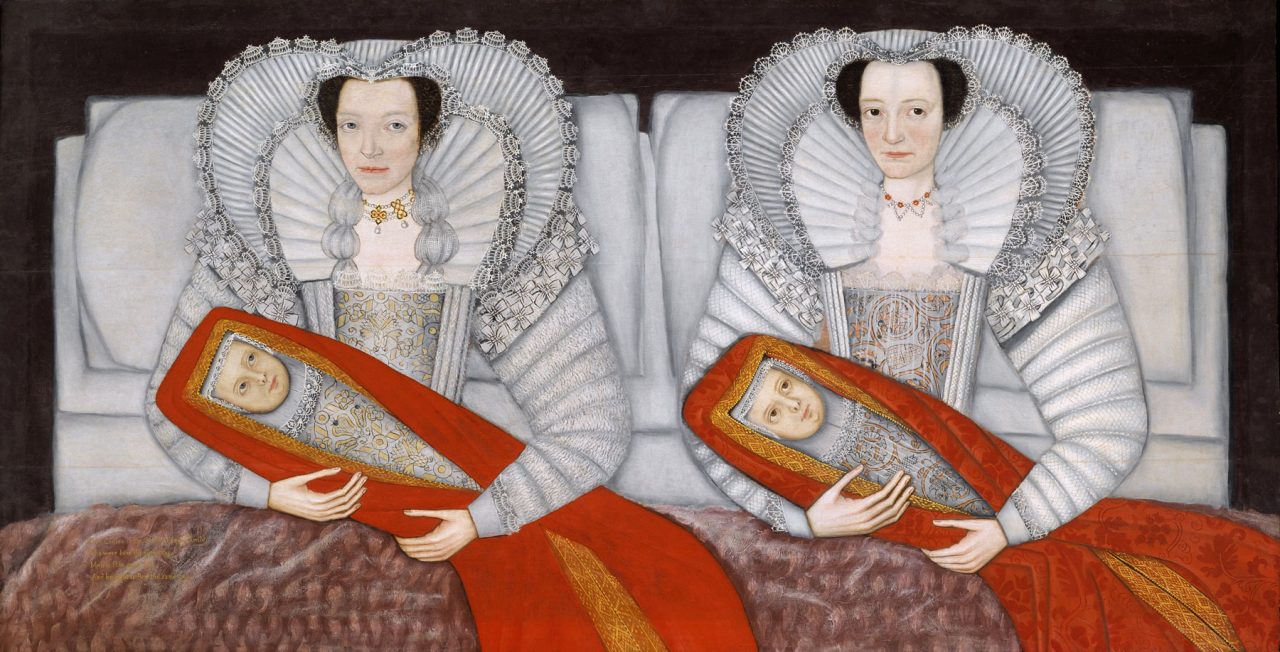 Tate Britain also hosts a programme of temporary exhibitions. Temporary exhibitions include:
All Too Human: Bacon, Freud and a Century of Painting Life
The All Too Human exhibition (running until 27 August 2018) focuses on painters in Britain (both British painters and painters from abroad who have lived in Britain) whose art represents the human form. The exhibition includes works by 20 artists including Lucian Freud, Francis Bacon, Frank Auerbach, Paula Rego, Walter Sickert and David Bomberg. £19.50, advance booking £17; disabled, students and seniors aged over 60 £18.50, advance booking £16; National Art Pass £8.50.
Aftermath Art in the Wake of World War One
The Aftermath exhibition (running 5 June–23 September 2018) looks at the impact on British, French and German art in the aftermath of the First World War. £18.
Anthea Hamilton Tate Britain Commission 2018
This is a performance art piece (running until 7 October 2018) that features a solo performer in a costume in the Duveen Galleries. Free.
Edward Burne-Jones
This exhibition, running 24 October 2018–24 February 2019, is centred on the work of Edward Burne-Jones, a prominent artist from the late 19th century who is considered the last of the Pre-Raphaelites and a pioneer of the symbolist movement. The exhibition has 150 works in different media including painting, stained glass and tapestry showcasing 40 years of Burne-Jones' career. £19.50.
The EY Exhibition Van Gogh and Britain
This exhibition (running 27 March–11 August 2019) comprises the largest exhibition of Van Gogh paintings in a decade and includes many of his most famous works including Shoes, Starry Night on the Rhône, Sunflowers, L'Arlésienne, At Eternity's Gate and Prisoners Exercising. The exhibition also includes paintings by Constable and Millais which influenced Van Gogh's work during the period that he lived in England. There is also a section of the exhibition with paintings by British artists that were influenced by Van Gogh. £19.
Visiting Tate Britain
Tate Britain is located on Millbank on the River Thames across from Vauxhall. The closest tube stations are Pimlico and Vauxhall (both within a 10-minute walk) and Vauxhall and Victoria railway stations are also within walking distance.
It is around a 15-minute walk from the cluster of attractions around Westminster including Westminster Abbey, Jewel Tower, Churchill War Rooms, the Houses of Parliament and Elizabeth Tower (Big Ben).
There is a programme of free guided tours. These include tours focusing on various topics including the growth of British art, people and places of the 19th century and the paintings of JMW Turner.
The Djanogly Café and Rex Whistler Restaurant are located on the lower floor (ground level if you enter via the Manton entrance). The Djanogly Café is the more casual of the two with a nice selection of cakes, pastries, salads, pies and quiches and coffee that is roasted on site whilst the Rex Whistler Restaurant, which features Rex Whistler's mural The Expedition in Pursuit of Rare Meats, is much fancier with table service and an extensive wine list.
Most visitors spend 1–2 hours exploring Tate Britain.