Bratton Camp is a 2000-year-old Iron Age hill fortress not far from Westbury, however, it is best known for the Westbury White Horse.
Bratton Camp, also known as Bratton Castle, is an Iron Age hill fortress measuring 9.3ha (23 acres) that comprises two series of ditch and bank. There are also three nearby barrows that predate the fort by around a thousand years.
The Westbury White Horse is one of 13 chalk figures in Wiltshire (there are 24 of them throughout Britain). The iconic chalk horse is 55m (180 ft) tall and 52m (170 ft) wide and historians believe that it was cut into the hillside to commemorate the Battle of Ethandun, which is thought to have taken place here in AD 878. Some people believe it was cut into the hillside in the late 1600s, however, there is evidence that indicates that the horse was not cut into the hillside until 1742.
On warm days, the white horse is a popular location for paragliders
In the first half of the 20th century the white horse was depicted in several watercolour paintings by Eric Ravilious and it has featured in the Michael Ondaatje novel The English Patient (1992) as well as in the music video for Midge Ure's single Breathe (1996).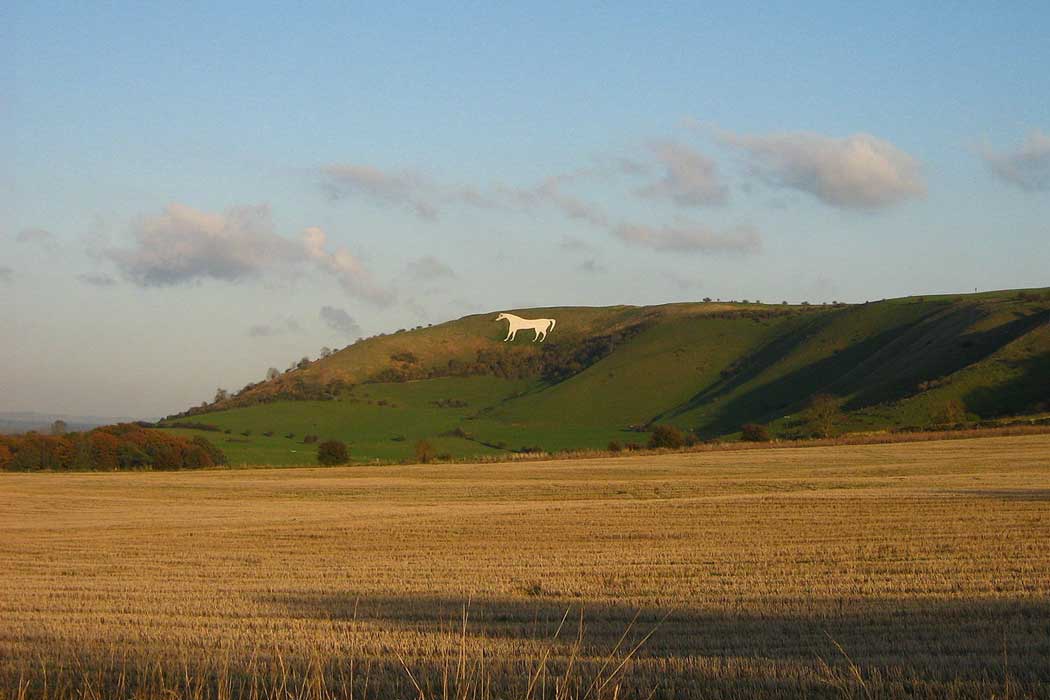 Visiting Bratton Camp and the Westbury White Horse
Bratton Camp and the Westbury White Horse are located around 9.25km (5¾ miles) north of Warminster and 3.2km (2 miles) east of Westbury.
Although you can get a bus to the nearby village of Bratton, it is relatively difficult to visit the Westbury White Horse by public transport and most people who visit are touring by car. If you're visiting by public transport you first need to take a bus or a train to Westbury and then take bus route 87 to Bratton. Once you get to Bratton, it is a 1.6km (1 mile) walk that should take around 20 minutes. In contrast, the white horse is around a 15-minute drive from Warminster.
The white horse is visible from up to 26km (16 miles) away, although it is best seen from the Westbury White Horse Viewing Area, which is essentially a small car park on Bratton Road (the B3098) that has several information boards about the site. This car park is less than a 20-minute walk from Westbury's town centre, although it is more than a half-hour walk from the railway station.
Visitors to the site also use the car park at the top of the hill above the horse. This is farther from Westbury (a 45-minute walk from the town centre and a one-hour walk from the railway station). This is a larger car park, also with information boards, with a walking trail that you can follow to get to the top of the hill where you can look down on the white horse.
The two car parks are located 3.2km (2 miles) apart so you need to allow six minutes to drive between the two (40 minutes if you're walking) if you want to see the white horse from both angles. Both car parks are free of charge.
Its location in the countryside means that there is not anywhere to eat and drink nearby, however, an ice cream van is often parked at one of the car parks during summer.