Carfax Tower, officially St Martin's Tower, in the centre of Oxford is all that remains of the 12th-century Church of St Martin, which was demolished in 1820 after it was discovered that the building was unstable. It was replaced by another church but this was also demolished, this time in 1896 so that nearby roads could be widened to allow space for more traffic in the area.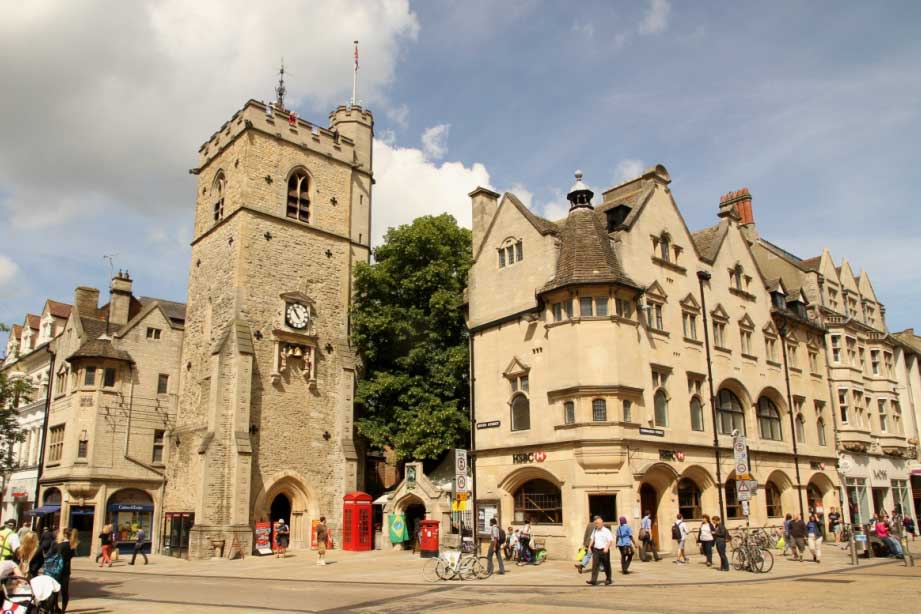 The tower is located at the corner of High Street and St Aldate's and its location is recognised by the University of Oxford as the most central point in the city. The name Carfax, derives from the French "carrefour" and the Latin "quadrifurcus", meaning "crossroads".
The church was the official church of the City of Oxford and the mayor and all councillors were expected to attend church services here.
The 23m- (74 ft)-tall tower offers great views over Oxford reward those who climb the 99 steps in the tower's spiral staircase. Even though it is not particularly tall, legislation preventing any other building in central Oxford from being taller than Carfax Tower means that views from the tower are largely unobstructed with views extending to the countryside surrounding Oxford.