The Hastings Museum and Art Gallery has a range of exhibits that include a natural history section with fossils of dinosaurs and prehistoric crocodiles, Native American galleries and exhibits on local personalities John Logie Baird and Robert Tressell.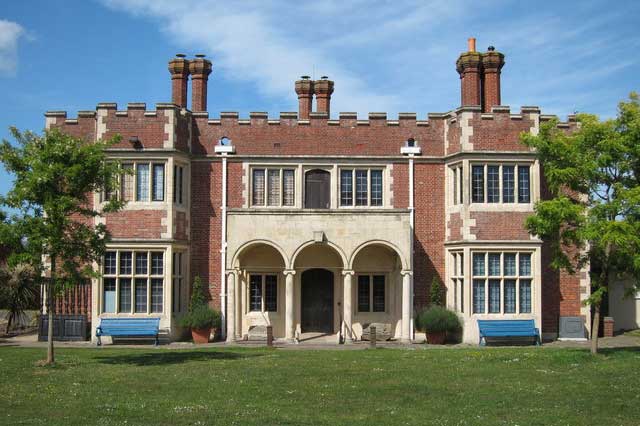 What to see at the Hastings Museum and Art Gallery
The 120-year-old museum has almost 100,000 objects in its collection and, unusually for a small regional museum, its collection includes artefacts from around the world including exhibits of Asian and native North American culture.
The dinosaur displays include fossils found mostly in the local area including those of the Iguanodon, which lived in the Lower Cretaceous period (125–110 million years ago)
The museum's archaeological collection has 10,000 items including 2500 flints. Although most of the collection comes from Hastings and the surrounding area, there are also items from around the world including South Africa, South America and Japan.
Although its exhibits are international in scope, two-thirds of the museum's collection relates to local history. These include displays about the region's history of brewing and smuggling and also includes several figureheads from local ships. There is also a display on how the region's tourism industry developed and there is a display about borough engineer Sidney Little who transformed Hastings with promenades and seafront buildings. Other people associated with Hastings who are featured in the museum's exhibits include Robert Tressell and the inventor of the television, John Logie Baird.
The museum is noted for its excellent collection of exhibits relating to the Indian subcontinent, which consists of artefacts collected in the 19th century by the Brassey family. Other items from the Brassey family's collection includes a 19th-century offering vessel from Myanmar, a Hawaiian feather cloak and artefacts from Papua New Guinea.
For a small regional museum in the south of England, it has a surprisingly good collection of native North American artefacts representing the Inuit, Iroquois and Sioux cultures.
The museum has an exhibit about Grey Owl, the Hastings-born Canadian conservationist and an exhibit about the Hastings Rarities Fraud, a controversy that rocked the bird-watching world in the early 1960s.
The museum also has a small art collection featuring both fine and decorative arts.
Visiting the Hastings Museum and Art Gallery
The Hastings Museum and Art Gallery is located off Bohemia Road, around a 10-minute walk north of Hastings Pier. It is around a 10-minute walk from the railway station and the town centre.
The museum is open year-round with slightly longer opening hours in the summer months. Entry is free of charge.
Because it is only a small museum, there is no on-site cafe although there are plenty of places to eat and drink nearby.
It is relatively child-friendly for a small regional museum and there is a spot upstairs where children can dress up as dinosaurs.
Allow up to two hours for your visit.