Hastings Castle dates from William the Conqueror's coronation but less than half the original structure remains. It has a rich history that is closely linked with the Battle of Hastings.
Hastings Castle is one of the first three castles ordered to be built by William the Conqueror (the other two were in Dover and Pevensey). It is a traditional Norman motte and bailey castle and in 1070 (just a few years after the Battle of Hastings) William ordered the castle to be rebuilt in stone.
The castle played an important role during the early years of the Norman Conquest and its construction is depicted in the Bayeux Tapestry.
The castle has not aged well in comparison to other Norman castles built around the same time. Violent storms destroyed parts of the castle in 1287, erosion in the 14th century saw more of the castle fall into the sea and from the 16th century onwards the castle sat on farmland and became so buried in the undergrowth that it was virtually forgotten.
In 1951 the castle was purchased by the town and has been restored and is now open to visitors.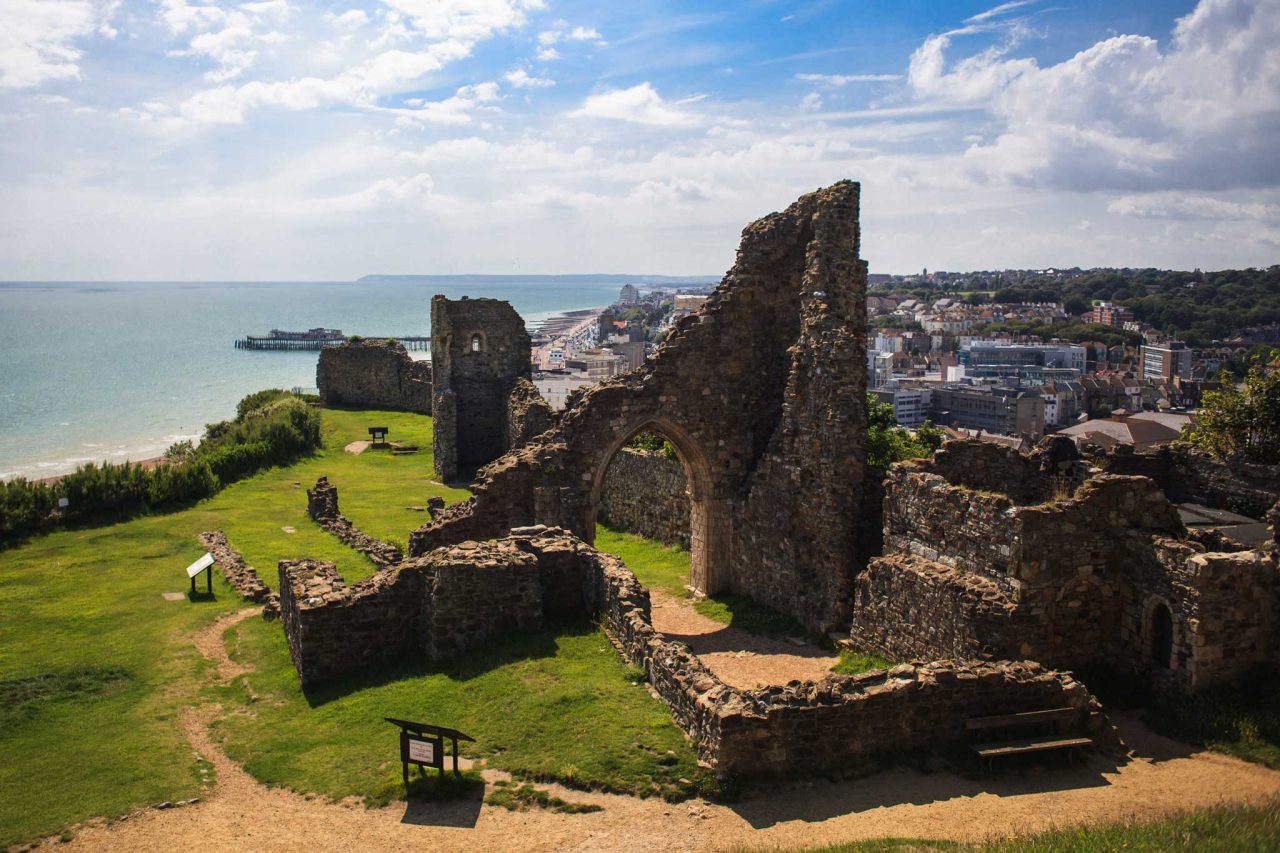 What to see at Hastings Castle
The castle is a ruin, which means that there is not as much to see here compared with other English castles. However, a visit to Hastings Castle offers lovely views of the town and visitors also get to see the 1066 Story, a 20-minute audio-visual presentation that provides an insight into the castle's interesting and turbulent history.
Visiting Hastings Castle and the 1066 Story
Hastings Castle is high on a high between the town centre and the old town. You can reach it via a relatively steep walk up from Castle Hill Road or by taking the West Hill Cliff Railway (a funicular lift) up the hill and then following a short footpath. The funicular departs from George Street and costs £4.20 for the return trip.
The castle is open to visitors between February and October.
Some people find the admission charge a little steep, considering that the castle is in ruins and there isn't much to see. However, there is a better value combo package available that also includes entry to Hastings Aquarium and Smugglers Adventure. The ticket office does not accept credit cards so make sure you bring some cash with you.
There is not a lot to see at Hastings Castle and one hour should be enough time for a visit.