This football-themed hotel next to Manchester United's Old Trafford ground was opened in 2015 and is the first in what is planned to be a chain of football-themed hotels. Hotel Football is owned by former Manchester United players including Ryan Giggs and Gary Neville.
The four-star hotel has 133 comfortable rooms, which are divided into the standard King rooms, the larger Stadium View rooms, family-size Squad rooms and the Class of 92 rooms where the football theme is dialled up a notch. All rooms feature Hypnos beds, a television (with the full Sky Sports package), ironing facilities, tea and coffee making facilities and an en suite bathroom with a walk-in shower (the Stadium View rooms have bathtubs). There is a great view of the stadium from the hotel's higher floors. All guests have free Wi-Fi wireless internet access.
There are wheelchair-accessible rooms on each floor.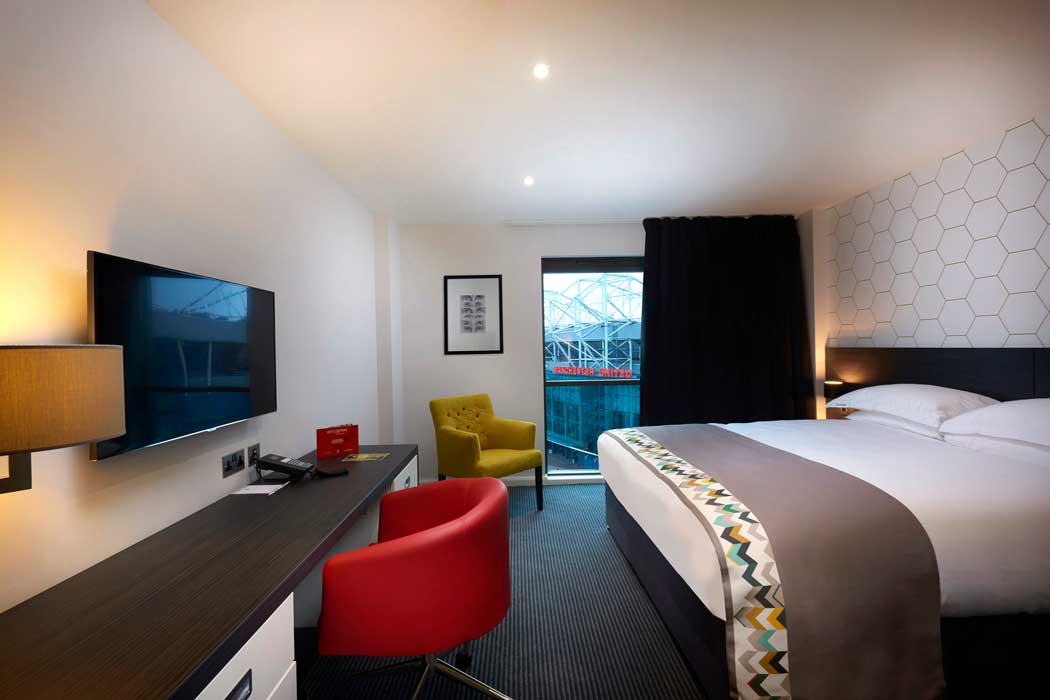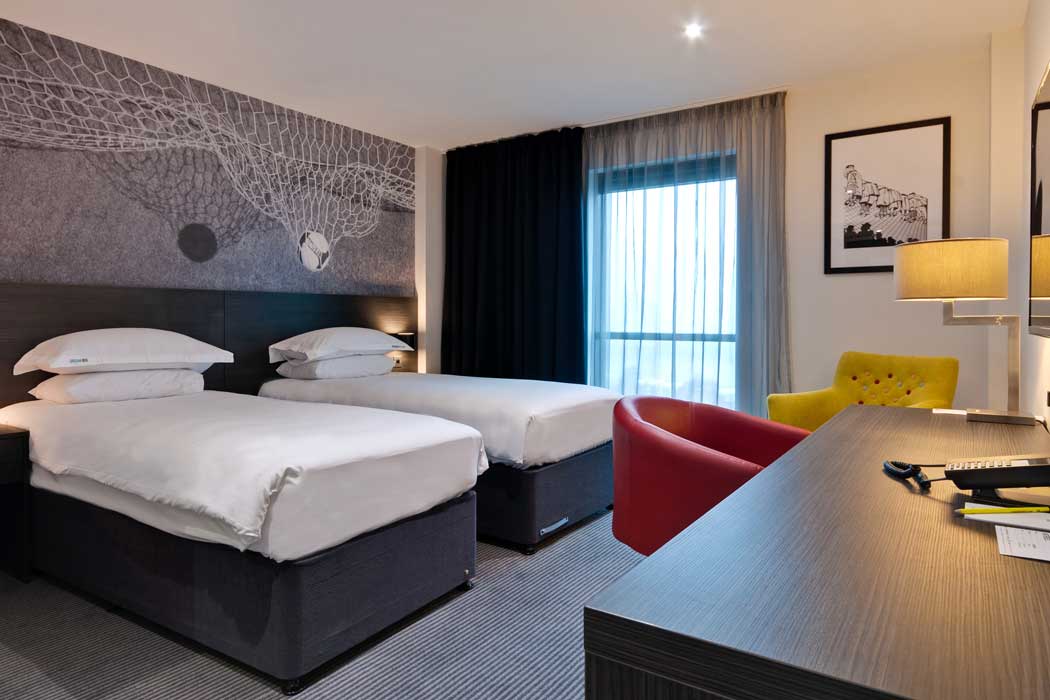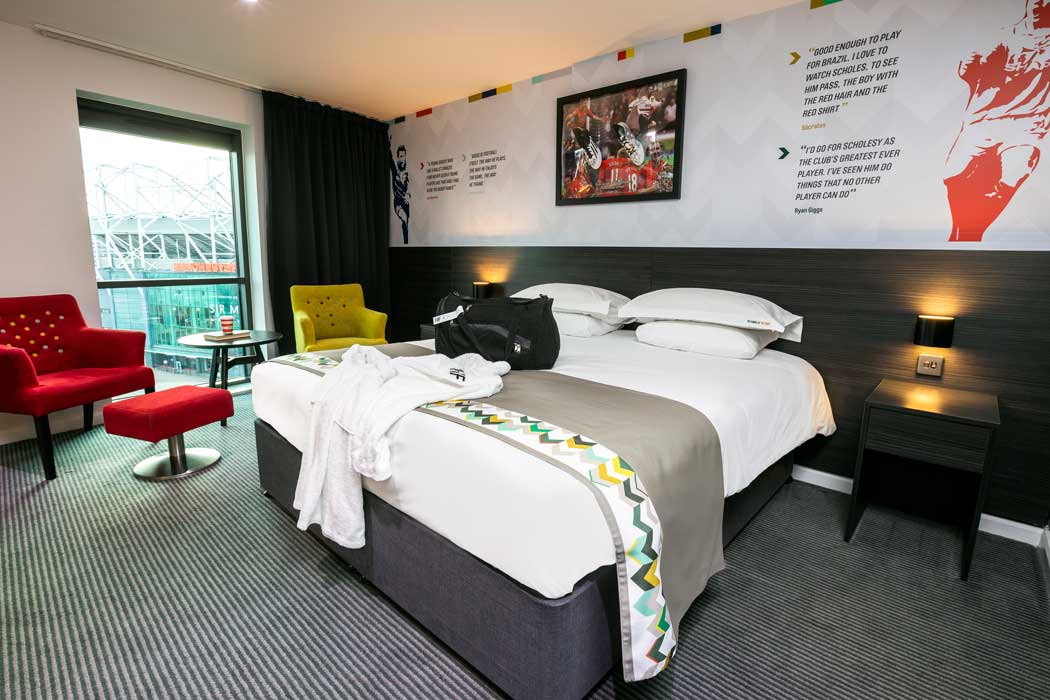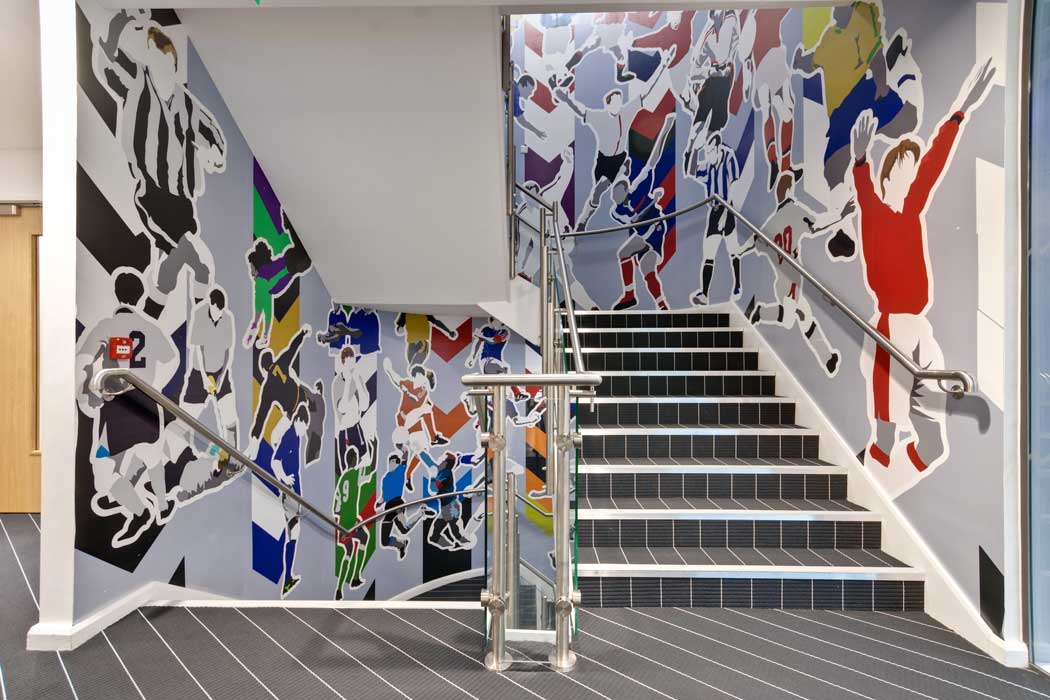 The hotel has a restaurant called Cafe Football and a basement bar called the Old Trafford Supporters Club. In keeping with the football theme, there is a five-a-side football pitch on the roof.
Cafe Football is the 185-seat restaurant on the ground floor. The food is surprisingly good considering that the menu is comprised mostly of comfort food served in a relatively casual setting although credit should be given to two-Michelin-star chef Michael Wignall.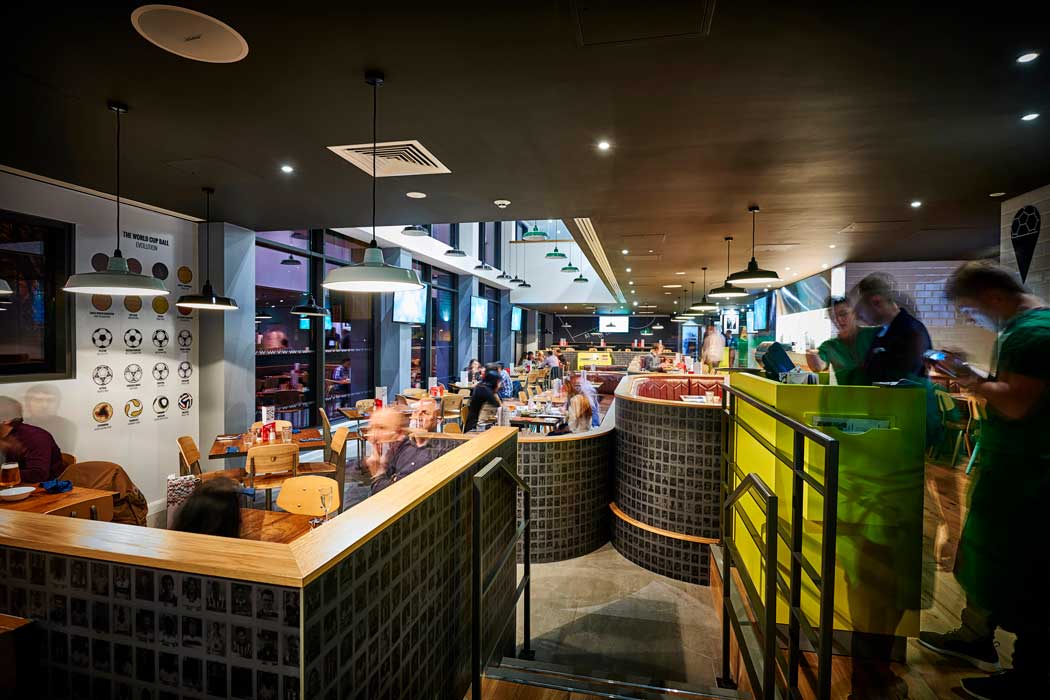 The Old Trafford Supporters Club is a huge (750-capacity) basement bar with pool tables, TV screens and football-themed food. Entrance to the basement bar is normally £1 (with proceeds going towards community projects), although only home supporters with a match ticket are allowed in on match days. It's a rowdy place and certainly a lot different to your average four-star hotel bar.
The hotel's rooftop event space is known as Heaven and it includes a five-a-side football pitch that is transformed into a bar with a barbecue-based menu on match days.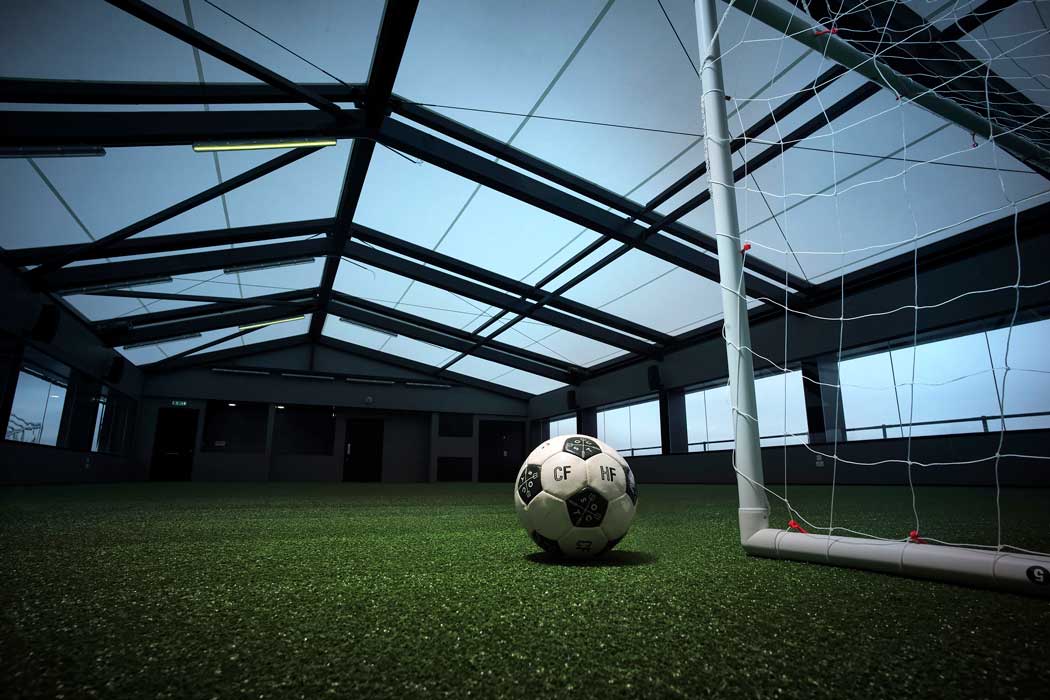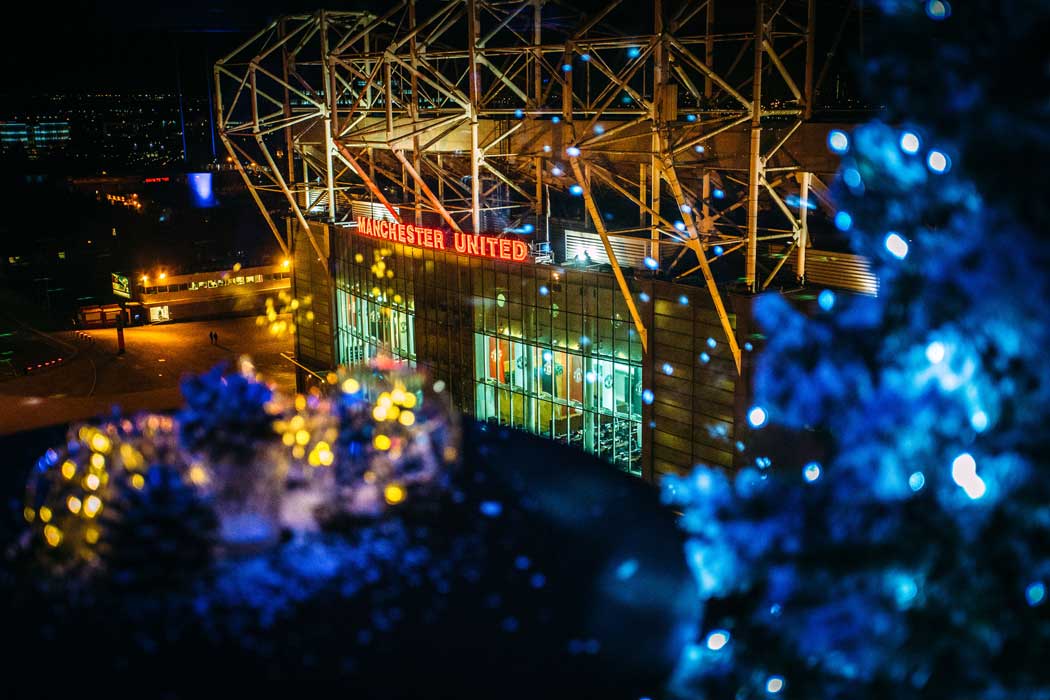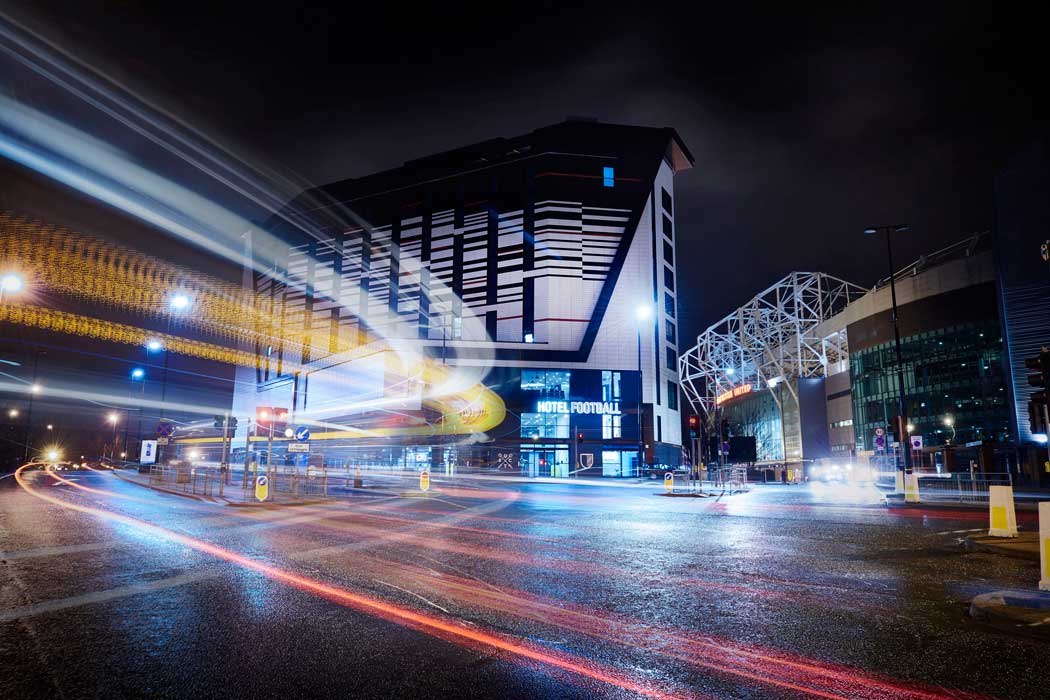 Hotel Football is right across the Bridgewater Canal from Old Trafford stadium, a 10-minute walk from the Old Trafford cricket ground and close to Salford Quays and the MediaCity complex. It is a four-minute walk from the Wharfside tram stop and less than a 15-minute walk to the Old Trafford, Pomona and Exchange Quay Metrolink tram stops.
The hotel is geared toward Manchester United fans although all football fans will appreciate the effort that has been put into the hotel. However, you may want to give this hotel a miss if you're the sort of person who simply will never understand the offside rule.
Check prices and availability for Hotel Football
Check prices and availability on Expedia for Hotel Football in Manchester.
We may earn a small commission if you book your hotel after clicking this link.