Leeds Bradford Airport (LBA) is in Yeadon, which is 11km (7 miles) northwest of Leeds and 14km (9 miles) northeast of Bradford. It is the principal airport in Yorkshire and the UK's 15th-busiest airport.
Jet2 is based at Leeds Bradford Airport and Ryanair also operates flights from here. Both budget airlines fly primarily to holiday destinations. Aer Lingus fly to Belfast and Dublin and KLM flies to Amsterdam.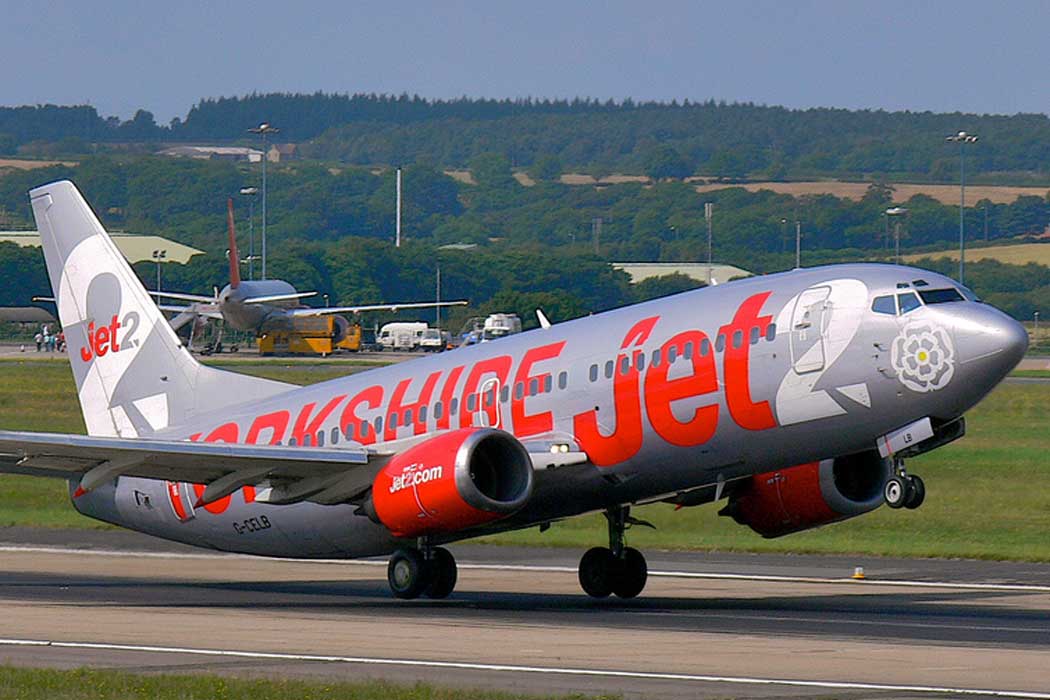 Facilities at Leeds Bradford Airport
The airport has quite good facilities for a small airport that is served mostly by low-cost airlines. There are several bars, cafes and restaurants as well as shops including Boots, WHSmith and a duty-free shop.
Free Wi-Fi wireless internet access is available throughout the terminal building.
Business lounges at Leeds Bradford Airport
The airport has three lounges, which is quite good for a relatively small airport. All three lounges offer complimentary food and drinks and anyone can access them as long as they pay the entrance fee.
The Yorkshire Lounge is the largest and it has the most basic facilities while the other two lounges are nicer and offer better views of the runway. Generally, the Yorkshire Lounge is aimed at leisure travellers, the White Rose Lounge is a little nicer and is aimed at business travellers and the Aero Lounge (formerly known as the 1432 Runway Club) is a more premium experience with table service and a higher standard of food and drink.
The general consensus is that if you have a few hours to kill (the maximum lounge stay is three hours) and you have a credit card (or business class ticket) that gives you free access to either the Yorkshire Lounge or White Rose Lounge, then it is worth paying the extra to upgrade to the Aero Lounge.
Business-class passengers flying Aer Lingus have complimentary access to the Yorkshire Lounge and KLM business class passengers have access to the White Rose Lounge. The White Rose Lounge was also used by British Airways when they flew into LBA and it is likely that they will continue this when they restart their LBA–LHR route.
Getting to and from Leeds Bradford Airport
Leeds Bradford Airport is connected to by bus to Bradford, Harrogate and Leeds.
There are three Flyer bus routes. Route A1 runs every 20 minutes between the airport and Leeds, route A2 runs once an hour to Bradford and Harrogate and A3 buses run hourly to Bradford and Shipley.
The one-way fare between Bradford or Leeds and the airport is £4 (£9 for a group) and the one-way fare to Harrogate is £5.40 (£9 for a group). Return fares for trips of up to 28 days are £6 (£15 for a group) for travel between the airport and either Bradford or Leeds and £8.90 (£15 for a group) for travel between Harrogate and the airport. Group tickets are good for up to five people travelling together.
Another option is the Keighley Bus Company's bus route 62, which connects the airport with Ilkley and Keighley.
Transdev Daytripper and Gold travel passes are valid on Flyer buses (and the Keighley Bus Company's bus route 62) and season passes and carnets of five or 10 tickets are also available and these offer a cheaper option for frequent travellers.
Hotels near Leeds Bradford Airport
There are only a couple of hotels near Leeds Bradford Airport. The Travelodge is the most conveniently located and there is a Premier Inn a little farther away. The Travelodge is around a five-minute walk from the terminal building and the Premier Inn is around a 20-minute walk (or a four-minute drive).
Britannia Hotels also operate a hotel that they advertise as an airport hotel but we don't list this as it is a one-hour walk from the airport terminal and the best bus connections take around 25 minutes once you factor in the 15-minute walk to the closest bus stop. You're much better off staying at a nicer hotel on the A1 Flyer bus route in Leeds city centre.
| | |
| --- | --- |
| Travelodge Leeds Bradford Airport | The Travelodge Leeds Bradford Airport is around a 6–7-minute walk from the airport terminal, which makes it the most conveniently located hotel to LBA. |
| Premier Inn Leeds Bradford Airport | The Premier Inn Leeds Bradford Airport hotel is the least convenient of the two hotels close to Leeds Bradford Airport. It is a half-hour walk (or a four-minute bus ride) from the airport terminal but it is also a 10-minute walk to the centre of Yeadon where you can find several places to eat and drink. |