Local and regional buses and Megabus and National Express coaches depart from Leeds City Bus Station between Dyer and York Streets at the eastern end of the city centre.
Local and regional buses operated by First, Stagecoach, Cityzap and Harrogate Bus operate within Leeds and its suburban area and to other towns and cities in West and North Yorkshire including frequent bus services to Harrogate, Ripon, Scarborough and York.
Harrogate Bus Company's bus route 36 runs between Leeds and Harrogate every 10 minutes with a Leeds–Harrogate–Ripon service departing every 20 minutes. This is a cheaper alternative to catching a train to Harrogate, particularly if there are two of you travelling together and returning the same day.
The Cityzap bus runs between Leeds and York every 30 minutes (hourly on Sundays). The 843 Coastliner bus from Leeds to Scarborough and the 840 Coastliner bus from Leeds to Pickering and Whitby (via Flamingo Land) also stop in York. Between Cityzap and the Coastliner buses, there are buses to York departing Leeds City bus station every 15 minutes and in most instances, the bus is a cheaper option than taking the train.
National Express runs coaches from Leeds to most major British destinations including Birmingham, London, Manchester, Newcastle, Sheffield and York.
National Express services have around 25 different coach routes that stop at the Leeds City bus station with direct services from Leeds to Berwick-upon-Tweed, Birmingham, Blackpool, Bournemouth, Bradford, Bristol, Cardiff, Cheltenham, Chester, Derby, Durham, Edinburgh, Exeter, Glasgow, Gloucester, Heathrow Airport, Liverpool, Leicester, London, Manchester, Middlesbrough, Milton Keynes, Newcastle upon Tyne, Nottingham, Oxford, Plymouth, Sheffield, Southampton, Torquay, Warwick and Worcester.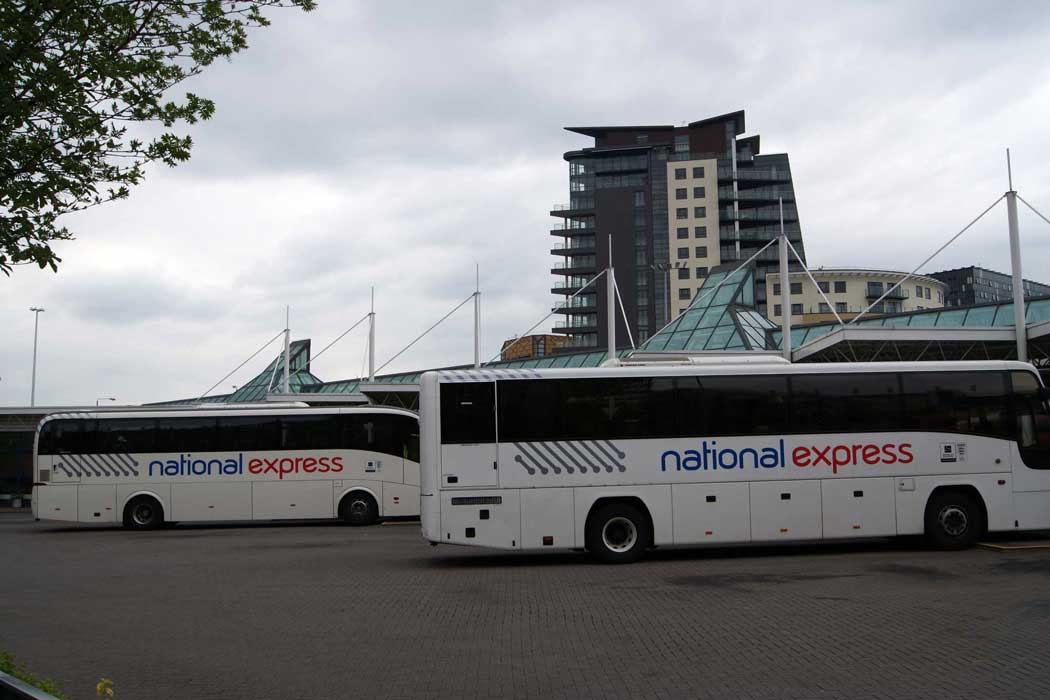 Check National Express coaches to and from Leeds
Check prices and availability for National Express coach routes to and from Leeds. Tickets are issued by Omio as a mobile ticket that you can show on your mobile phone.
We may earn a small commission if you purchase a coach or rail ticket after clicking this link.
Megabus have cheap coaches from Leeds to destinations throughout the United Kingdom including London and Manchester with fares starting at £1 (plus 50p booking fee).
It is a major bus and coach station with good facilities including its own coffee shop and newsagent.