Legoland Windsor was the second Legoland theme park and the first outside Denmark. Like other Legoland theme parks, it is aimed at children with a mix of elaborate Lego models, Lego building workshops and Lego-themed rides. Inside you'll find 80 million Lego bricks, two very child-friendly hotels, lots of Lego shops and around 60 theme park rides.
When it opened in 1996, Legoland Windsor was the second Legoland theme park and the first one outside Denmark. Like other Legoland theme parks, this theme park is aimed at children with a mix of elaborate Lego models, Lego building workshops and Lego-themed rides.
Inside Legoland Windsor, you'll find 80 million Lego bricks, a very child-friendly hotel, lots of Lego shops and around 60 theme park rides.
It is the most visited theme park in the United Kingdom, and the 10th most visited in Europe, but just because it is a popular theme park, it is not necessarily a great theme park. It is really just for kids so you're not going to find any really scary roller coasters here and the better rides are just a tad more exciting than the Disney teacup ride.
What to see at Legoland Windsor
Legoland Windsor is split into 12 themed areas:
The Beginning
The first themed area you see is called The Beginning. This area has the ticket office, cafe, Lego shops, a model-making studio, Apocolypesburg and the Hill Train. Apocolypesburg is an experience that takes you behind-the-scenes of The Lego Movie 2 and the Hill Train is a funicular train that takes you to the Lego City area.
The Hill Train is currently closed for refurbishment.
Land of the Vikings
This Viking-themed area has the Spinning Spider and Vikings' River Splash rides.
Lego Ninjago World
This new themed area opened in 2017 and features Lego Ninjago The Ride, a 4D interactive ride as well as the Lego Ninjago Training Camp where you can use your Lego building skills plus a rock climbing activity.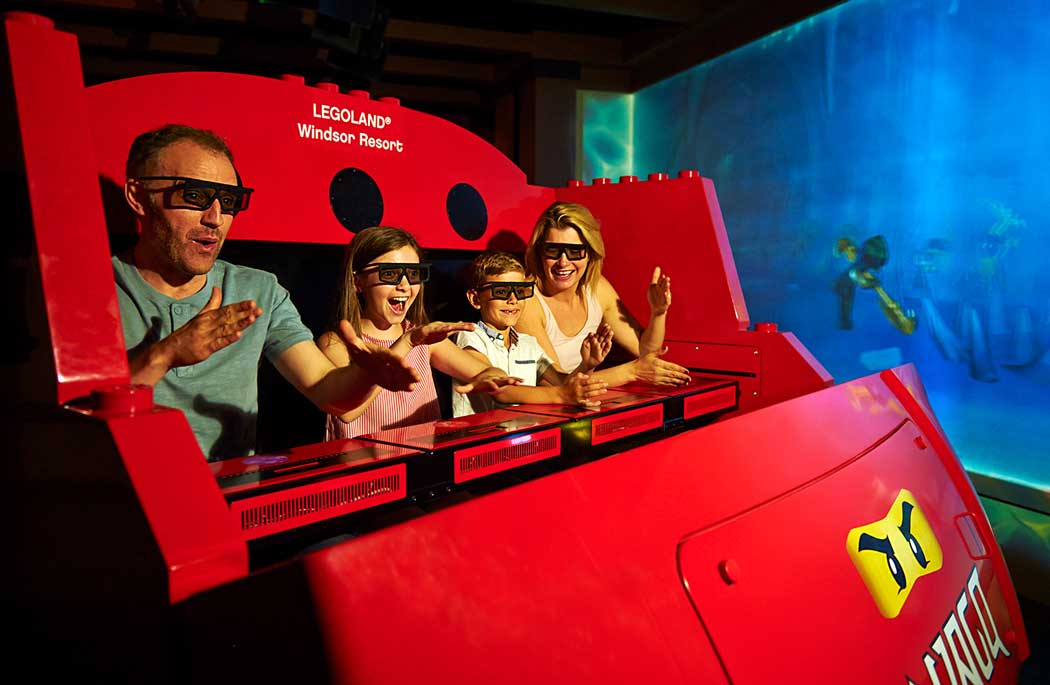 Knights' Kingdom
The medieval-themed Knights' Kingdom area has the Dragon's Apprentice, Knights' Quest and The Dragon rides and the Knights' Table restaurant.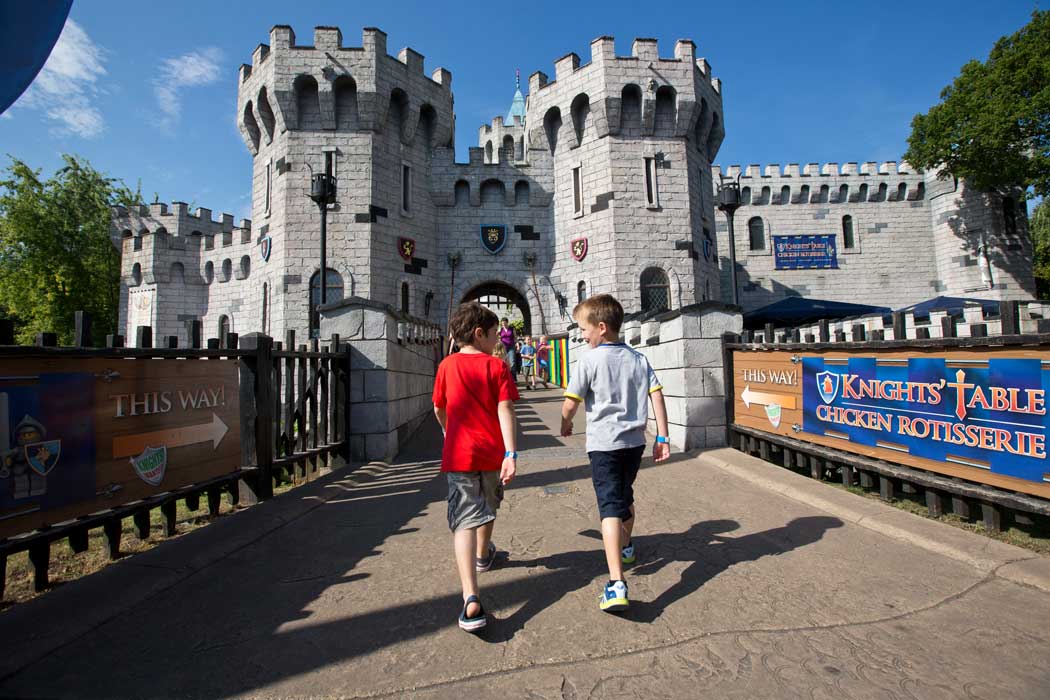 Pirate Shores
This pirate-themed world has the Castaway Camp playground, the Pirate Falls Treasure Quest log flume ride and the Jolly Rocker pirate ship ride, which is probably Legoland's only ride that some adults may get some thrills from. Pirate Shores is also home to Pirate's Burger Kitchen.
The Pirate Falls ride is closed for winter.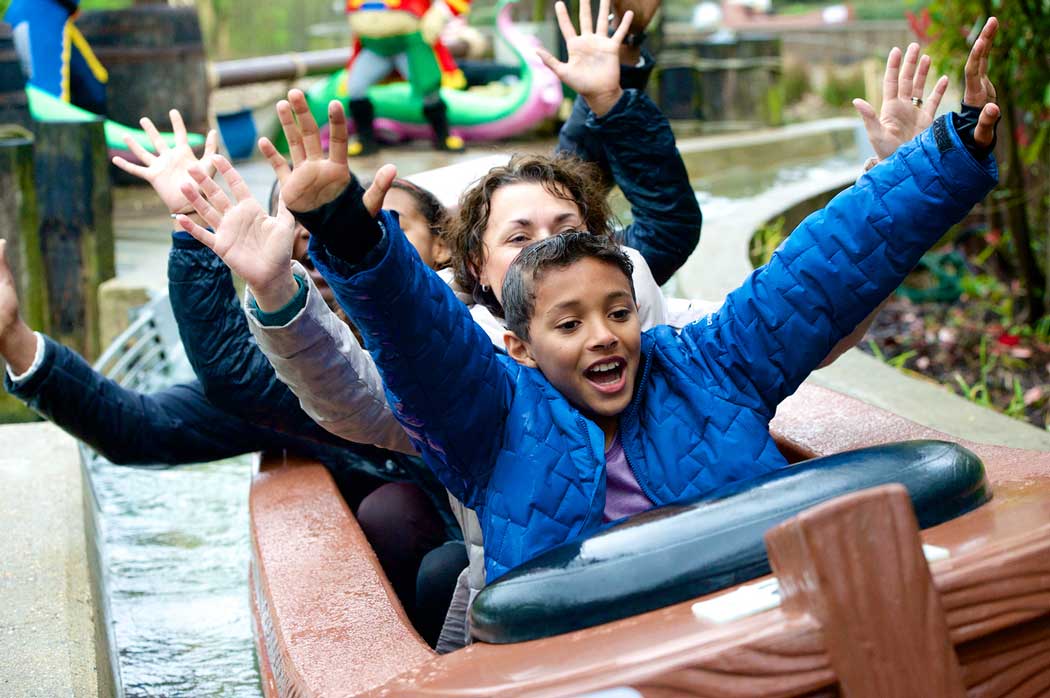 Kingdom of the Pharaohs
This ancient Egypt-themed area features the Aero Nomad, Desert Chase, Laser Raiders, Scarab-Bouncers and Thunder Blazer rides plus the Lego Games Zone arcade you can play PlayStation 4 games.
Heartlake City
Heartlake City is based on the Lego Friends product range and includes Mia's Riding Adventure, an equestrian-themed ride and the Pirates of Skeleton Bay Stunt Show.
Lego City
Lego City is a transport-themed world area where you can ride a hot-air balloon and small battery-powered boats and also drive little Lego cars.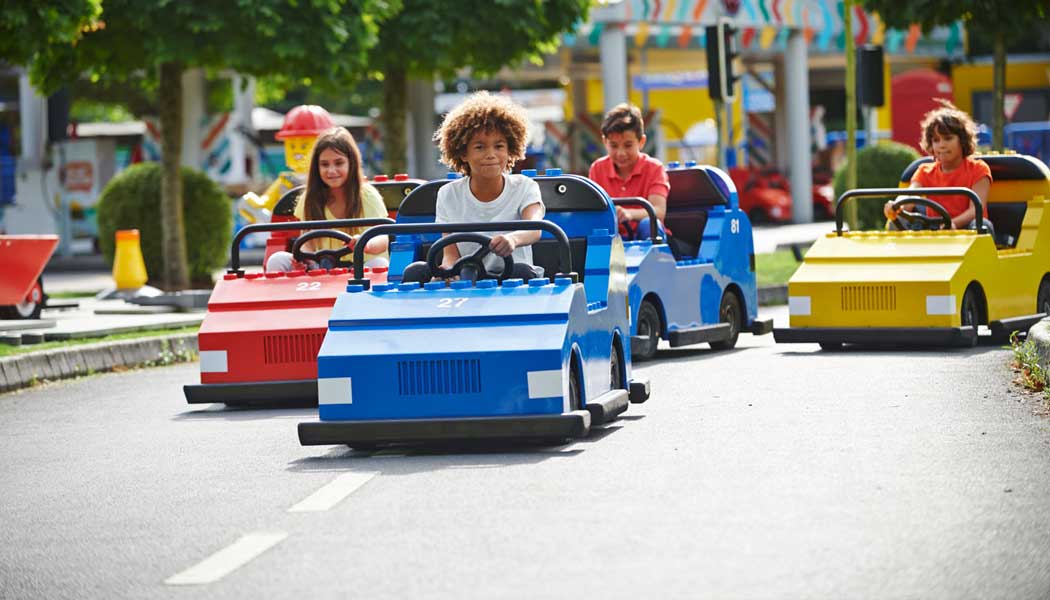 Lego Mythica: World of Mythical Creatures
Lego Mythica: World of Mythical Creatures is a new area, which opened in 2021 replacing the short-lived Adventure Land area.
This area focuses on mythical creatures and includes the Fire & Ice Freefall drop-tower ride, Hydra's Challenge water ride as well as Flight of the Sky Lion, which is the UK's first 'flying theatre' ride.
DUPLO Valley
DUPLO Valley is aimed at younger visitors and has several water-based attractions including Drench Towers, Splash n Safari and the Raft Racers ride plus the DUPLO Train and DUPLO Valley Airport rides.
The Drench Towers, Splash n Safari and the Raft Racers rides are closed for winter.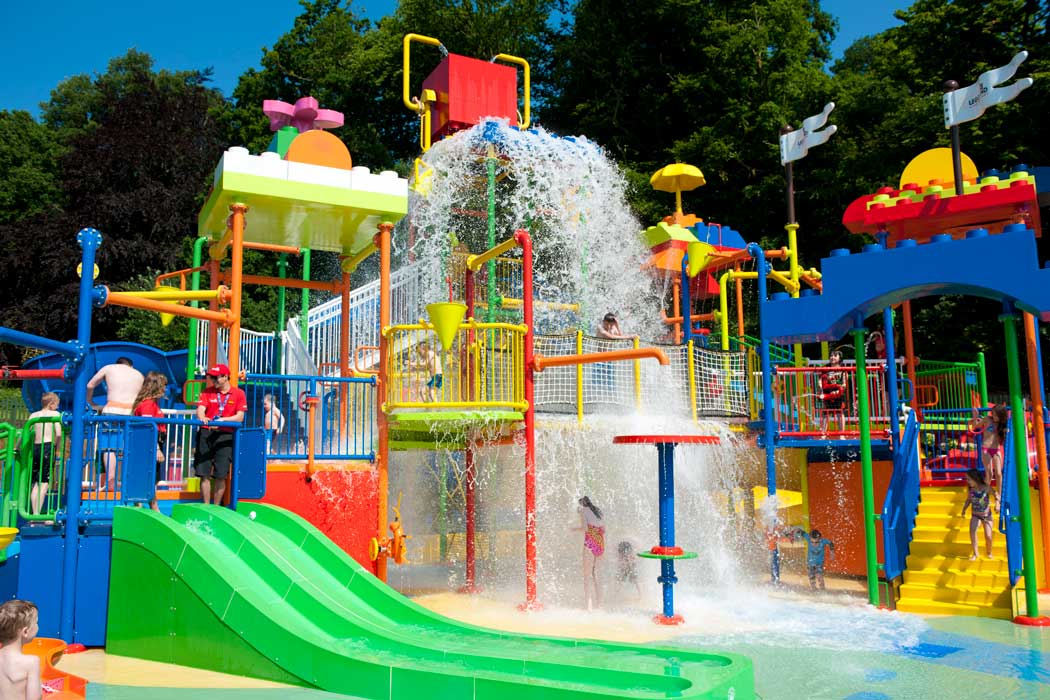 The DUPLO Dino Coaster is a new ride opened in 2020. It is a tame rollercoaster aimed at Legoland's youngest visitors.
Imagination
This area is more educational than Legoland's other themed areas. It includes workshops where you can design and program robots with Lego Mindstorms, Lego Reef where you can build digital fish, The Exploratorium educational workshops, the Lego 4D Movie Theatre and the Sky Rider ride.
Miniland
Miniland features landmarks from around the world, including many London landmarks, built with over 42 million Lego bricks.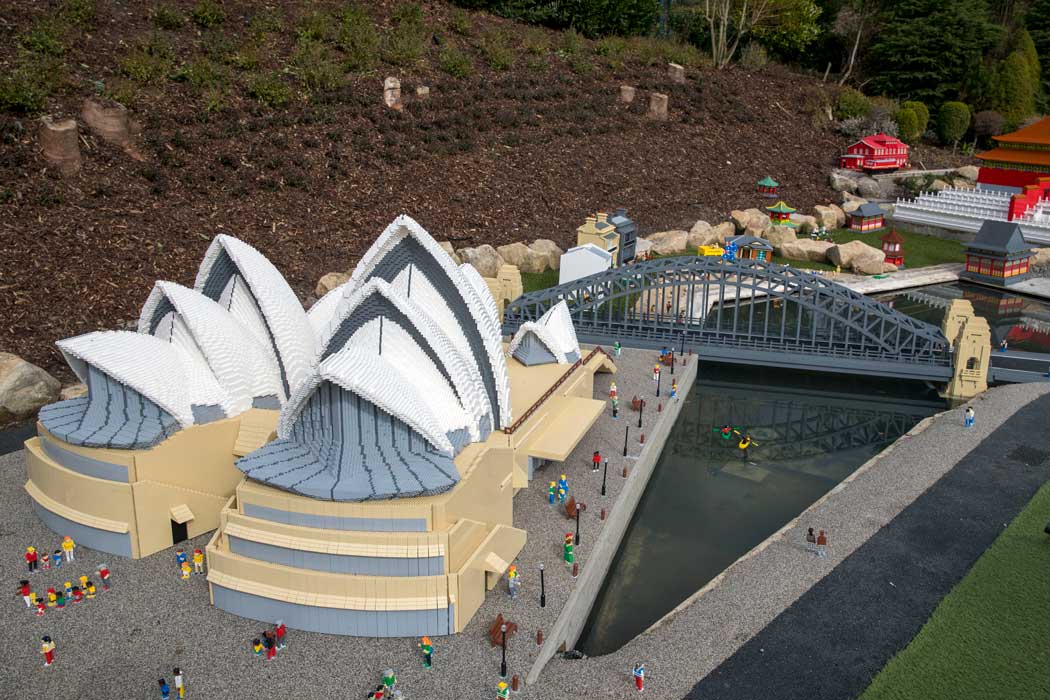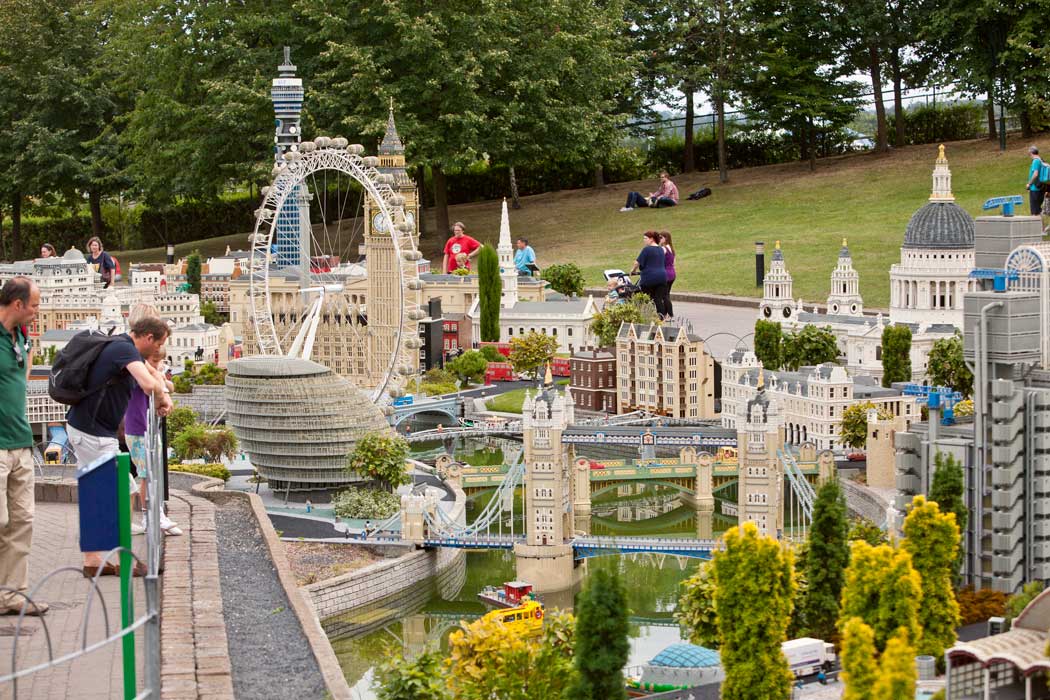 Legoland at Christmas
Legoland at Christmas is a seasonal event that operates on selected dates from 27 November till 3 January. During this time, Legoland is decked out with a Christmas theme and Father Christmas rides around the park in his magical sleigh.
Visiting Legoland Windsor
Legoland Windsor is 4.8 km (3 miles) from the centre of Windsor, which is a 10-minute drive or a 15 to a 20-minute bus ride.
Courtney Buses route 600 runs a shuttle service between the Theatre Royal in Windsor and the Legoland main entrance, with a stop at the Legoland Hotel, on weekends, bank holidays and every day on school holidays.
Greenline bus routes 702 and 703 also stop at the Legoland main entrance with buses every half hour throughout the week. Both Greenline services connect Legoland with central Windsor and Slough and also go to Ascot, Bracknell and Langley. Route 702 also goes to Reading and Victoria Coach Station in central London and route 703 continues to Heathrow Airport Terminal 5. Between the two bus routes, Greenline provides a half-hourly service from Windsor and Slough to Legoland.
If you're taking the bus, make sure that you get off at the main entrance and not the staff entrance nor the Legoland Hotel stop. You will regret getting off at the wrong stop as is a 15 to 20-minute walk from the staff entrance to the main entrance.
Like many theme parks, Legoland Windsor has complex opening hours that vary throughout the year. During the off-peak season (generally November to March) the park will often be closed for weeks at a time but may open on a random weekend. It is a good idea to check the opening hours page on the Legoland Windsor website to ensure that you don't end up visiting on a day that the park is closed.
Come on a weekday if you can as it can get very busy at weekends and during school holidays.
For an additional charge, you can rent a queue-skipping gadget called Reserve & Ride (formerly known as Q-Bot). You book your ride on the device and rather than waiting in a queue, the Reserve & Ride device will buzz when it is your turn. It is a great idea if you have restless kids, but of course, it is more money for Legoland as you'll most likely spend the time you save buying Lego bricks. The Regular version of Reserve & Ride doesn't save you any time but it does mean that you don't need to be in the queue when you're waiting for your ride, the Express version of the Reserve & Ride device reduces your waiting time by half and the Premium version gives you almost instant ride access. Note that not all rides are included in Reserve & Ride.
It is quite a big park and you can easily spend a full day here. If you visit mid-week, when queues are shorter, or use one of the Reserve & Ride devices, to save queuing time then you could reduce this to half a day. How long you spend here really depends on your kids, though.