Runnymede is a water-meadow just south of Windsor that is noted mainly as the site where the Magna Carta was signed in 1215 and it is also the site of several memorials, monuments and public art installations.
The Magna Carta was an agreement between King John and rebel factions and the document was responsible for major political reform in England and Wales. The charter granted basic human rights and imposed limits on the monarchy's power and it is considered the first constitutional document to form the basis of modern democracy.
Of the four remaining exemplified copies of the document, two are kept at the British Library in London, one is at Lincoln Cathedral and the other is at Salisbury Cathedral.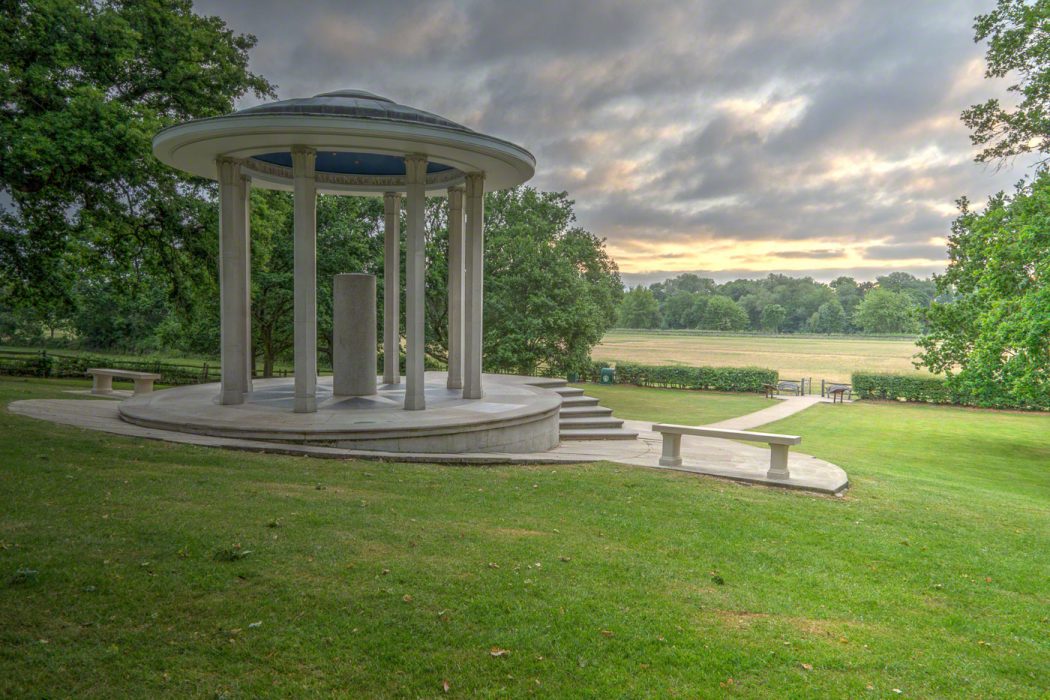 What to see at Runnymede
In many ways, Runnymede is much as it was 800 years ago when the Magna Carta was sealed. It is still a pleasant meadow by the riverside, except now there are a number of memorials as well as some public art to look at.
The northern entrance to Runnymede consists of a pair of large kiosks, one which contains a National Trust office. These kiosks were designed by Sir Edwin Lutyens, the architect who also designed much of New Delhi in addition to the Midland Bank offices in Manchester (now the Gotham Hotel) and Queen Mary's Dolls' House at Windsor Castle.
Just a six-minute walk from the main car park and National Trust office takes you to The Jurors art installation. This consists of 12 oversized bronze chairs arranged around an imaginary table. The chairs are decorated to symbolise struggles for freedom, equality and the rule of law.
A further three minutes walk takes you to the Magna Carta Memorial. This is a simple memorial that commemorates the signing of the Magna Carta with the text, 'To commemorate Magna Carta symbol of freedom under law'.
A five-minute walk from the Magna Carta Memorial takes you to the JFK Memorial, which honours the memory of the assassinated former US president, John F Kennedy.
Farther south is the much larger Air Forces Memorial, which is inscribed with the names of over 20,000 airmen and women who lost their lives during the Second World War.
Visiting Runnymede
Runnymede is just south of Old Windsor and the Berkshire-Surrey county boundary. It is 5.6km (3½ miles) south of central Windsor, which is around a 10-minute drive.
If you're not driving, it is an eight-minute walk to the Bells of Ouzeley pub where there is a bus stop with buses (First Berkshire & The Thames Valley route 8) that go to central Windsor, Slough and Heathrow Airport terminal five every half hour.
It is free to visit Runnymede, however, there is a charge to park your car.