London Liverpool Street railway station in the City of London is the terminus for the West Anglia Main Line and the Great Eastern Main Line. The station has suburban train services to east London, Essex and Hertfordshire and trains to Cambridge, Norwich and Stansted and Southend Airports.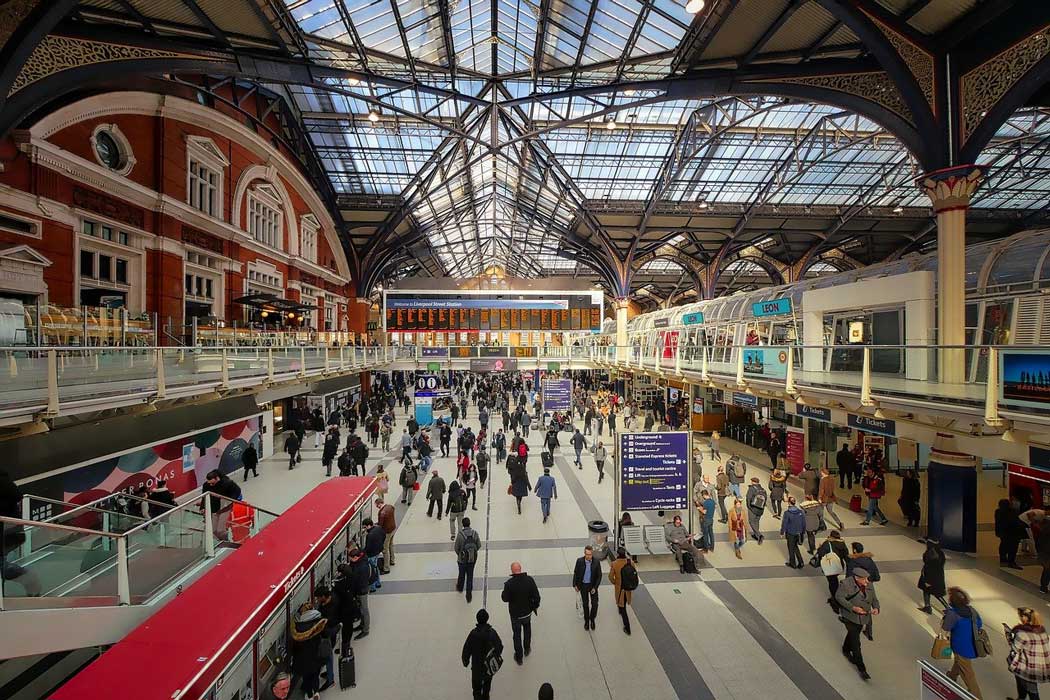 Most train services operating from London Liverpool Street railway station are run by Greater Anglia although the station is also served by London Overground and TfL Rail services. If you're travelling to Cambridge or Norwich, you will most likely travel from this station.
Three train companies operate from Liverpool Street station:
Greater Anglia trains to Cambridge, Colchester, Ipswich, Norwich and Southend-on-Sea including rail services to London Southend Airport and the Stansted Express service (which is run by Greater Anglia) to London Stansted Airport.
London Overground suburban services
TfL Rail services to Shenfield, which will become part of the Elizabeth line
Rail services from Liverpool Street include two trains per hour to Cambridge, four trains per hour to Colchester, three trains per hour to Ipswich, two trains per hour to Norwich, three trains per hour to Southend-on-Sea (also stopping at London Southend Airport), four trains per hour to London Stansted Airport.
Although you can also get trains to Cambridge from both Euston and Kings Cross railway stations, the service from London Liverpool Street is usually cheaper, particularly if you book your tickets a few days in advance.
Check trains to and from London
Check prices and availability for rail tickets to and from London. Tickets are issued by Omio as a mobile ticket that you can show on your mobile phone.
We may earn a small commission if you purchase a coach or rail ticket after clicking this link.
London Liverpool Street railway station is Britain's third-busiest station and it is a pleasant station with extensive facilities. Shops at this station include Boots the chemist, M&S Simply Food, The Pen Shop, a shop selling Moleskine notebooks, a branch of TM Lewin and a WHSmith newsagent. Cafes and restaurants at Liverpool Street include AMT Coffee, Benugo, Caffè Nero, Camden Food Co., Costa Coffee, Krispy Kreme, Leon, McDonald's, The Pasty Shop and Upper Crust. There are also two pubs at the station.
It is one of the four London railway stations on the Monopoly board game.
The station is located at the northern edge of the City of London, only a 10–15-minute walk from Shoreditch.