Reading Abbey was founded in 1121 by King Henry I, son of William the Conqueror, and during the medieval period, the abbey was one of the most important in Britain. It is here that King Henry I was buried (well part of him was buried here as he died in France and not all of his body was returned to England).
The abbey was substantially destroyed in 1538 during the Dissolution of the Monasteries and parts of the abbey were subsequently built upon including the Abbey Gateway and Reading Gaol.
An extensive restoration project began in 2009 and the entire site was closed for almost 10 years with Reading Abbey Quarter (the name for the redeveloped complex) only reopening in June 2018.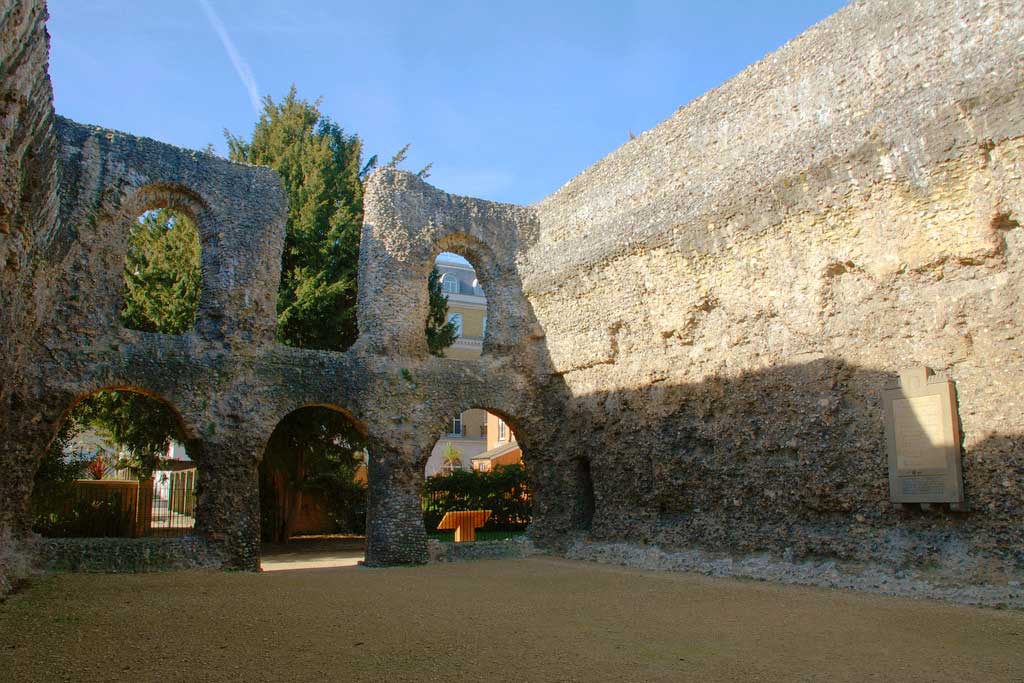 What to see at Reading Abbey Quarter
Reading Abbey Quarter includes the Forbury Gardens, Abbey Wharf, Abbey Gateway, Reading Gaol and the ruins of Reading Abbey.
The abbey ruins include the south transept, the treasury, chapter house, dormitory and refectory. Many of these parts of the abbey are no more than stone walls, although the chapter house is more complete.
As the area had been built upon in the centuries following Henry VIII's Dissolution of the Monasteries, there is more to the Reading Abbey Quarter than just Reading Abbey. For instance, the Abbey Gateway housed the Reading Abbey Girls' School, and you can see the Victorian schoolroom where Jane Austen studied in the 18th century.
The quarter is a popular spot for festivals and other special events that include outdoor cinema and open-air theatre productions.
Visiting Reading Abbey Quarter
Reading Abbey Quarter is located just east of the town centre. From here it is less than a 10-minute walk to Reading railway station and most other areas of the town centre.
Guided tours of the Reading Abbey Quarter (£10) and Abbey Gateway (£5) take place at irregular intervals. These tours are best booked in advance on the events page of the Abbey Quarter website.
The site is open from dawn to dusk daily, although it may occasionally be closed for special events.
Most of the site is wheelchair accessible with the exception of the Abbey Gateway.
You should be able to see the main sights in the Reading Abbey Quarter in an hour. If you have a little longer pop into the Reading Museum first and look at the exhibits about the abbey.