The Royal Oak is a small traditional pub on the northern outskirts of Dover that offers accommodation in five rooms. It has a lot of atmosphere, which makes it a nice change from staying in a chain hotel.
Guest rooms at the Royal Oak offer a high standard of accommodation with comfortable beds, tea and coffee making facilities and en suite bathrooms.
The decor is a countryside take on contemporary design in the bedrooms and Portuguese-style tiles in the en suite bathrooms. This makes it a charming place to stay that is particularly well-suited for couples touring southeast England.
The pub itself offers a relaxed and traditional British atmosphere. It serves meals from Wednesday to Sunday, which include Thai curries and pub classics including an excellent Sunday roast.
One consideration to keep in mind is that being a pub, there may be some noise in the evenings, especially if there are events or live music. However, this adds to the pub's lively atmosphere, and most guests find it enjoyable rather than disruptive.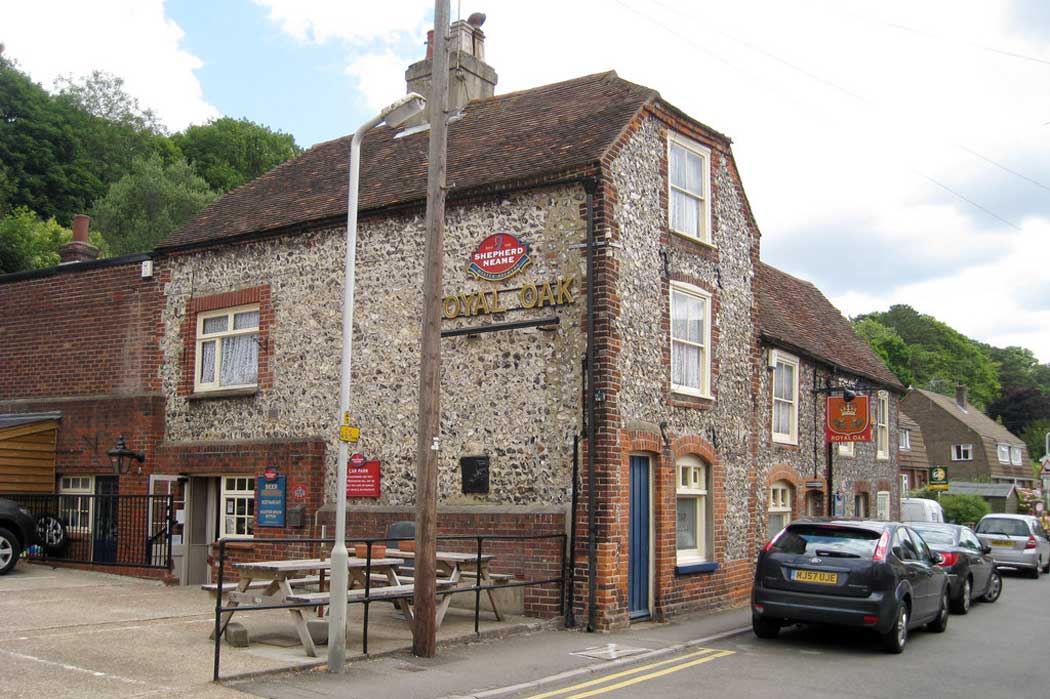 The Royal Oak is on a residential street in the village of River on the northern outskirts of Dover. Although it is a fair distance from the centre of Dover, the town centre is still within walking distance (it's a 45-minute walk) and you can also take a bus into the town centre. Bus route 64 departs every half hour from the bus stop on Lewisham Road (a four-minute walk from the Royal Oak); however, it takes a roundabout route so it's not a particularly speedy way to get into the town centre.
If you're arriving by train, you should get off at Kearnsey station (an 11-minute walk from here) rather than Dover Priory and if you're travelling by car, the Royal Oak is only a 10-minute drive from the town centre and car parking is available.
Check prices and availability for The Royal Oak
Check prices and availability on Expedia for The Royal Oak near Dover, Kent.
We may earn a small commission if you book your hotel after clicking this link.