Opened in 1859, this Classical-style church was the first public building in Saltaire. It was originally called the Saltaire Congregational Church but has been known as the Saltaire United Reformed Church since 1972.
In 1876 Sir Titus Salt was interred in the mausoleum adjoining the church with 100,000 people attending his funeral.
What to see at Saltaire United Reformed Church
The church is a Grade I listed building that is a central part of the World Heritage Site. Like all of Saltaire's original buildings, it was designed in the Italianate Classical style by Bradford-based architects, Lockwood and Mawson.
The Saltaire United Reformed Church is built from local stone with an ashlar finish and it features a nave without an aisle and a semi-circular portico at its western end. It has an organ dating from 1890 and a large pair of chandeliers.
Sir Titus Salt is buried in the Salt family mausoleum at the southern end of the nave.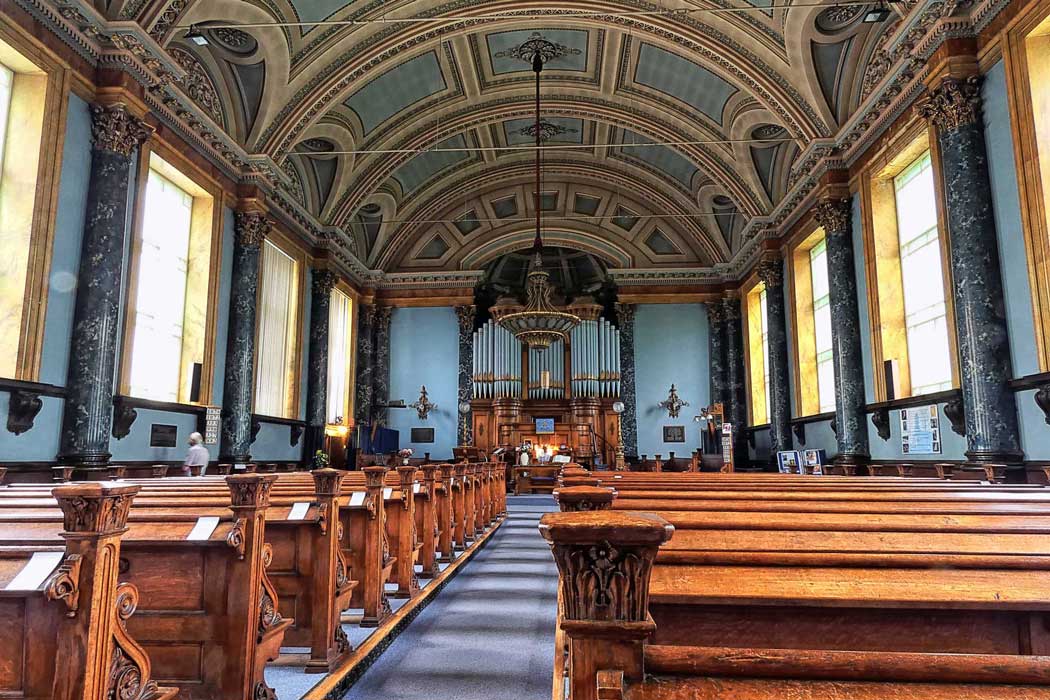 Visiting Saltaire United Reformed Church
Saltaire United Reformed Church is in the centre of Saltaire, immediately north of Saltaire railway station and right across the road from Salts Mill.
Admission is free of charge and it is open during the afternoon between Easter and late September and on the first Sunday of each month during the rest of the year.
A small cafe operates on Sunday open days. There are also several other places to eat and drink nearby including bars and restaurants on Victoria Road and inside Salts Mill plus the Boathouse Inn on the River Aire.
The church is not wheelchair accessible although there are plans to adapt the building for wheelchair access as part of an ongoing restoration programme.