Salts Mill is the massive textile mill that was built in 1853 by Sir Titus Salt and when completed it was the world's largest industrial building by floor area.
It is a Grade II* listed building that is part of the Saltaire World Heritage Site. It operated as a mill until as recently as 1985 and shortly afterward it was converted into an arts centre and shopping and restaurant complex.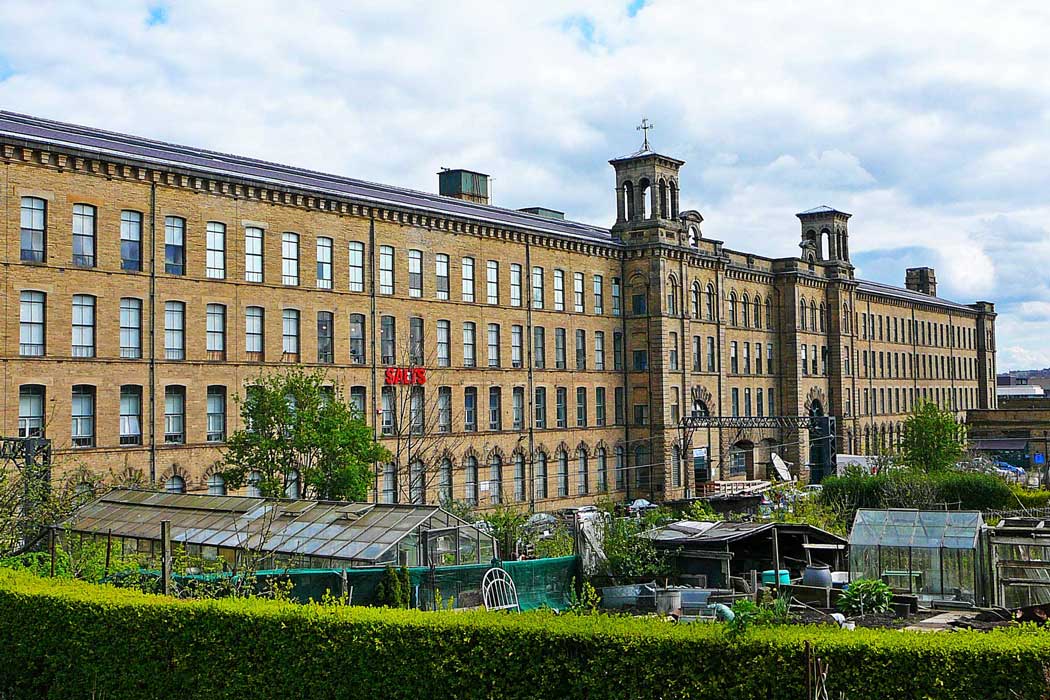 What to see at Salts Mill
The former textile mill has been converted into a multi-use space that houses offices, shops, restaurants and warehouses; but the main attraction is the 1853 Gallery.
Art galleries and exhibition spaces at Salts Mill
There are several exhibition spaces at Salts Mill including the ground floor 1853 Gallery, which has a strong focus on the work of Bradford-born artist, David Hockney. There is also a gallery shop that doesn't just sell gifts and art books but also sells art materials.
Gallery 2 hosts a photography exhibition by Ian Beesley that documents the people who worked at the mill prior to its closure in the 1980s. These photographs are juxtaposed with more recent photos from 2017 after Salts Mill had been given a new lease of life.
The third-floor gallery features an exhibition titled The Arrival of Spring, which features works drawn by David Hockney on his iPad in 2011.
People + Process: Salts History Museum is an exhibition about the history of Saltaire, which includes a plate from the mill's lavish 1853 opening banquet, furnishings from the mill's original boardroom and also other artefacts. The exhibition features a small cinema that shows a short documentary film about the history of Salts Mill and Saltaire.
Shops and restaurants at Salts Mill
Salts Mill has a number of independent shops and restaurants including an excellent bookshop, an antique shop and a quirky homewares shop.
Visiting Salts Mill
Salts Mill is located is in the centre of Saltaire right next to the Leeds and Liverpool Canal. It is across the road from Saltaire United Reformed Church and Saltaire railway station.
Entry is free of charge to all areas of Salts Mill including the art galleries. The opening hours vary depending on which business you are visiting, although most areas are open 9.30am–4pm Monday to Friday and 9.30am–5pm on weekends.
There are several places to eat and drink at Salts Mill including and Espresso Bar, Cafe in to the Opera and Salts Diner.