Shakespeare's granddaughter, Elizabeth Hall, and her husband, Thomas Nash, lived in this house in the town centre. The garden was the site of Shakespeare's New Place, a house that William Shakespeare bought in 1597 and later retired and died in.
In 1483, Sir Hugh Clopton built a house on the site that was eventually purchased by William Shakespeare in 1597 as his retirement home, although he didn't move in until 1610.
After William Shakespeare's death in 1616, the house passed on to his daughter Susanna Hall (who lived at Hall's Croft until this date) and it then passed down to Shakespeare's granddaughter, Elizabeth, who had been married to her neighbour Thomas Nash (who lived at Nash's House).
When it was built, it was Stratford's largest house with 10 fireplaces and extensive grounds that included an orchard.
William Shakespeare-related tourism is not a new phenomenon and during the 18th century, tourists would come to Stratford-upon-Avon to see where Shakespeare lived. At this time the house was owned by Reverend Francis Gastrell who was becoming increasingly annoyed by tourists. Gastrell is believed to have destroyed a mulberry tree that was planted by Shakespeare in an attempt to make the place less attractive to tourists and he eventually destroyed the house entirely, which outraged the locals who subsequently drove Gastrell out of town.
The Shakespeare Birthplace Trust acquired New Place and Nash's House in 1876 and it now features extensive gardens on the site of New Place while Nash's House is operated as a museum.
What to see at Shakespeare's New Place & Nash's House
Shakespeare's New Place & Nash's House is divided into two very different but complementary zones.
Shakespeare's New Place is an elaborate garden that is both a city park for Stratford locals (residents of postcode CV37 get free entry) and a monument to William Shakespeare's life, work and legacy. It includes several different garden areas including a traditional Elizabethan knot garden as well as more modern areas including a sculpture of a windswept mulberry tree.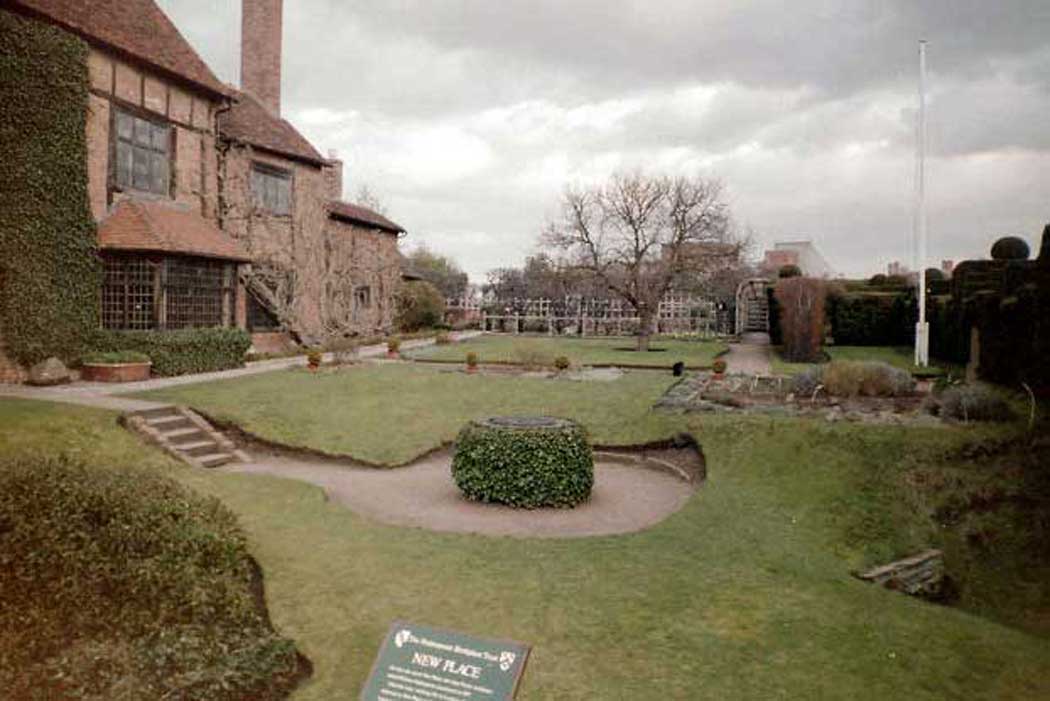 The Grade I-listed Nash's House is William Shakespeare's grandson-in-law's old place, which has been restored with exhibits that show the history of Stratford-upon-Avon. It also includes displays showing how Shakespeare's New Place would have looked were it still standing, including a virtual-reality experience where you can walk through a virtual replica of the house.
Visiting Shakespeare's New Place & Nash's House
Shakespeare's New Place & Nash's House is wedged between the Mercure hotel and Shakespeare's Schoolroom and Guildhall at the southern edge of Stratford's town centre. Most points of interest in Stratford-upon-Avon are no more than a 7–8-minute walk from here.
Although visitors can pay the entry fee to visit just Shakespeare's New Place, it is much better value to buy a combined entry ticket that gives you admission to three of the properties that are operated by the Shakespeare Birthplace Trust. These include not just Shakespeare's New Place but also Anne Hathaway's Cottage and Shakespeare's Birthplace.
Most people spend around an hour visiting the New Place.
Book your tickets to Shakespeare's New Place and Nash's House
This ticket includes entry to three properties operated by the Shakespeare Birthplace Trust including Anne Hathaway's Cottage, Shakespeare's Birthplace and Shakespeare's New Place & Nash's House in Stratford-upon-Avon, Warwickshire.
We may earn a small commission if you purchase your ticket after clicking this link.