The Victoria and Albert Museum (V&A) in South Kensington is the world's largest museum of decorative arts and design.
Its permanent collections include over two million objects that encompass fashion, sculpture, textiles, furniture, metalwork, ceramics, glass, jewellery, paintings, prints and photographs, reflecting centuries of achievement from Europe, the Far East, Southeast Asia and the Islamic World.
The V&A has the largest collection of post-classical sculpture in the world and the largest collection from the Italian Renaissance outside Italy. It also has one of the best East Asian art collections in Europe and one of the largest collections of Islamic art in the western world.
What to see at the Victoria and Albert Museum (V&A)
The V&A is one of the world's largest museums with 145 galleries and a floor area of 5.1ha (12½ acres). Its collection covers 5000 years of decorative arts.
Permanent exhibits at the museum include:
Level 0
The museum's basement level is accessible by the Exhibition Road tunnel that runs from South Kensington tube station. There is a temporary exhibition space immediately to the left of the tunnel entrance, while the remainder of this level is dedicated to displays about Europe with rooms 1–7 focused on 1600–1815 and rooms 8–10C displaying items from the Medieval and Renaissance periods (300–1500).
Highlights of this level include the Sérilly Cabinet in room two and the Gloucester Candlestick in room eight.
Level 1
The museum's ground floor is accessible through the grand entrance on Cromwell Road. This level has the most exhibition space and usually has several temporary exhibitions as well as displays of Asian and European decorative art from the V&A's permanent collections.
Highlights of this level include Tipu's Tiger in room 41, the Ardabil Carpet in room 42, the Mazarin Chest in room 45, the golden betel nut container in room 47A and The Raphael Cartoons in room 48A.
This level also has most of the museum's cafes including the Courtyard Cafe in the Sackler Courtyard, the Garden Cafe in the John Madejski Garden and the cafe/restaurant in the Morris, Gamble and Poynter rooms.
Level 2
Level two has displays of European decorative art with rooms 52–58B focused on Britain 1500–1760 and rooms 62–64B with a focus on European Medieval and Renaissance (300–1600) art.
Highlights of this level include The Great Bed of Ware in room 57, Leonardo Da Vinci's Forster Codices in room 64 and the facade of Sir Paul Pindar's house in room 64B (which one of the few remaining artefacts to survive the Great Fire of London).
Level 3
Level three mostly has exhibits centred on materials and techniques including gold, silver and mosaics, jewellery, metalware, tapestries, paintings, and sculpture. There are also galleries focused on theatre and performance.
Highlights of this level include The Heneage Jewel in room 93 and William Shakespeare's First Folio in room 106.
Level 4
Level four has exhibits on Britain 1760–1900 and displays on architecture and contemporary glass.
Level 5
There are no exhibition galleries on this level, although there is a bar and cafe reserved exclusively for V&A members.
Level 6
Level six has exhibition space dedicated to ceramics and furniture.
Highlights of this level include Marcel Breuer's Club Armchair in room 133 and Pablo Picasso's Cavalier sur sa Monture in room 142 in the ceramics section.
20 Treasures
The museum publishes a short guide to 20 objects that have been handpicked as the museum's most famous or interesting works. The 20 Treasures are:
1 The Raphael Cartoons (circa 1515–1516)
The Raphael Cartoons, Level 1, Room 48A
This series of tapestry designs were commissioned by Pope Leo X in 1513, designed by Raphael and woven in Brussels between 1516 and 1521.
2 Betel nut container (1780–1885)
South-East Asia, Level 1, Room 47A
The gold bird-shaped betel nut container is a ceremonial object that that belonged to King Thibaw of Burma (now Myanmar).
3 Evening coat (1937)
Fashion, Level 1, Room 40
This evening coat from the 1930s is one of the highlights of the V&A's wonderful fashion collection. It was designed by Elsa Schiaparelli based on a drawing by Jean Cocteau and was worn by Viscountess Doris Castlerosse.
4 Tipu's Tiger (circa 1793)
South Asia, Level 1, Room 41
This 18th-century near life-size mechanical wooden toy of a tiger attacking a man, which was made for Tipu Sultan who ruled the Kingdom of Mysore. The tiger features a mechanism that makes the man's hand move and emits sounds from both the man and the tiger.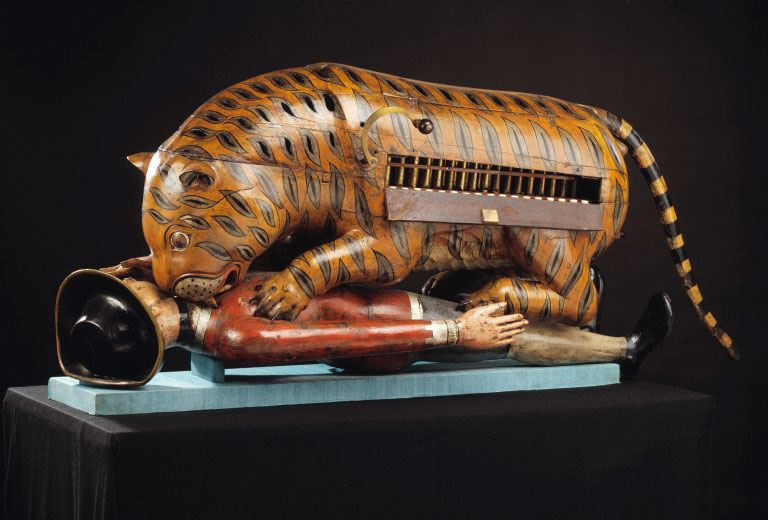 5 The Ardabil Carpet (1539–1540)
Islamic Middle East, The Jameel Gallery, Level 1, Room 42
This 400-year-old carpet is one of the world's most important Persian carpets. It was woven for the Ardabil shrine in Iran and was purchased by the museum in 1893. It is part of a pair, with the other on display at the Los Angeles County Museum of Art, and there is a copy of the carpet at 10 Downing Street.
6 The Mazarin Chest (circa 1640)
Japan, The Toshiba Gallery, Level 1, Room 45
This Japanese lacquered wood chest features ornate gold and silver decoration. Chests like this were fashionable among wealthy Europeans in the 17th century and this particular chest previously belonged to the French statesman Jules Mazarin and was purchased by novelist William Beckford in 1800 before being acquired by the V&A.
7 Samson Slaying a Philistine (1560–1562)
Medieval & Renaissance, The Paul and Jill Ruddock Gallery, Level 1, Room 50A
This sculpture by Giambologna (Giovanni Bologna) was commissioned by Prince Francesco de' Medici and became the most famous Italian sculpture in England after it was brought to London in 1623.
8 The Gloucester Candlestick (1107–1113)
Medieval & Renaissance, The William and Eileen Ruddock Gallery, Level 0, Room 8
The ornate Gloucester Candlestick is the most complex example of English metalwork from the 12th century.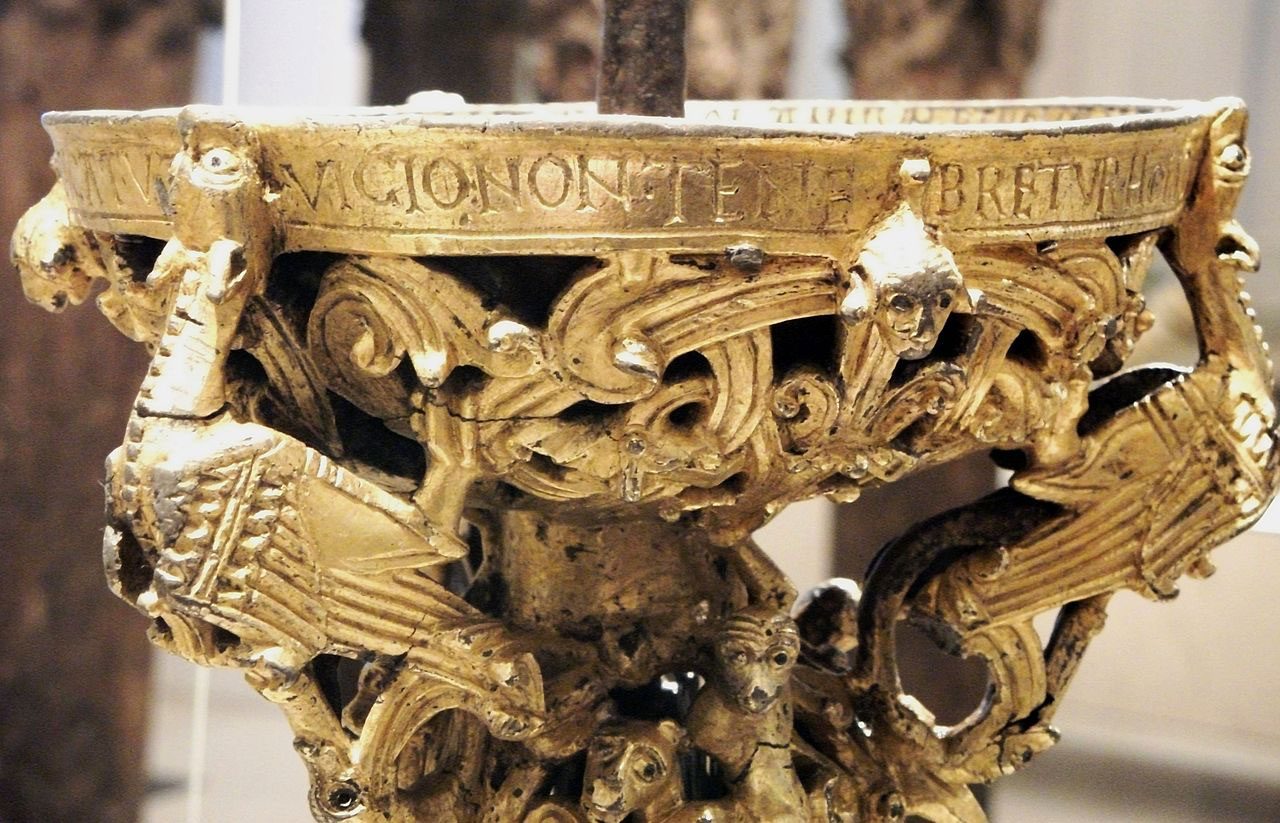 9
The Forster Codices
(1487–1497 and 1505)
Medieval & Renaissance, The Wolfson Gallery, Level 2, Room 64
This series Leonardo da Vinci's notebooks were written in his unique 'mirror writing'. The notebooks contain Da Vinci's thoughts on a number of topics including anatomy, hydraulic engineering and his theory of weights, traction, stresses and balances.
10 Winged Head I (1962)
Glass, Level 4, Room 131
Jewellery, The William and Judith Bollinger Gallery, Level 3, Room 93
This glass sculpture from Czechoslovakia was made by husband and wife team Stanislav Libenský and Jaroslava Brychtová who are considered the greatest glass artists of the 20th century.
11 The Heneage Jewel (1595)
Jewellery, The William and Judith Bollinger Gallery, Level 3, Room 93
The Heneage Jewel is an ornate locket with a golden portrait of Queen Elizabeth I.
12 The First Folio (1623)
Theatre and Performance, Level 3, Room 106
Mr. William Shakespeare's Comedies, Histories, & Tragedies, more commonly known as the First Folio, is the first collected works of William Shakespeare that were published in 1623. It contains 36 of Shakespeare's 37 plays and 18 of them would never have been known had it not been for this book.
13 Devonshire Hunting Tapestries (1430–1450)
Tapestries, Level 3, Room 94 and Medieval and Renaissance, The François and Georges Selz Gallery, Level 0, Room 10A
This series of tapestries, each over 3m (10 ft) wide, depict hunting scenes from the early 15th century. The various tapestries depict a Deer Hunt, Falconry, a Swan and Otter Hunt and a Boar and Bear Hunt. There are very few tapestries surviving from the 15th century of this standard.
14 Salisbury Cathedral from the Bishop's Ground (1823)
Paintings, The Edwin and Susan Davies Gallery, Level 3, Room 87
This painting of Salisbury Cathedral by John Constable was part of the original collection used as the foundation for the V&A's paintings collection.
15 Club Armchair (1925–1926)
Furniture, The Dr Susan Weber Gallery, Level 6, Room 133
The, now popular, armchair design was revolutionary when designed by Marcel Breuer in the Bauhaus faculty in Dessau Germany in 1925–1926. It was the first chair to be made from tubular steel and was initially called the Model B3 chair when produced by Thonet and then dubbed the Wassily Chair when manufactured by Gavina in the 1960s.
16 Cavalier sur sa Monture (1950–1951)
Studio Ceramics, The Lydia and Manfred Gorvy Gallery, Level 6, Room 142
This ceramic jug was decorated by Pablo Picasso while he worked at the Poterie Madoura in France in the early 1950s. Picasso produced 633 different ceramic editions during his time at Madoura, most in limited runs of 500 pieces. This has resulted in a large number of authentic Picassos on the market.
17 The Three Graces (1814–1817)
Britain 1760–1900, Level 4, Room 119
This 19th-century sculpture depicting the daughters of Zeus is an example of the neoclassical style popular at the time. This sculpture by Antonio Canova was commissioned by the 6th Duke of Bedford and was previously kept at his home, Woburn Abbey.
18 The Great Bed of Ware (circa 1590)
Britain 1500–1760, Level 2, Room 57
This enormous bed was famous during the late Elizabethan period. It was a cultural icon of its time and William Shakespeare even mentioned it in the play Twelfth Night.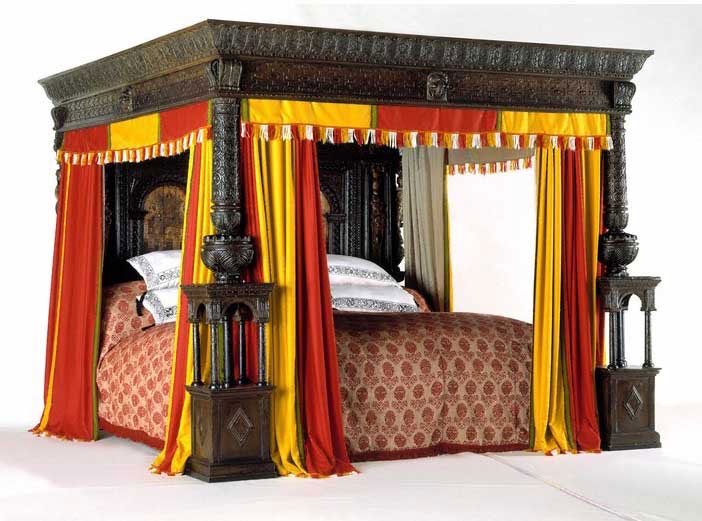 19
Banyan
(1690–1720)
Europe 1600–1815, The Friends of the V&A Gallery, Level 0, Room 5
This banyan is an example of the loose-fitting gowns that were popular in the 17 century and it is also an example of the Asian influence on fashions of the time.
20 The Sérilly Cabinet (1778)
Europe 1600–1815, The Wolfson Gallery, Level 0, Room 2
The Sérilly Cabinet is one of several period rooms in the museum. It was built for Madame de Sérilly and was originally a room in the Hôtel Sérilly in the Marais neighbourhood in Paris.
Temporary exhibitions
In addition to the museum's permanent collection, the V&A hosts a programme of temporary exhibitions. These exhibitions generally have an admission charge although there is free entry if you have a London Pass or are a V&A member and half-price entry is available with the National Art Pass.
Current and future temporary exhibitions include:
Alice: Curiouser and Curiouser
This exhibition (until 31 December 2021) features artworks and fashion inspired by Alice's Adventures in Wonderland. £20.
Bags: Inside Out
This exhibition (until 16 January 2022) focuses on the design, function and craftsmanship of bag. Highlights of the exhibition include Winston Churchill's despatch box, Birkin handbags, Louis Vuitton luggage and a number of unique novelty bags dating from the 17th century to the present day. £12.
Fabergé in London: Romance to Revolution
This exhibition (20 November 2021–8 May 2022) showcases the work of Russian goldsmith Carl Fabergé with displays of small decorative objects including the iconic Fabergé eggs.
Visiting the Victoria and Albert Museum (V&A)
The Victoria and Albert Museum (V&A) is part of the cluster of museums in South Kensington that also include the Science Museum and the Natural History Museum. It is less than a five-minute walk from South Kensington tube station.
Admission to the museum's permanent collections is free although an admission fee sometimes applies to temporary exhibitions. Admission to temporary exhibitions is free for V&A members and visitors with a valid London Pass and half-price if you have a National Art Pass.
There is a free one-hour introductory tour that gives you a good introduction to the museum's collections. This tour departs from the meeting point at the grand entrance at 10.30am, 12.30pm, 1.30pm and 3.30pm daily.
There are also free tours that focus on a specific topic including tours of the Medieval and Renaissance galleries, the Theatre and Performance galleries, the African Heritage galleries, the Britain 1500–1900 galleries and the Europe 1600–1815 galleries.
The museum has a large courtyard garden with a lovely cafe. There is also several other cafes and restaurants on site including the world's oldest museum cafe inside the opulent Gamble Room as well as the Poynter Room with its eastern influences and the Morris Room, which does an excellent afternoon tea on Sundays (reservations essential) that uses recipes dating from the Victorian era. There is also an exclusive members-only cafe and restaurant just for V&A members.
All galleries are fully wheelchair-accessible and the museum offers a variety of services for disabled visitors including induction loops, subtitled videos, a programme of talks in British Sign Language plus touch tours and audio descriptions for visitors with a visual impairment.
Although you can literally spend days here, most people spend 2–3 hours on a single visit.