The Crown at Wells is a centrally located hotel in a 15th-century building that is shared with a popular local pub. It is steeped in history and in 1695 it was frequented by William Penn (for whom Pennsylvania is named) and more recently was used as a filming location for the 2007 film, Hot Fuzz.
The hotel's 15 guest rooms all have comfortable rooms, flatscreen TVs, tea and coffee making facilities and en suite bathroom facilities. Four of the rooms at the front of the building have four-poster beds.
The building dates back to around 1450 and it has a lot of character, although the rooms have a much more contemporary decor than you would expect for such an old building.
The rooms are not wheelchair accessible due to the historic nature of the building.
Breakfast is included in the room rate, and guests have a choice of avocado on toast, a vegetarian breakfast or a full English breakfast.
Although the rooms are great, the pub is the main focus of the business and many people visiting Wells end up having a drink or a meal here at some point during their visit. The pub has a great atmosphere and a menu of pub classics that is a step above your average pub grub.
Free Wi-Fi wireless internet access is available throughout the hotel and pub.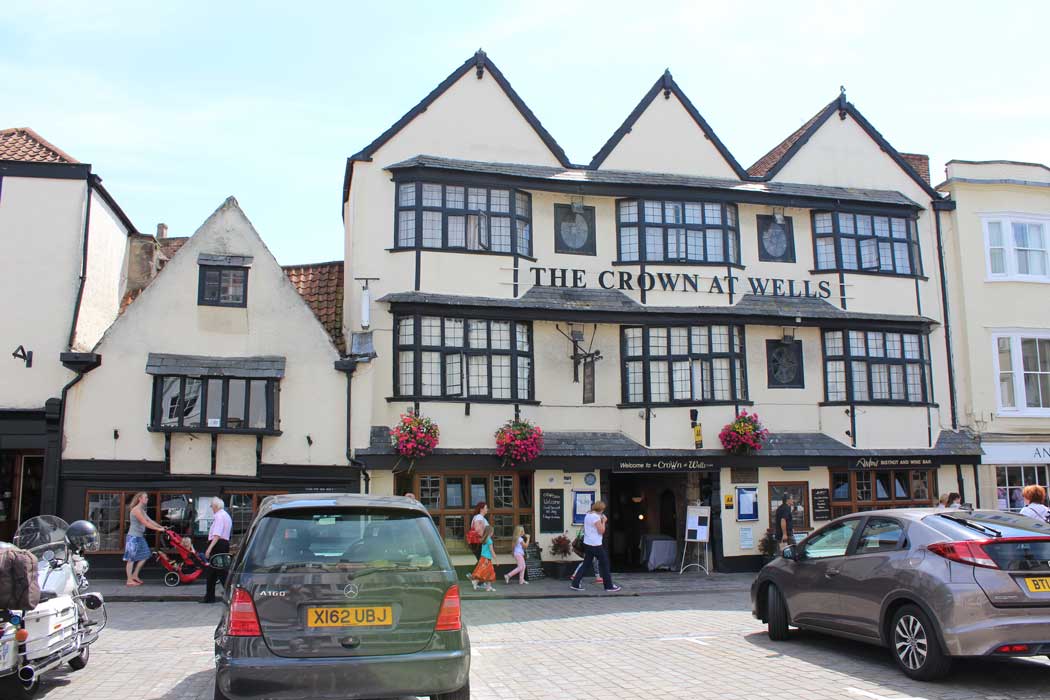 The Crown at Wells is located on Market Place at the northeastern end of Wells' city centre. It is only a short walk from most points of interest in Wells including Wells Cathedral and the Bishop's Palace, which are both only a two-minute walk away.
Limited parking is available at the rear of the building, although the location means that it is best suited if you're travelling by public transport.