The Matthew of Bristol is a seaworthy replica of the caravel that John Cabot sailed in 1497 when he discovered Newfoundland.
The full-size replica was built in Bristol to celebrate the 500th anniversary of the journey and in 1997 she retraced the historic 1497 voyage from Bristol to Cape Bonavista in Newfoundland.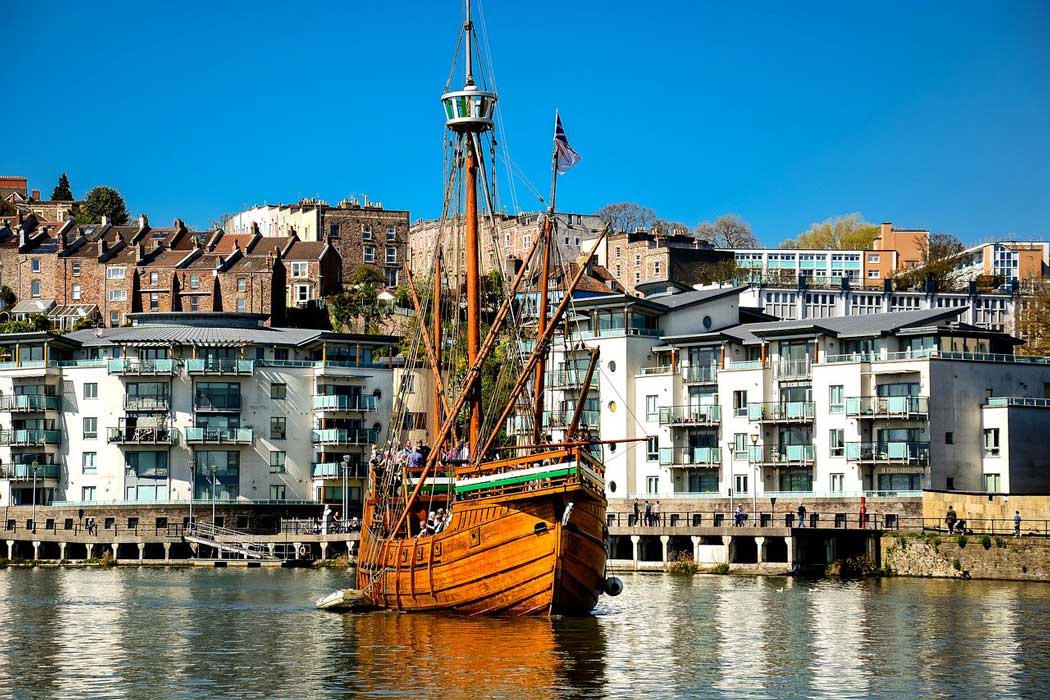 What to see at the Matthew of Bristol
The ship is moored next to the M Shed Museum and it is free to visit when there are no trips running.
Visitors are free to climb on board and explore the ship and there are volunteer guides who can give you more information about the vessel.
It is also possible to take a short cruise around the harbour or a longer cruise down the Avon River Gorge.
Visiting the Matthew of Bristol
The Matthew of Bristol is located on the waterfront at Bristol Harbour right next to the M Shed Museum. Other points of interest nearby include Arnolfini, which is just a three-minute walk away, Queen Square (a four-minute walk away) and Bristol Aquarium and We The Curious are both around a seven-minute walk from the ship. The SS Great Britain is a 10-minute walk away.
It is free to visit the Matthew of Bristol and it makes a nice contrast to the much more visited SS Great Britain.
In the evenings during summer, the Matthew of Bristol runs cruises on the harbour and up the Avon River Gorge.
Some of these cruises include cream tea cruises and fish and chips cruises. Although the fish and chips cruises are catered, it is possible to book a ticket without food and bring your own fish and chips on board (which some people recommend as the fish and chips served on board don't get particularly good reviews). Most cruises last a little under two hours, although the Avon River Gorge trips can take up to four hours.
Although the ship is wheelchair accessible, it does not have wheelchair-accessible toilets.
It is only a small boat (the Matthew had a crew of 18 when she discovered Newfoundland) and a visit doesn't take long. However, you should allow between two and four hours if you're taking a cruise.