Wakefield Cathedral is a relatively small cathedral with a history going back to the 11th century, although the current church dates mostly from the 15th century. It boasts a beautiful interior plus Yorkshire's tallest church spire.
A church has been on this site since Saxon times and the original church was replaced by a Norman church in the 11th century, which was rebuilt in 1329 and enlarged in 1469 when it adopted the perpendicular gothic style. It underwent further restoration in the 19th century when the spire was reconstructed after being damaged in a storm.
It is a Grade I listed building and it became a cathedral in 1888. It is now the seat of the Bishop of Leeds.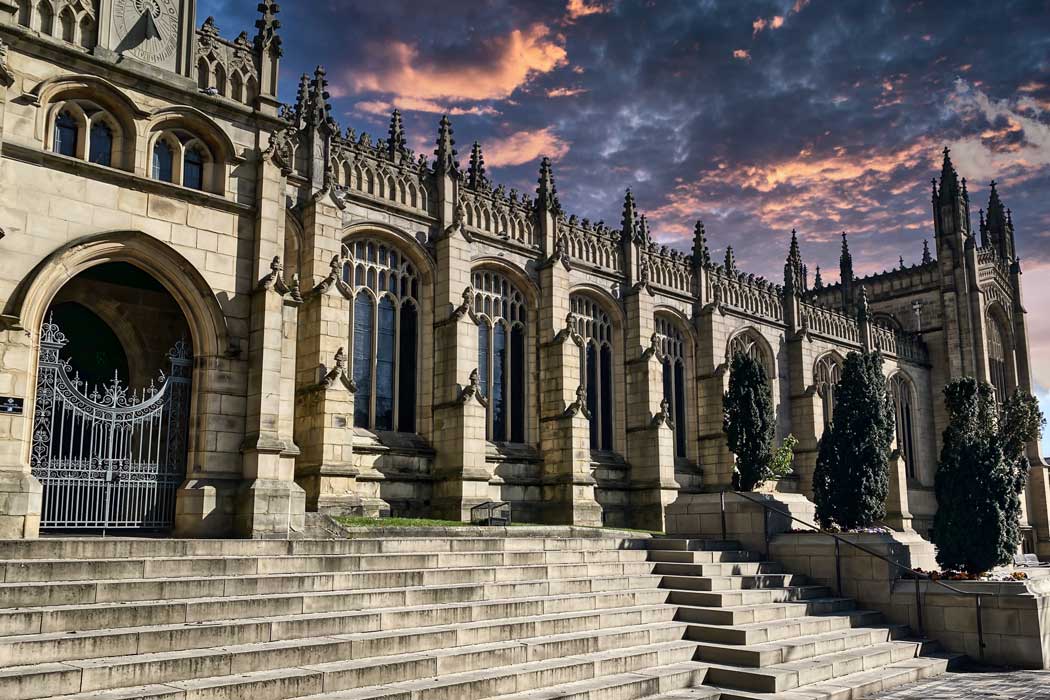 What to see at Wakefield Cathedral
Wakefield Cathedral is one of England's less-visited cathedrals and, as such, it has a more authentic atmosphere than more touristed cathedrals in cities such as Durham, Salisbury and York. It is also an architectural gem with many interesting features and it is well worth a visit if you're in Wakefield.
Many of the pews have been removed to create a bright open space that is used to host a number of cultural events that bring regular people into the cathedral and not just tourists and churchgoers.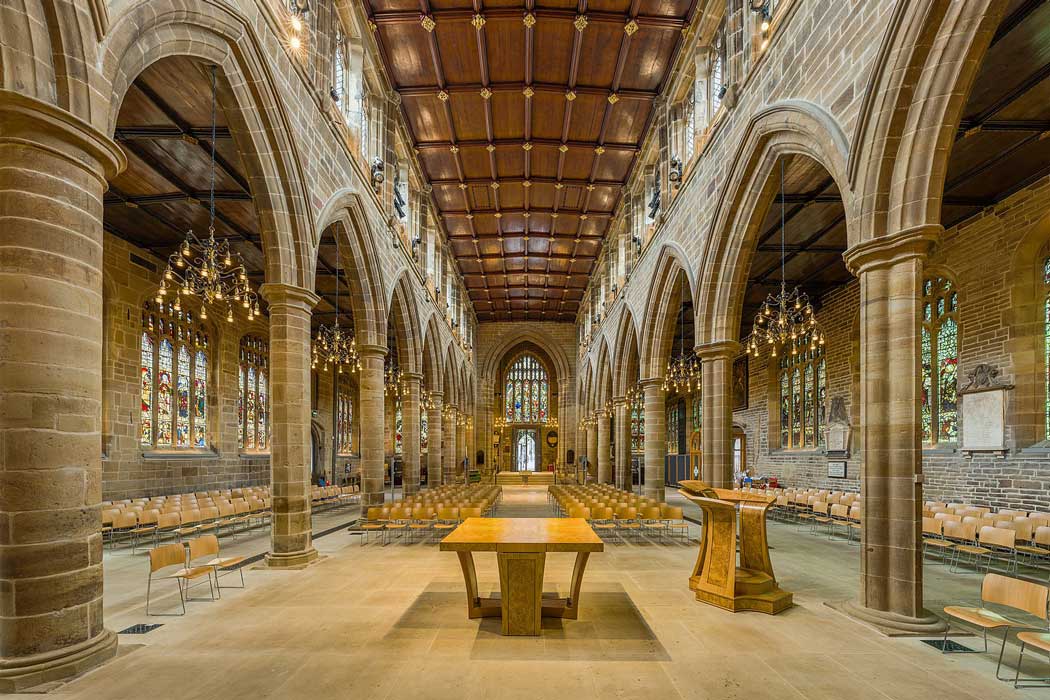 The rood screen is one of the most prominent features of Wakefield Cathedral. It dates from 1635 and is topped by bright golden rood figures including the distinctive six-winged rood angels.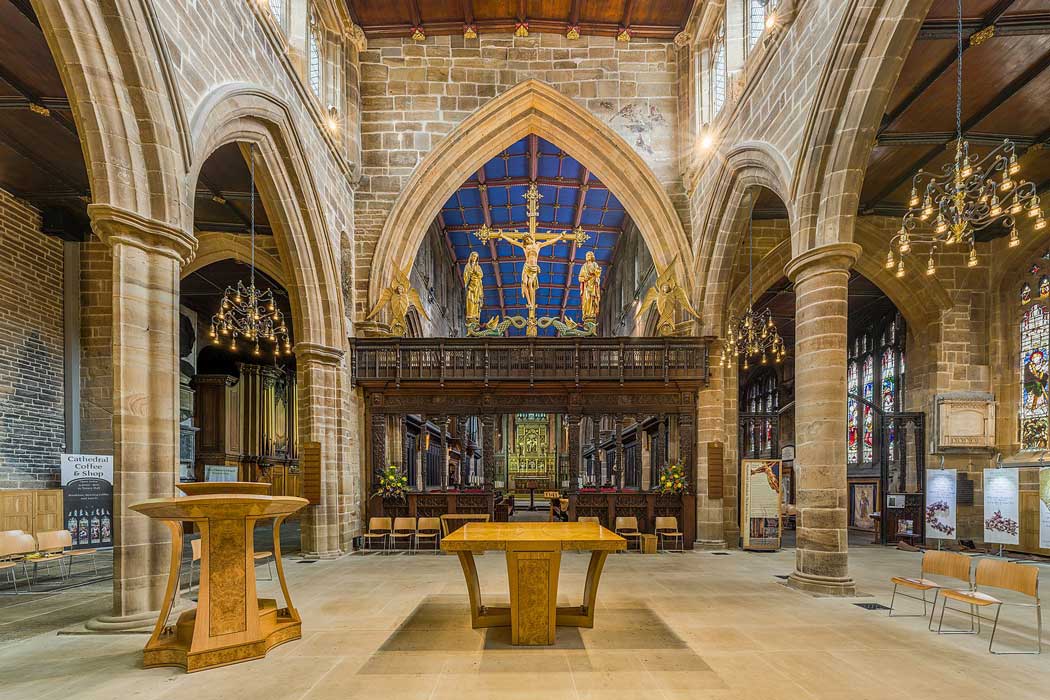 The cathedral is also noted for its unique misericords and other wooden carvings in the choir stalls and also for its distinctive blue ceiling with red and gold detail.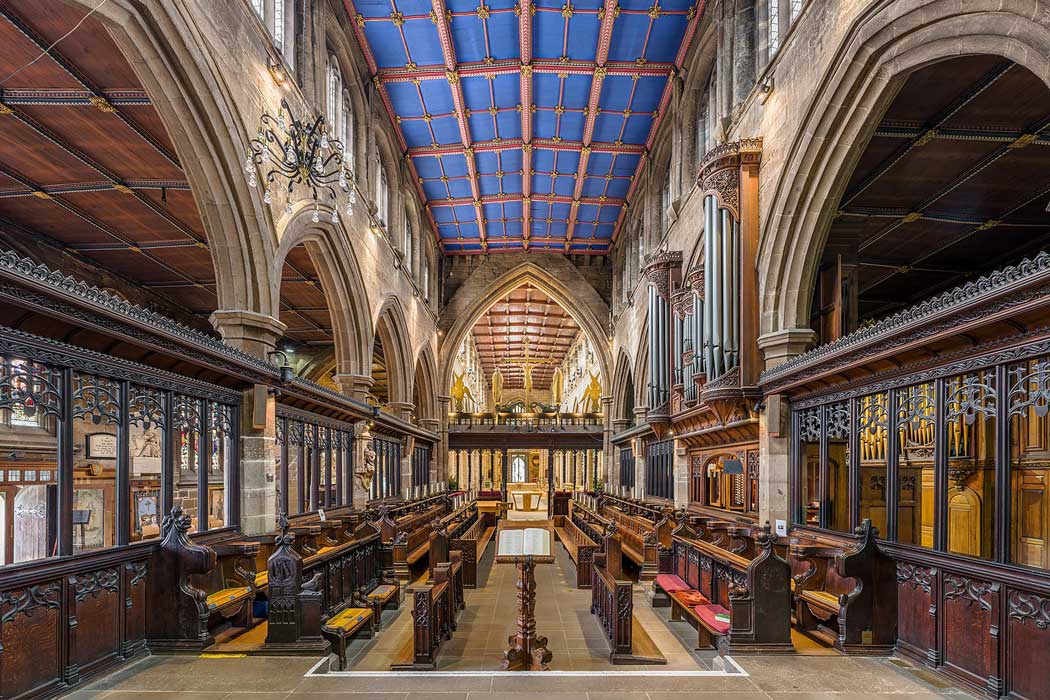 The 75m- (247 ft)-high spire is Yorkshire's tallest church spire and the tallest structure in Wakefield. The tower is not normally open to the public; however, there are tours 2–3 times each year that allow visitors to go up the tower.
Visiting Wakefield Cathedral
Wakefield Cathedral is located in the heart of the city centre. It is around a 10-minute walk from either of Wakefield's two railway stations and there is a busy bus stop just behind the cathedral on Westmorland Street and The Springs with local and regional buses including direct buses to Leeds.
It is free of charge to visit the cathedral; however, there is a small fee if you take one of the tours to the tower.
The cathedral has its own cafe and its location in the city centre means that there are plenty of other places to eat and drink nearby.