Merseytravel operates an extensive public transport service comprised of buses and trains and Mersey Ferries run ferries across the Mersey.
Bus
Liverpool has an extensive bus network, which is a handy way to get to the airport and destinations throughout the city. Apart from taking a tour, the bus is the best way to get to many of the Beatles' sites like Penny Lane and Strawberry Field.
Single bus fares cost £2 but you can save money with a Solo ticket if you're taking more than two bus trips in a day. The Solo ticket costs £5 for one day, £14.10 for a three-day bundle and £21.90 for a five-day bundle. The three- and five-day bundles do not need to be used for consecutive days and you use your travel days whenever you want.
Ferry
Mersey Ferries, which sail between Liverpool and Birkenhead on the opposite side of the Mersey, have been famous ever since Gerry and the Pacemakers had their 1964 hit with Ferry Across the Mersey. The ferry costs £2.90 one-way or £3.80 return. Mersey Ferries also run a 50-minute river explorer cruise that costs £11.50 and they also run cruises up the Manchester Ship Canal to Salford Quays near Manchester.
Train
The Merseyrail train network runs as far as Chester and Ellesmere Port and has underground stops at Central, James Street, Lime Street and Moorfields in the city centre and at Hamilton Square and Birkenhead Central in Birkenhead. Weekly railpasses are available, which may be worth it if you're spending several weeks in Merseyside.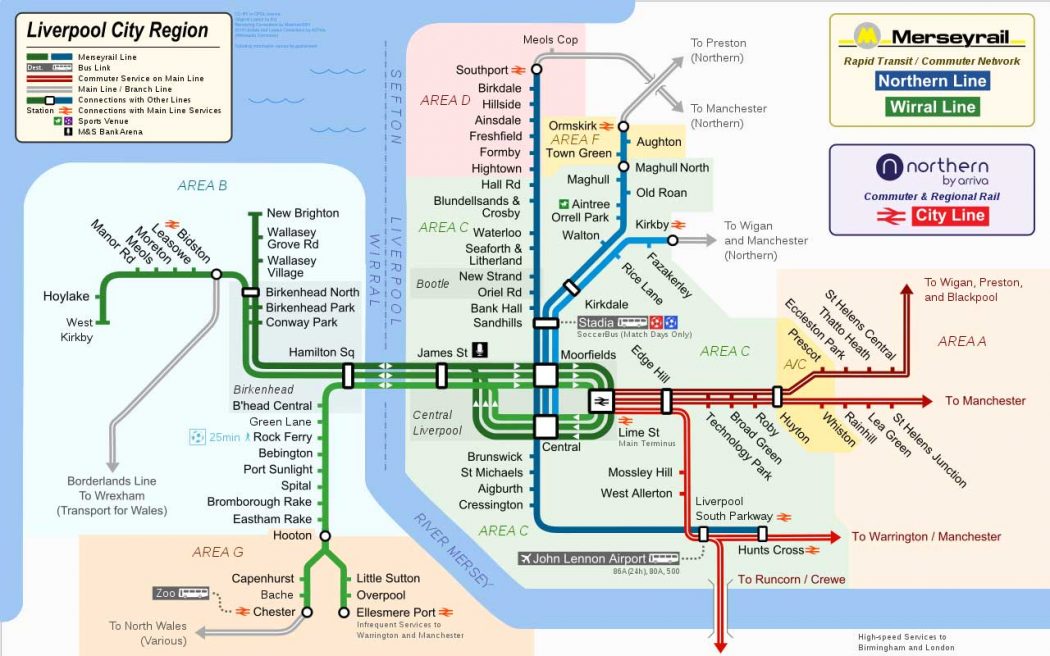 Tickets and travel passes
There are a number of passes available for travel in Liverpool and Merseyside, although most of these are aimed at local residents.
Saveaway pass
The Saveaway pass is the most useful option for most visitors. This pass gives you unlimited off-peak bus and train travel in Liverpool for £4.60 or unlimited bus, ferry and train travel in the entire Merseyside area for £6.
MetroCard
The MetroCard, which replaces the Walrus card, is Liverpool's equivalent of London's Oyster card. This stored value smartcard can be used to pay for bus, ferry and rail travel and you can also load some travel passes to it, including the Saveaway pass and some bus-only Solo tickets.
A blank MetroCard costs £1 and you'll need to add on extra credit in order to use it. You can buy your Walrus card from any PayPoint retailer (which includes many corner shops and convenience stores), Merseytravel Centres, any Merseyrail station and on board Arriva or Stagecoach buses.