Castle Park, which is sometimes called Castle Green, is a large park in the centre of Bristol that was opened in September 1978 on the site of a former shopping district that was destroyed during the Bristol Blitz in the Second World War.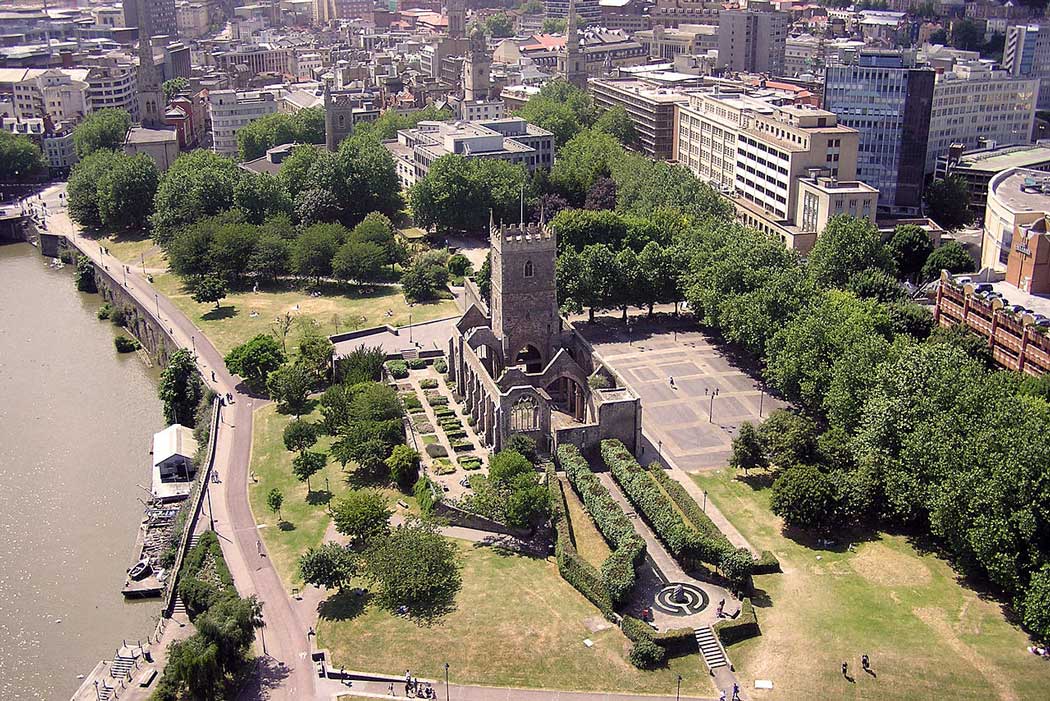 What to see at Castle Park
The park is home to several ruins including the ruins of St Peters and St Mary le Port churches and the partially excavated ruins of Bristol Castle.
Dating from Saxon times, St Mary le Port Church is the oldest of the park's two ruined churches. The church was expanded considerably in the 11th and 16th centuries but was bombed in November 1940 during the Bristol Blitz. The 15th-century tower is all that remains of the church.
The remains of St Peters Church is the park's most prominent feature. The church dates back to the Norman period with the lower tower dating from the 12th century and the remainder of the structure built in the 15th century. Like much of this part of Bristol, it was destroyed by bombing during the Bristol Blitz in the Second World War.
Very little of the park's namesake remains with most of Bristol Castle buried below ground. The vaulted chamber of the King's Hall is the most visible of the castle's remains and traces of the west wall also remain. The castle was built by the Normans under the command of William the Conqueror but was beginning to show signs of neglect by the 15th century and it was demolished in 1656 with the remaining octagonal tower knocked down in 1927.
Castle Park is also home to a number of war memorials, a bandstand and a large children's playground.
Visiting Castle Park
Castle Park is located in the city centre, bounded by Newgate and Broad Weir to the north and the harbour to the south. It is just a short walk from most areas of the city centre with the city's main shopping area located immediately north of here.
The park is accessible by ferry, with the Bristol Ferry Boat stopping at Castle Park Landing, just two stops north of Temple Meads station. It is also accessible by bus with buses stopping on Newgate and Broad Weir along the northern edge of the park.
It is a lovely green space to take a break from shopping in the city centre and it makes a nice shortcut if you're walking between Temple Meads railway station and Bristol's main shopping district.