The Mermaid Inn is undoubtedly Rye's most well-known and most photographed hotel on one of southeast England's most photographed streets. You would be hard pressed to stay anywhere with more character than this Grade II* listed 15th-century half-timbered inn on Mermaid Street.
The inn was originally established in 1156, although the current building dates from 1420. However, 12th-century cellars from the original building still survive.
During medieval times, The Mermaid Inn was a notable alehouse and during this period many official town functions were held here. Queen Elizabeth I is believed to have visited around this time and, more recently, the Queen Mother stayed here when she visited Rye in 1982.
During the 1730s and 1740s, The Mermaid Inn was known as one of the bases of the notorious Hawkhurst Gang, an 18th-century criminal organisation involved in smuggling.
Like any 600-year-old wooden building, you can expect it to be a little bit wonky with uneven stairs, sloping (and creaking) floors and low ceilings. That is all part of its charm and there is no denying that The Mermaid Inn has buckets of character.
Like many hotels in old buildings, the hotel's 31 guest rooms each have a different design and the period aspects of the building feature prominently throughout with Caen stone fireplaces, thick dark wood beams and lead-framed diamond-paned windows as is typical of Tudor-era architecture.
The rooms vary considerably with several single rooms and larger family rooms although most of them are double rooms. All rooms have televisions, free Wi-Fi wireless internet access and en suite bathrooms and most rooms also have tea and coffee making facilities. The larger rooms have more space with armchairs and several of the rooms feature four-poster beds.
The Mermaid Inn has a reputation as one of Britain's most haunted hotels with rooms one, 10, 16, 17 and 19 said to be haunted.
Like most other hotels of a similar age, it is not wheelchair accessible.
The hotel's restaurant, The Linen Fold, consists of three charming wood-panelled rooms. The restaurant serves British and French cuisine with a menu featuring local produce such as Winchelsea beef, Romney Marsh lamb and Rye Bay scallops. It is a little on the expensive side but the food is very well regarded and it is not often you get the opportunity to eat in a dining room that dates from medieval times.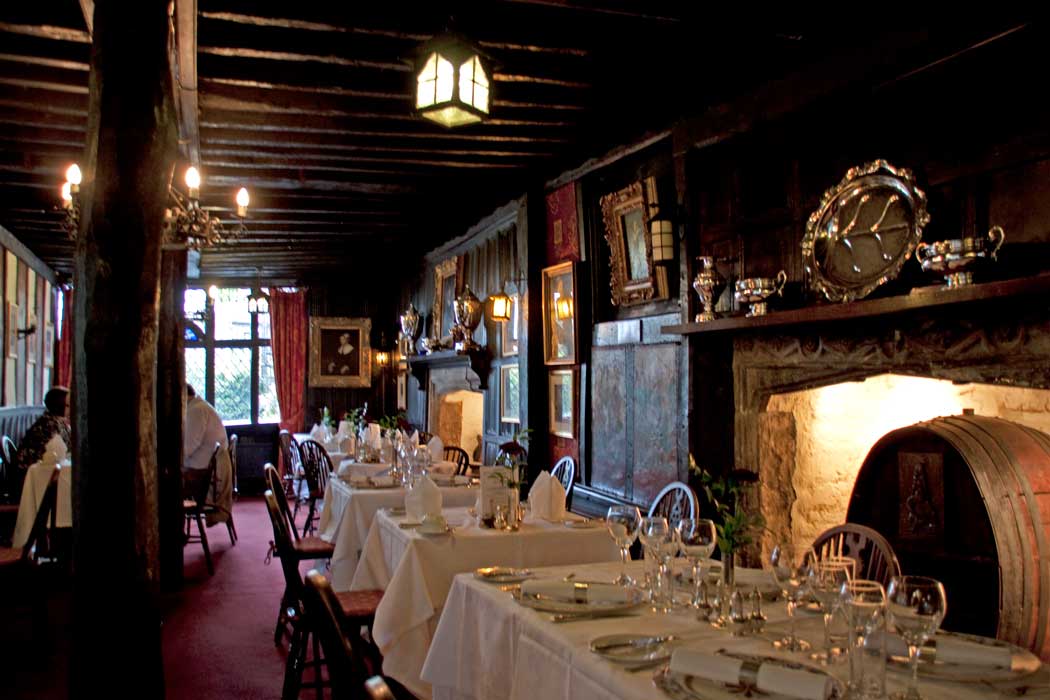 The hotel bar, The Giant's Fireplace, features a huge open fireplace and it opens onto three patio areas. The bar menu has pub classics with a continental twist (for example, you can order a beef bourguignon burger or a venison and lentil casserole) and it has local ales and a large gin and whisky selection.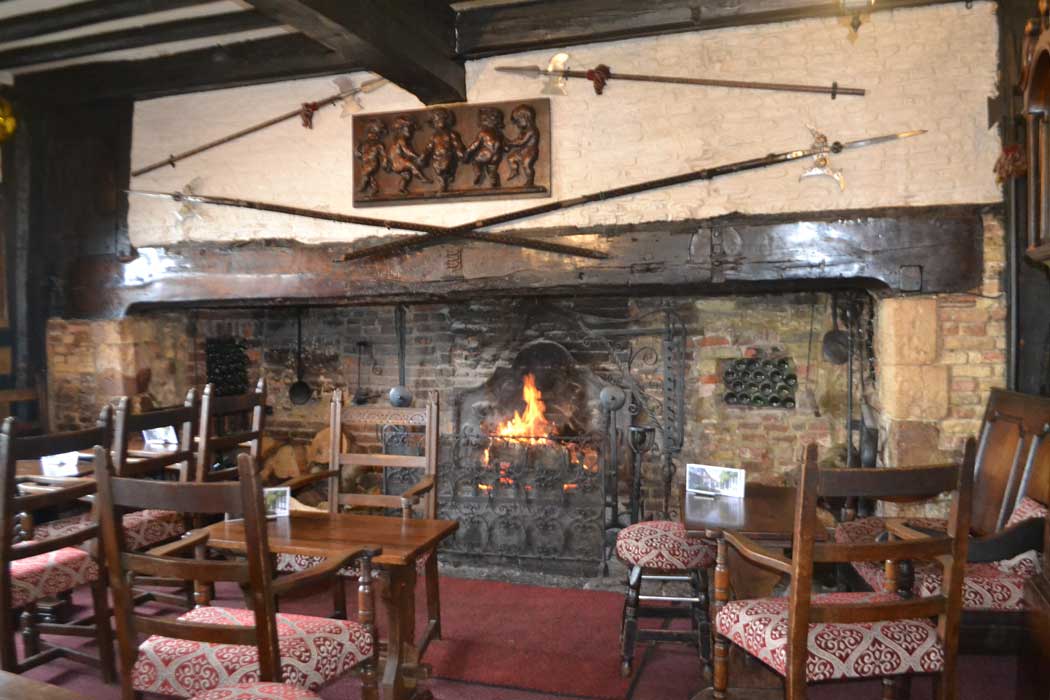 The hotel also has several cosy residents' only lounges on the ground floor near the reception area. These include Dr Syn's Chamber, which has comfortable leather sofas and a warm fireplace which give it a clubby atmosphere and make it a relaxing spot to sit and read a newspaper.
The Mermaid Inn is on Mermaid Street in the heart of the town centre. Almost everything of interest in Rye is no more than a five-minute walk from here.
The hotel has parking for 25 cars, which is rare for a hotel in Rye's town centre. The parking facilities were originally designed for horses so it can be a bit tight getting into some of the spaces, particularly if you have a larger car.
If you want to stay in a quirky, quintessentially English, historic hotel, then the Mermaid is for you. If you prefer not to sleep in a supposedly haunted hotel, then at least pop into the bar or restaurant for a drink and a bite to eat.
Check prices and availability for The Mermaid Inn
Check prices and availability on Expedia for The Mermaid Inn in Rye, East Sussex.
We may earn a small commission if you book your hotel after clicking this link.