The Great Stour runs through Canterbury and many visitors like to take a boat tour on the river. You have the option of either a punting tour or a guided tour in a rowing boat and both tours allow you to see the city from a different perspective.
Both the rowing boat tours and punting tours offer a relaxing way to experience Canterbury. According to some people, the rowing boats offer a more comfortable ride but the punting tours are a more unique experience. Both are similarly priced and offer a great value experience.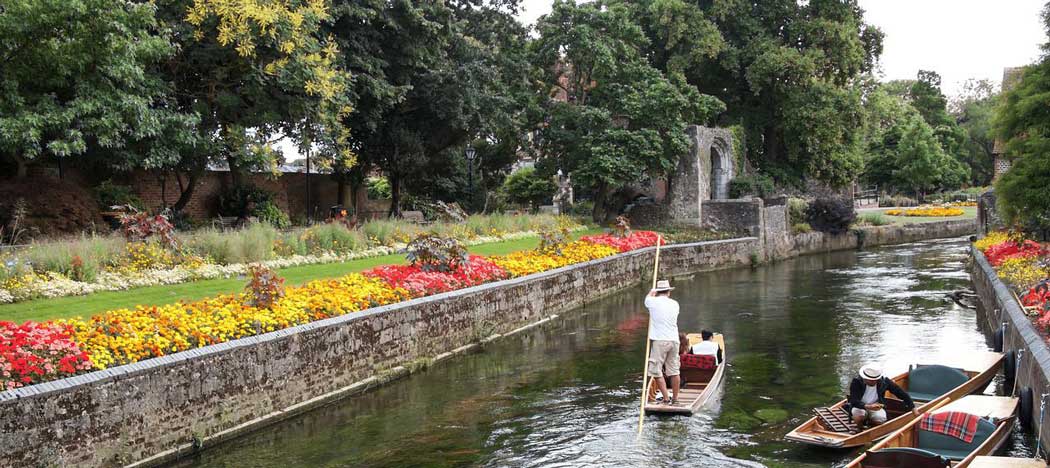 Rowing boat tours in Canterbury
Rowing boat tours are operated by Canterbury Historic River Tours.
They depart from a central location where High Street crosses the Great Stour, right across from the Eastbridge Hospital of St Thomas and between the Old Weavers' House and the ASK Italian restaurant. Virtually everyone who visits Canterbury will walk past here and the central departure point means that these tours are very popular.
Rowing boat tours last around 45 minutes and each boat can hold up to 12 passengers.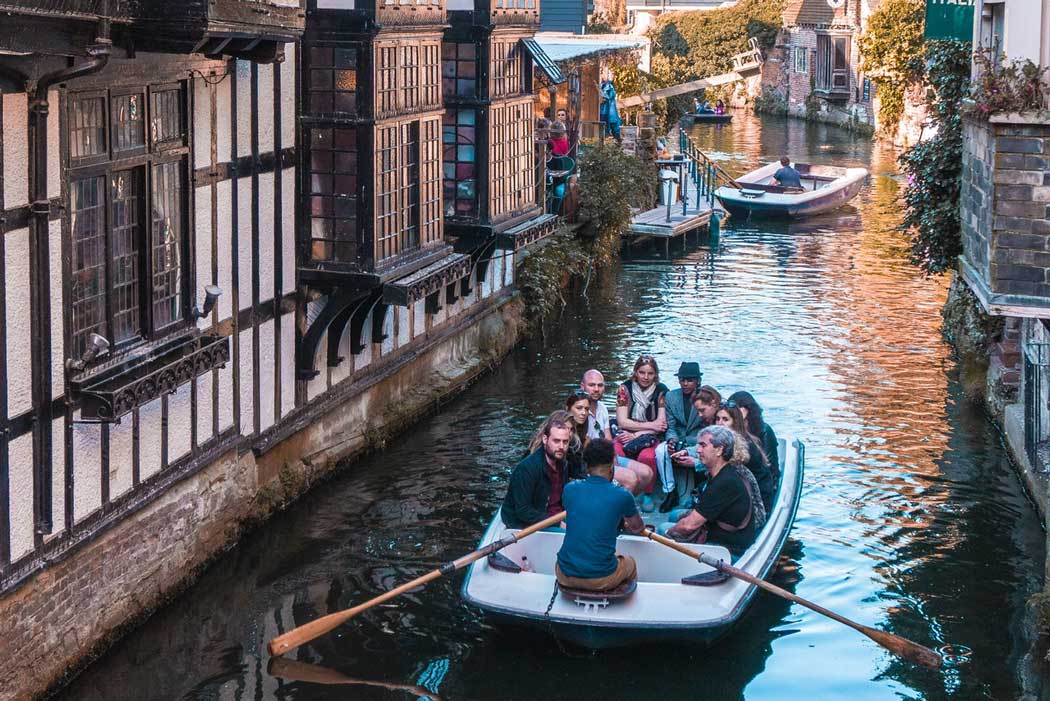 Punting tours in Canterbury
Punting is another option that many visitors to Canterbury prefer, as it is a tour option that is unique to England.
Both the Canterbury Punting Co. and Westgate Punts operate chauffeured punting tours on a traditional handmade punt similar to what you may see in Cambridge.
Both companies let you take a private tour, where you have the entire punt to yourself but only the Canterbury Punting Co. offers shared tours, where you share the punt with a bunch of other tourists. While the private tours can be pricy for just one or two people, they can be good value for a family or a large group. Shared tours are very good value for money if you're travelling alone or with a partner and they are highly recommended.
Canterbury Punting Co. tours depart from Water Lane, around a three-minute walk down Stour Street from High Street, and Westgate Punts depart from Westgate Bridge, not far from Westgate Towers and the Kent Museum of Freemasonry. Compared to the rowing boat tour departure point, the departure point for the two punting tour companies can be difficult to find.
Tours generally last for around 40–45 minutes and each punt can hold up to 12 passengers.