St Clements Caves on the West Hill behind the Old Town in Hastings, East Sussex has been used as an air raid shelter during the Second World War and in 1989 it re-opened as a tourist attraction called Smugglers Adventure.
Smugglers Adventure portrays the history of smuggling on the south coast of England with historical (and fictional) events recreated using life-size models and sound effects.
The attraction has since gone through two major refits, re-opening in 1989 and again in 2012 with updated displays.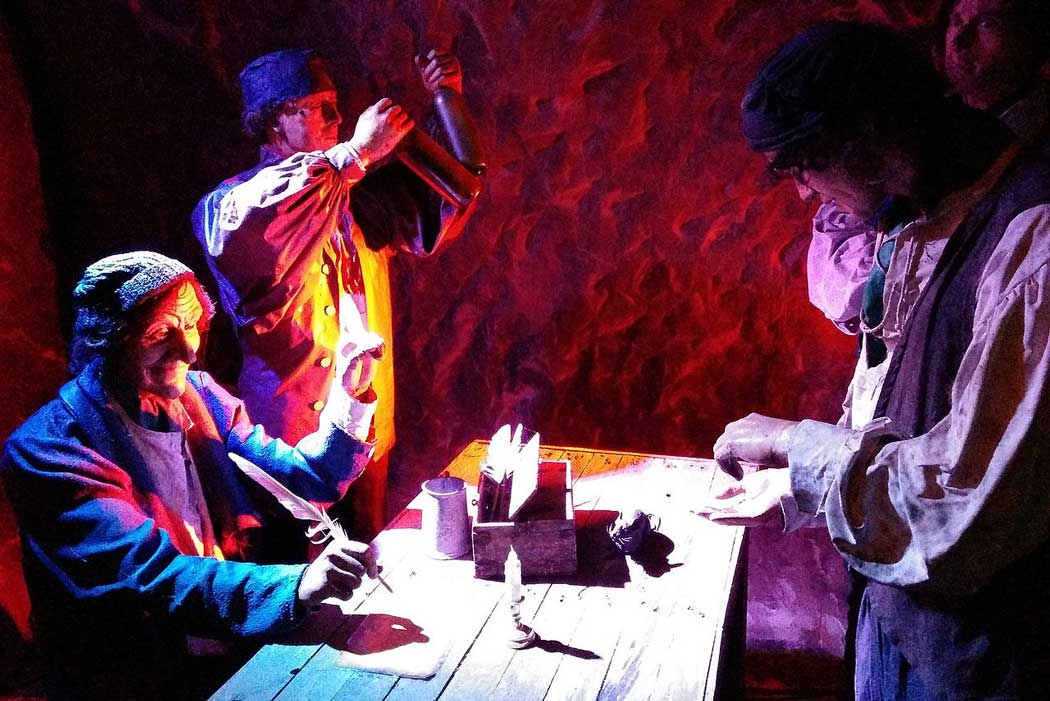 What to see at Smugglers Adventure (St Clements Caves)
The Smugglers Adventure attraction consists of a series of life-size dioramas with more than 70 characters and lighting and sound effects.
It is a self-guided attraction that you can follow at your own pace. The displays are narrated by Hairy Jack, a fictional smuggler, who tells stories about the life of the 40,000 or so smugglers who worked on the south coast of England and the customs officers that pursued them.
It is well presented and there is some interesting background information that you can read along the way that provides more details about smuggling during the 18th and 19th centuries. There are also several interactive displays and hands-on activities, which are popular with children.
The attraction also features a short 10-minute video presentation explaining the history of the caves.
The latest renovation of the complex (in 2012) saw an increased emphasis on showcasing the geological formations within St Clements Caves.
Many parts of the attraction are dimly lit and many people bring a torch with them although it is sufficiently lit once your eyes adjust to the darkness.
Visiting Smugglers Adventure (St Clements Caves)
Smugglers Adventure (St Clements Caves) is on West Hill behind Hastings' Old Town. It is accessible either by a footpath from Croft Road or via the West Hill Lift.
The attraction is closed during winter so it is something you can't visit if you're in Hastings in the quieter season.
Smugglers Adventure is closed for winter and will re-open in April 2022.
Although it is hardly cheap, the admission price is reasonable considering what you would pay if this attraction was in London. There is also a three-in-one combo package available that also includes entry to the Blue Reef Aquarium and Hastings Castle.
The attraction is not suitable for visitors with wheelchairs. There are several steps to the entrance and due to the nature of it being set in a natural cave, floors are uneven and there may be some slippery surfaces.
Because some surfaces may be uneven or slippery, you should wear sturdy footwear. It can also get cold in the caves (even during summer) so it is a good idea to bring a jumper with you.
Prams and pushchairs are not permitted in the attraction either (there is a buggy park where they can be left). Apart from this, it is a popular family attraction and children generally love it although some younger children may find it a little scary as some of the themes involve ghosts and mild gore.
Most visitors spend between one and two hours at Smugglers Adventure.