The Falstaff Hotel is a historic independent hotel in a former coaching inn, dating from 1403. The hotel provides a central accommodation option close to Canterbury's iconic Westgate Towers and it's a lovely place to stay with loads of character.
The hotel comprises three buildings surrounding a central courtyard and it retains original architectural features including 15th-century beams and open fireplaces. The country-style interior decor features pops of bright colour, which gives the place a contemporary, yet charming feel.
All rooms have comfortable beds, flatscreen televisions and tea and coffee making facilities.
The rooms start at the compact, and more affordable, cosy doubles, and go all the way up to spacious junior suites. The cosy doubles have double beds but all the larger rooms have king and super king-size beds. All rooms have en suite bathrooms but the luxury rooms also feature a roll-top bathtub in the bedroom and both the luxury rooms and junior suites have bathrobes.
The hotel also has a cocktail bar and an outdoor dining area in the central courtyard, where you can enjoy afternoon tea, bottomless brunch on weekends or pizza on Friday, Saturday and Sunday evenings.
Free Wi-Fi wireless internet access is available throughout the hotel.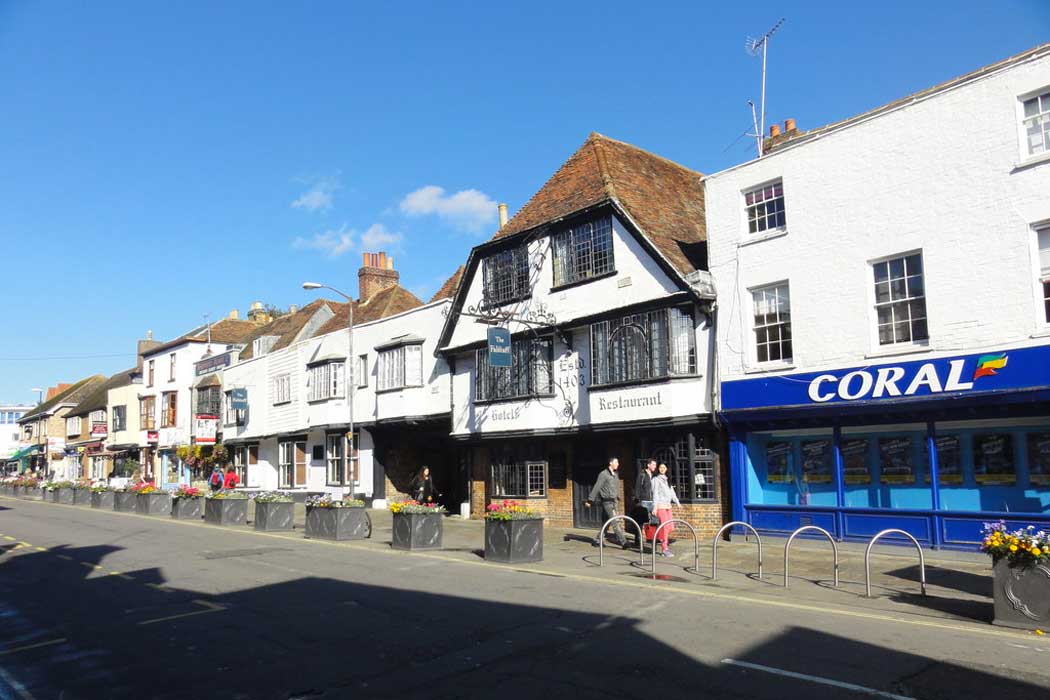 The hotel is at the northwestern end of Canterbury city centre and most points of interest are within easy walking distance. It is only a one-minute walk to
Westgate Towers
, it is a four-minute walk to the
Eastbridge Hospital of St Thomas
, a five-minute walk to the
Beaney House of Art and Knowledge
, an eight-minute walk to the
Roman Museum
, a nine-minute walk to
Canterbury Cathedral
and a 15-minute walk to
St Augustine's Abbey
.
Canterbury West railway station is only a four-minute walk from the hotel, which makes it a great option if you're travelling by train. Canterbury East station is a 14-minute walk away and it's an 11-minute walk to the bus station.
Check prices and availability for The Falstaff in Canterbury
Check prices and availability on Expedia for The Falstaff Hotel in Canterbury, Kent.
We may earn a small commission if you book your hotel after clicking this link.