The Victoria Quarter and the Arcades comprise one of Leeds' most delightful shopping experiences and they have been compared with Milan's Galleria Vittorio Emanuele II as being among the world's most beautiful shopping centres.
What to see at Victoria Quarter and the Arcades
The Victoria Quarter and the Arcades date from the Victorian era when Leeds grew rich on the wool trade and they continue to give the city an edge over other northern cities when it comes to an upmarket shopping experience.
The Victoria Quarter is the most famous of these, but the others (the Grand Arcade, Queen's Arcade and Thornton's Arcade) are also worth a look.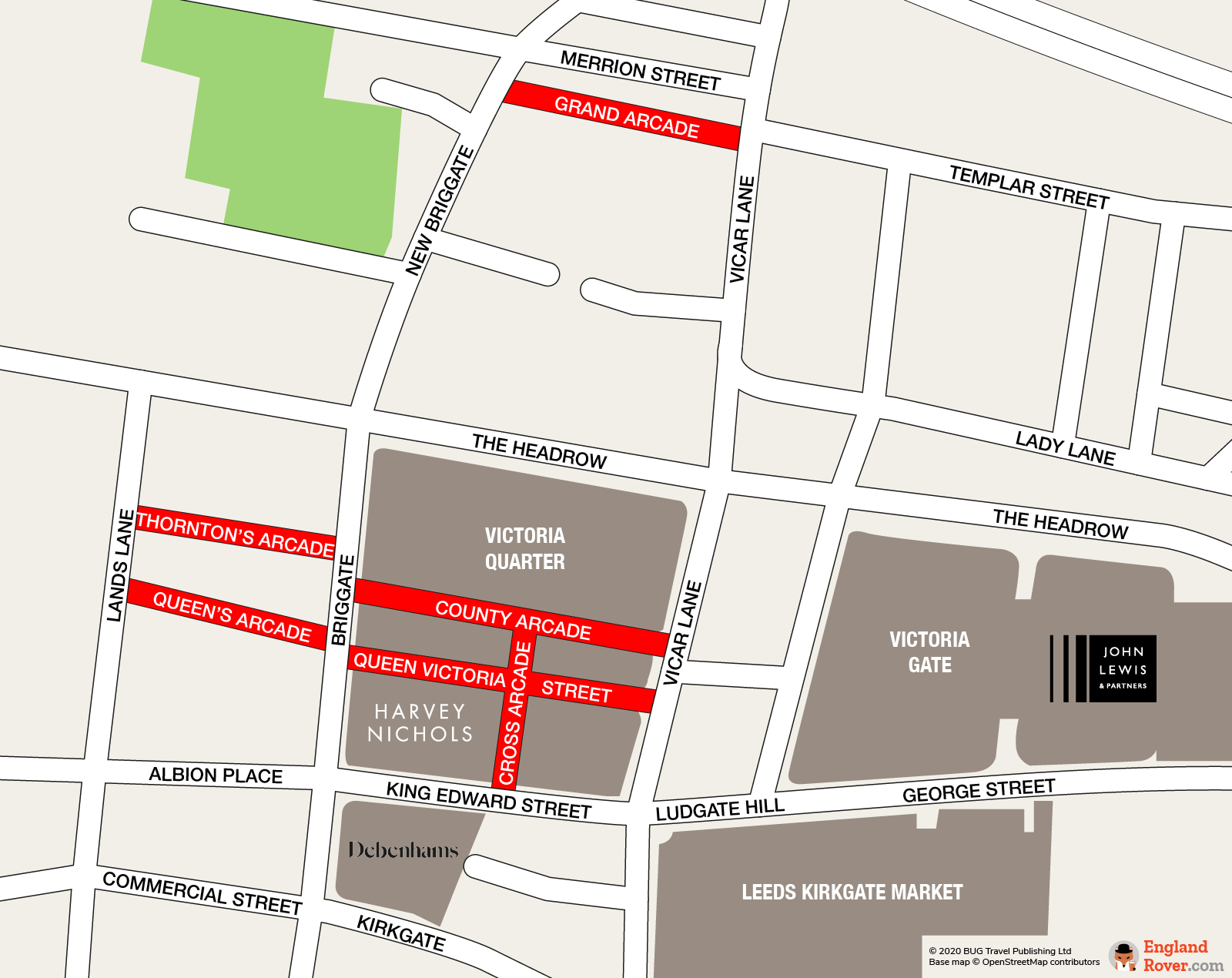 Victoria Quarter
The Grade II*-listed Victoria Quarter is the most well-known of Leeds' shopping centres. It is a network of interconnected shopping arcades spanning three city blocks between Briggate and Vicar Lane. These arcades include County Arcade and Cross Arcade, which were built between 1898 and 1904 and Queen Victoria Street, which was converted into an arcade in 1989 by pedestrianising the street and adding a stained-glass roof.
The County and Cross Arcades feature extensive use of marble and architectural faience plus ornate mosaic-tiled floors. Many of its shops are upmarket boutiques selling luxury brands.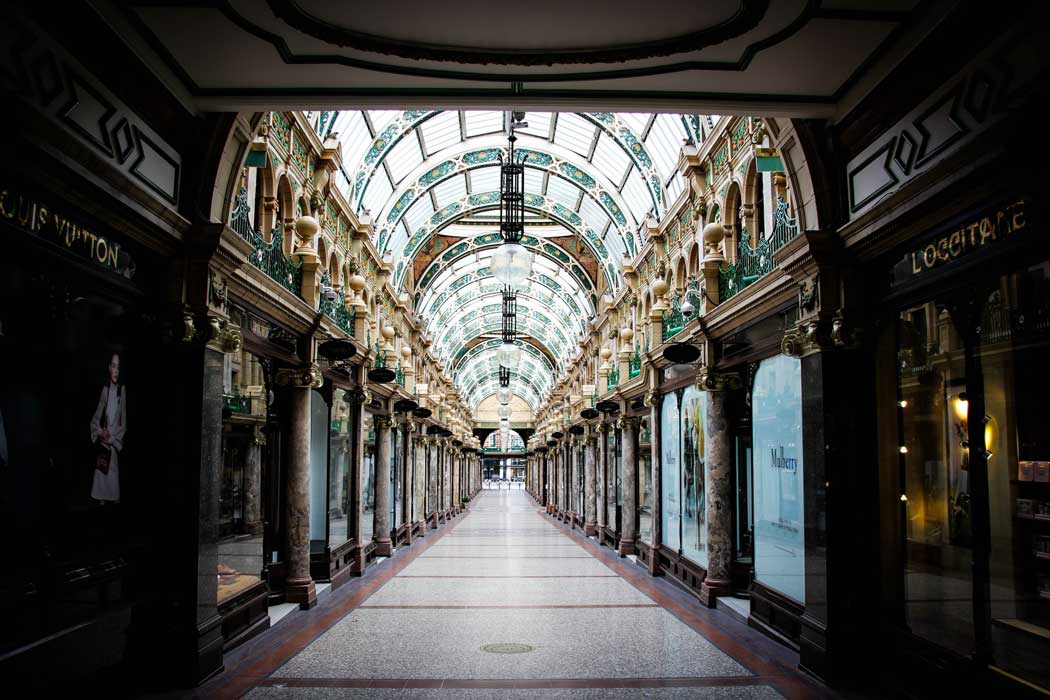 There used to be a less-attractive arcade that was connected to Queen Victoria Street and the Cross Arcade. This arcade was in a contemporary design that was built in 1961 and was demolished and replaced by a five-storey branch of Harvey Nichols in 1996. This was the first branch of the upmarket department store to be opened outside London.
When Queen Victoria Street opened as an arcade in 1989, its roof was the world's largest secular stained glass work and it remains one of Europe's largest stained glass windows.
The Victoria Quarter is part of the Victoria Leeds complex, which combines the heritage arcades of the Victoria Quarter with the modern Victoria Gate complex which opened in 2016 adding additional shopping space including a five-storey John Lewis department store.
Queen's Arcade
Queen's Arcade was built in 1889 and it originally included a hotel. It has a mix of well-known retail chains and quirky independent shops.
Thornton's Arcade
Thornton's Arcade is the oldest of Leeds' shopping arcades. It is a neo-gothic arcade that was built in 1878 and features the Ivanhoe Clock, which has characters from Robin Hood that ring the bell on the quarter-hour.
The shops in Thornton's Arcade are a mix of major chain stores and independent shops.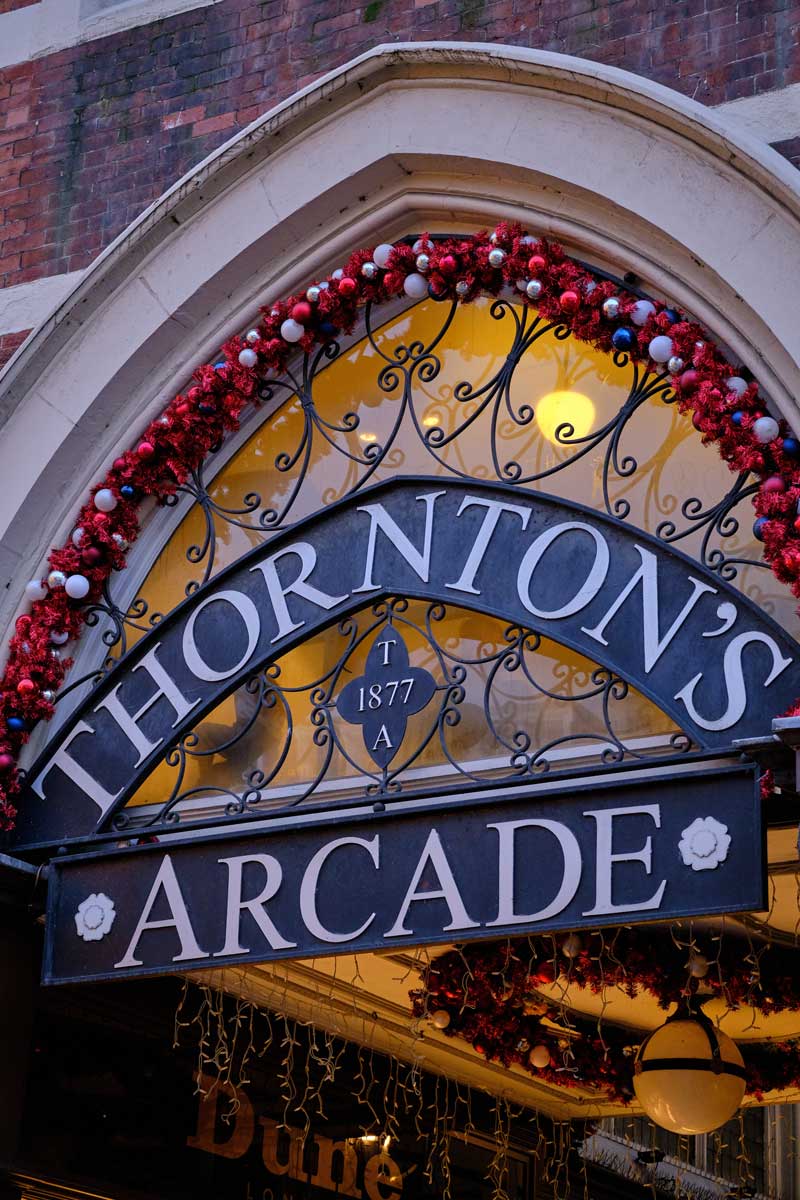 Both Queen's and Thornton's Arcades are Grade II-listed that run parallel to each other, linking Briggate with Lands Lane. Both arcades provide easy access to the Victoria Quarter; at Briggate, Queen's Arcade connects with Queen Victoria Street and Thornton's Arcade connects with County Arcade.
Grand Arcade
While Queen's and Thornton's Arcades are located close to the Victoria Quarter, the Grand Arcade is a couple of blocks farther north, located between The Headrow and Merrion Street.
The Grand Arcade was designed in 1897 and features the castle-shaped Potts Clock. It is definitely not as posh as Leeds' other shopping arcades and the Grand Arcade is full of quirky independent shops and an eclectic mix of places to eat and drink.
Visiting Victoria Quarter and the Arcades
The Victoria Quarter and Queen's and Thornton's Arcades are in the heart of the city centre with direct access to Briggate, Leeds' main shopping street. The Grand Arcade is a little farther north from this cluster of arcades, although it is only a four-minute walk from the Briggate entrance to the Victoria Quarter and Queen's and Thornton's Arcades.
Leeds other retail centres are nearby with Leeds Kirkgate Market and the Trinity Leeds shopping centres no more than a three-minute walk away.
The city centre location means that there are plenty of places to eat and drink nearby including The Ivy near the Vicar Lane entrance to Queen Victoria Street in the Victoria Quarter. There are also several good pubs nearby including The Ship on Briggate near Queen's Arcade or The Angel, hidden down a narrow alley between Lloyds Bank and Fatface, which possibly serves Leeds' cheapest beer.