Bristol Aquarium is an aquarium near Millennium Square in Bristol that is home to a wide range of marine life presented in a series of different display areas.
The aquarium opened in November 2009 in the buildings that previously housed the IMAX cinema and the Wildwalk attraction at the @Bristol science museum, which has now been renamed We The Curious. It was previously branded the Blue Reef Aquarium but it is now simply called Bristol Aquarium even though it is still owned by the same group that run the Blue Reef Aquariums in Hastings, Newquay and Portsmouth.
What to see at Bristol Aquarium
Although relatively small, the aquarium is well presented with over 40 display areas that are home to a variety of marine life including lobsters, seahorses, tropical fish and sharks.
The aquarium's highlights include Gloria, the Giant Pacific Octopus and a huge 50-year-old lobster named Dale. Mac the tarantula is another a surprisingly popular attraction.
There are two underwater tunnels at Bristol Aquarium where visitors can experience fish swimming above them. One of these takes you through a tropical marine environment and the other takes you through an area that has sea life native to Britain.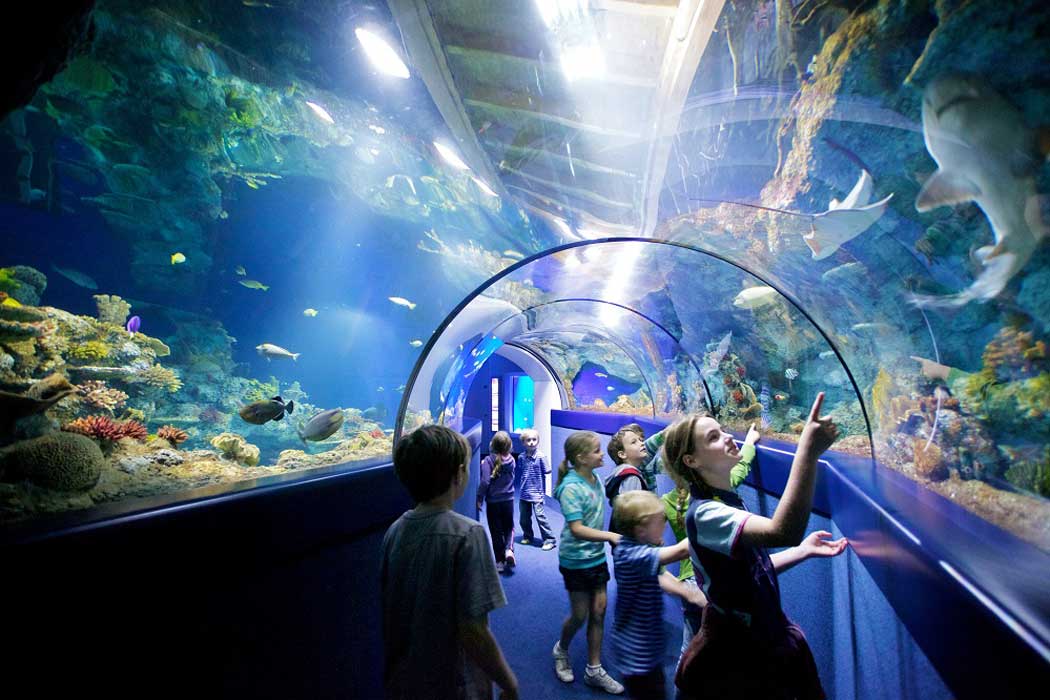 The Mighty Amazon display showcases freshwater fish found in the Amazon. This exhibit is home to electric eels, archer fish, aworana, pacu and piranhas.
The Coral Seas display is home to a variety of tropical fish species that include cleaner wrasse, clownfish, eels, oriental sweetlips and soldierfish.
It is the only aquarium in the United Kingdom to have an indoor botanical garden that is home to plants from around the world. The Urban Jungle includes the Bay of Rays exhibit, which is home to stingrays, thornback rays and painted rays.
Visiting Bristol Aquarium
Bristol Aquarium is located right next to We The Curious on Millennium Square in the Canon's Marsh area of Bristol. Other attractions nearby include Bristol Cathedral and it is just a short walk across Pero's Bridge to Arnolfini, Queen Square and the Old City.
The admission price is a little steep, but that can be said for almost all aquariums in the UK (except Bolton's which is free).
The aquarium operates the following programme of daily talks and feeds:

| | |
| --- | --- |
| 11.30am | Tropical predators |
| 12.30pm | Seahorses |
| 1.30pm | Rays |
| 2.30pm | Freshwater fish of the Amazon River |
| 3.30pm | Giant Pacific Octopus |
Like most aquariums, this is a great family-friendly attraction that is both fun and educational.
The aquarium's changing floor surface means that it is best not to visit if you're wearing high heels.
It is a relatively small aquarium and many people spend no more than an hour in here.