The Midland Hotel is a grand hotel that was opened in 1903 and underwent a £12-million renovation in 2004. It was built in an age when railway hotels were designed to impress, with an ornate exterior, wide marble-walled hallways and an impressive lobby featuring a glass ceiling.
The hotel has 312 bedrooms and 14 suites. The standard rooms have comfortable beds, a trouser press (or ironing facilities), tea and coffee making facilities and en suite bathrooms with hair dryers. Superior rooms are slightly larger and have all the amenities of the standard bedrooms plus Nespresso coffee machines and complimentary mineral water.
Like many grand hotels of the era, rooms are not as consistent as in more modern hotels so some rooms may be slightly larger or smaller than others. The best rooms are those with a view of the Manchester Central Library.
All rooms include free unlimited Wi-Fi wireless internet access.
The Midland has four restaurants: The French, Mr Cooper's House & Garden, the Tea Room and the Bar & Lounge.
The French is noted as one of the first Michelin-starred restaurants in Britain and is rated among the 20 best restaurants in the United Kingdom.
Mr Cooper's Restaurant & Bar (formerly called The Colony) is a quirky casual dining restaurant with a popular bar that was named in tribute to Thomas Cooper whose house and gardens once stood on the hotel site.
The Tea Room at The Midland is an elegant space dedicated to afternoon tea.
The Bar & Lounge at The Midland (formerly known as The Octagon Lounge) is primarily a bar, but also serves less formal meals.
The hotel also has a fitness centre with a hot tub, sauna and steam room.
The Midland Hotel opened in 1903. It was built by the Midland Railway to accommodate passengers travelling through nearby Manchester Central railway station (which closed in 1969 and is now known as the Manchester Central Convention Complex).
When it opened, it was Manchester's grandest hotel and it has hosted many important guests. The Queen Mother has dined here and Charles Rolls met Henry Royce at the Midland, which led to the formation of the Rolls-Royce company. The Beatles were famously refused access to The French restaurant for being inappropriately dressed.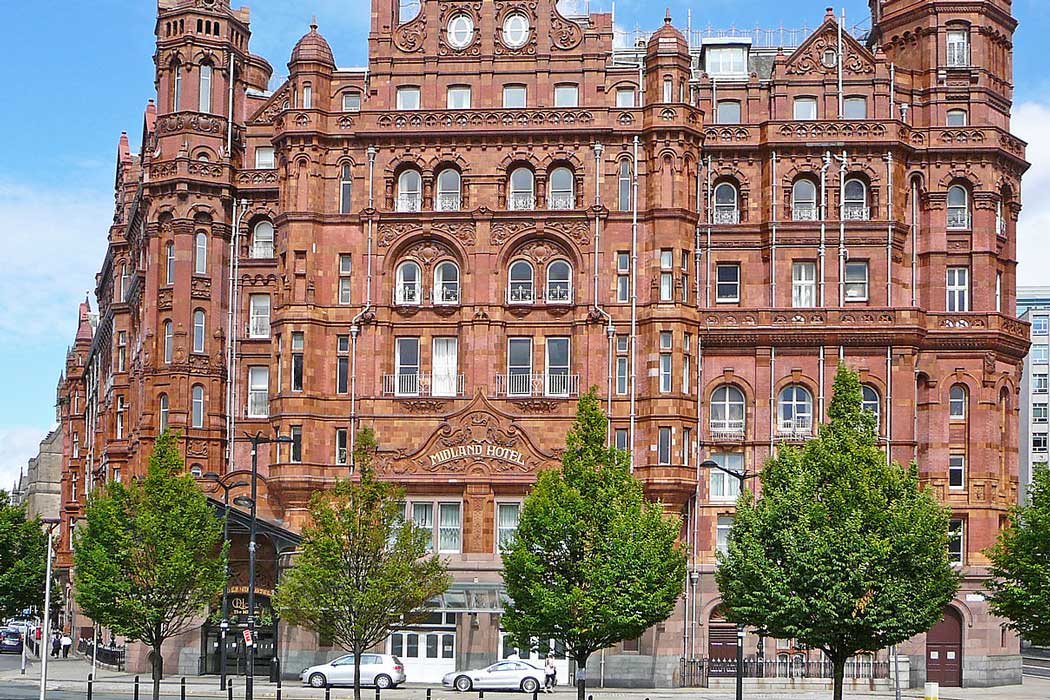 The hotel has a very central location right across the road from the Manchester Central Convention Complex and the Manchester Central Library. It is a 10-minute walk from Deansgate and Oxford Road railway stations and Salford Central,
Manchester Piccadilly
and
Manchester Victoria
stations are a 15-minute walk. If you're coming from the airport, St Peter's Square tram stop is just a short walk from the hotel.
Check prices and availability for Midland Hotel
Check prices and availability on Expedia for the Midland Hotel in Manchester.
We may earn a small commission if you book your hotel after clicking this link.