With so much of Oxford's identity intertwined with its famous university, a visit to the University of Oxford is high on the list for most visitors to the city.
Not all parts of the university are open to the public as crowds of tourists wandering through university buildings would have a negative effect of student's day-to-day life and academic progress.
However, the way the university is structured means that university buildings are located all over Oxford and simply walking down many city streets will have you surrounded by university buildings. Furthermore, the university operates several museums, gardens and churches that are free to visit as well as other attractions that you can visit by guided tour. In addition to this, many of the university's 38 constituent colleges allow tourists to visit which can give you a good feel for academic life at Oxford while also giving you the opportunity to see many wonderful historic buildings, many dating from the Middle Ages.
Visiting museums, libraries and public buildings at the University of Oxford
The university operates several churches, museums, libraries, gardens and historic buildings that are open to the public either free of charge or as part of a guided tour.
Ashmolean Museum
The Ashmolean Museum is the world's first university museum and it is regarded as Britain's best museum outside London.
Bodleian Library
There are over 100 libraries at the University of Oxford including 28 that are part of the Bodleian Libraries. The main one, however, is the Bodleian Library, which includes the old Bodleian Library, Duke Humfrey's Library, Radcliff Camera and Weston Libary.
There is an exhibition space open to the public in the Weston Library and guided tours available to other parts of the Bodleian Library complex. These tours will take you into the oldest room in the university and its oldest library and are highly recommended if you love old buildings.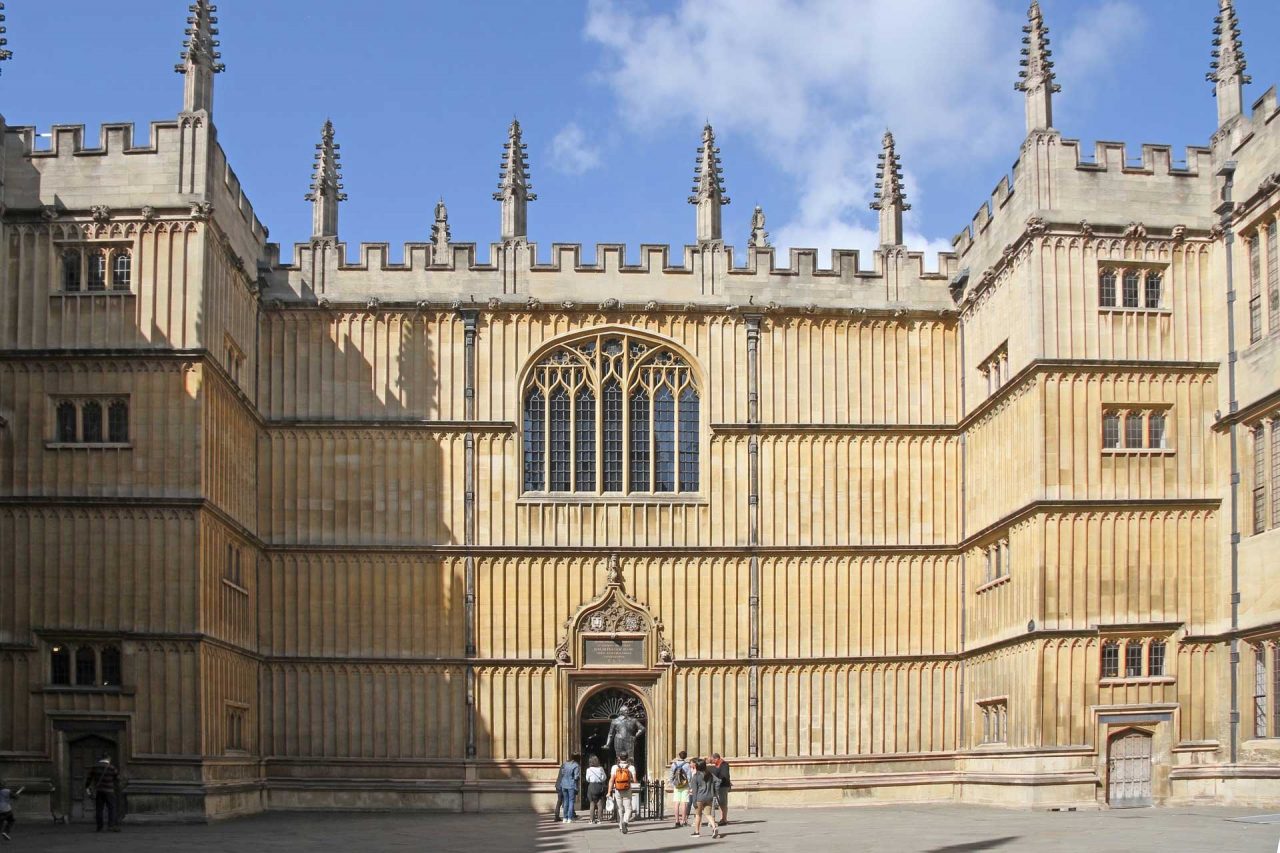 Harcourt Arboretum
This is a lovely park that is owned and operated by the university. Not many tourists visit Harcourt Arboretum, primarily because it is 8.8km (5½ miles) south of the city and because the admission charge is fairly pricey (for what it is).
Museum of the History of Science
The Museum of the History of Science occupies the world's oldest building that was purpose-built for a museum (it originally was home to the Ashmolean Museum). The museum's highlight is Albert Einstein's blackboard.
Oxford Botanic Garden
This compact botanic garden near Magdalen College is a lovely spot that was the inspiration for many writers including Lewis Carroll, JRR Tolkien and Evelyn Waugh.
Oxford University Museum of Natural History
The excellent Museum of Natural History is home to many important fossils and dinosaur skeletons but the highlight is the world's most complete remains of a single dodo.
Pitt Rivers Museum
Adjoining the Museum of Natural History, the Pitt Rivers Museum is a traditional Victorian-era museum that is home to the United Kingdom's largest collection of archaeological and anthropological artefacts.
Radcliffe Camera
The Radcliffe Camera is one of Oxford's most recognisable buildings. It is part of the Bodleian Library complex but it is not open to the public unless you take one of the guided tours that operate only four times per week.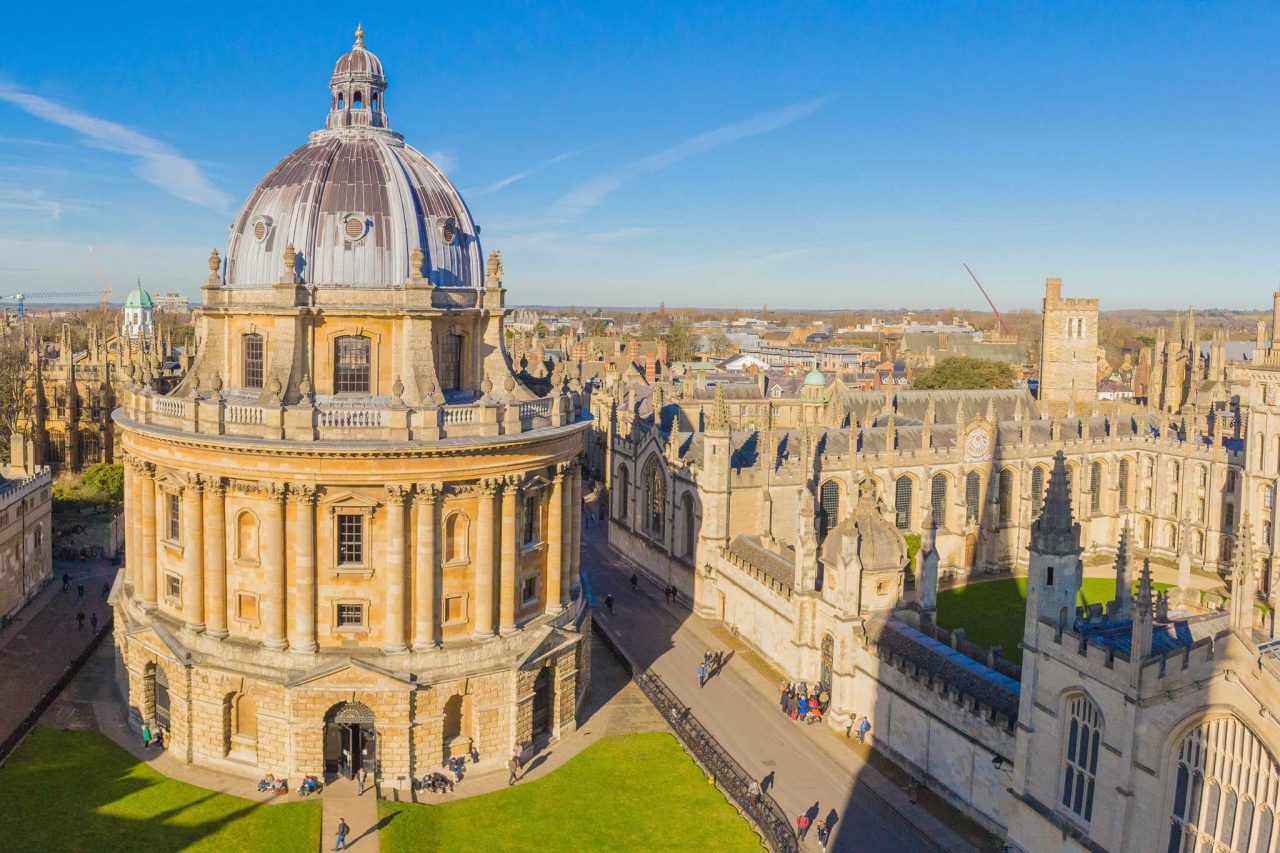 Sheldonian Theatre
The Sheldonian Theatre was built for university events and functions such as graduation ceremonies. Although you can attend concerts and theatre productions here, most visitors come to see the cupola above the centre of the roof, which offers spectacular 360º views over Oxford.
University Church of St Mary the Virgin
Most people visit the 13th-century University Church of St Mary the Virgin to climb the 127 steps to the top of the tower for spectacular views over Oxford including a brilliant view of the Radcliffe Camera.
Visiting colleges at the University of Oxford
The University of Oxford is different from many other universities in that it is a collegiate university. This means that it doesn't really have a central campus like many other universities and its functions are split between a central administration and a number of constituent colleges.
These colleges have a certain degree of independence from the university. Membership in a college gives the student a sense of identity within the university and inter-collegiate rivalry and sporting competitions are a big part of student life at Oxford. However, the function of a college is much greater than a house at a high school.
Colleges at Oxford provide accommodation for students and most colleges also have chapels, dining halls and libraries and many also operate bars, sporting clubs and other facilities for their students. Most importantly, colleges are not social clubs but an integral part of the university as colleges run their own tutorials and courses with the broader university body providing support services and facilities such as libraries and research facilities.
All students and most academic staff must be a member of one of the University of Oxford's 38 constituent colleges and six halls. Most of a student's life at Oxford will be spent at their college with accommodation on campus and courses taken at their college, although their degree will be issued by the University of Oxford.
Many colleges allow tourists to visit, although visiting hours will be restricted and only specific parts of the college will be open to the public. However, some colleges do not allow visitors unless by appointment from prospective students.
Christ Church is the most popular college with tourists, attracting over half a million visitors every year. It is the most expensive to visit and the most crowded (visitors must follow a strict one-way system) but it is the best organised and a visit here lets you see many historic buildings (some dating from the 12th century) that were the inspiration for literature (both Alice's Adventures in Wonderland and the Harry Potter books drew inspiration from Christ Church) and have appeared in film (scenes from The Golden Compass and the Harry Potter films were shot here).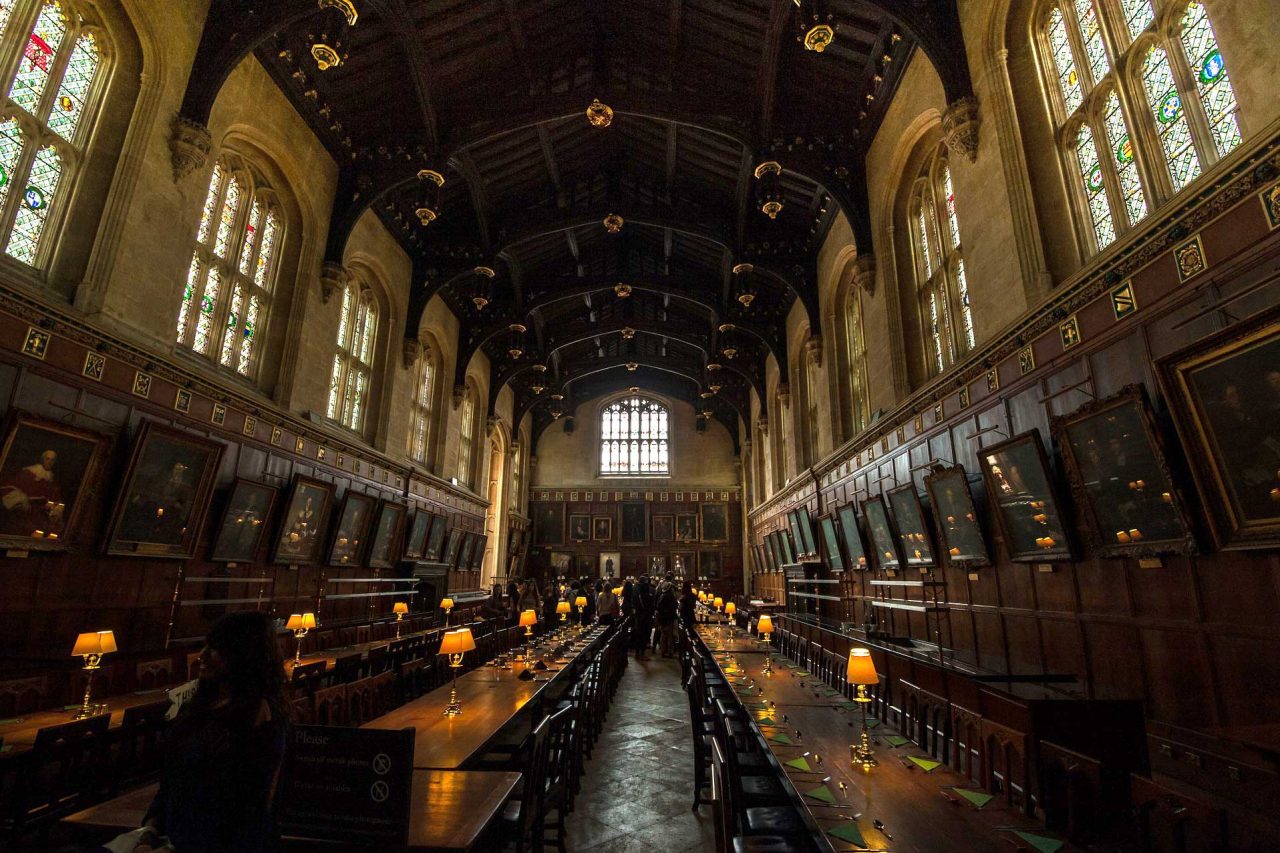 Christ Church is probably the first choice for most people choosing to visit a college at Oxford, but there are many others that you can visit.
If you're spending a few days in Oxford, we recommend that you visit a few of them to gain a broader insight into the university. If you have the time, you should visit Christ Church, one of the colleges with no entry fee (such as All Souls or Exeter College) and another of the colleges that you have to pay to visit (such as Balliol, Magdalen, Merton, New College or Trinity).
The following are some of the more popular colleges at Oxford that accept visitors:
College
Admission charge
Visiting hours
All Souls College
Free
Mon–Fri & Sun 2pm–4pm
Balliol College
£3
10am–5pm (or dusk, whichever is sooner) daily
Brasenose College
£2
term time Mon–Fri 10am–11.30am & 2pm–4.30pm (5pm during British summer time), Sat–Sun 9.30am–10.30am & 2pm–4.30pm (5pm during British summer time)

non-term time Mon–Fri 10am–11.30am & 2pm–4.30pm (5pm during British summer time), Sat–Sun 10am–11.30am & 2pm–4.30pm (5pm during British summer time)
Christ Church
£8–£10
Mon–Sat 10am–5pm, Sun 2pm–5pm
Exeter College
Free
2pm–5pm daily
Jesus College
£3
2pm–4.30pm daily
Keble College
Free
2pm–5pm daily
Magdalen College
£6
an–late Jun 1pm–dusk or 6pm daily (whichever is earlier); late Jun–late Sep 10am–dusk or 7pm daily (whichever is earlier); Oct–Dec 1pm–dusk or 6pm daily (whichever is earlier)
Merton College
£3
Mon–Fri 2pm–5pm, Sat–Sun 10am–5pm
New College
£5
10.30am–5pm daily
Oriel College
£2
Jan–mid-Apr & Jul–Dec 2pm–4pm daily
St John's College
Free
1pm–5pm daily
Trinity College
£3
10.30am–noon & 1pm–4pm daily
Highlights of the colleges at the University of Oxford include:
The great dining hall at Christ Church, which was the inspiration for the Mad Hatter's Tea Party in Alice's Adventures in Wonderland and is also the room that Hogwart's Hall in the Harry Potter films was modelled on.
Tom Quad at Christ Church, Oxford's largest quadrangle.
The 19th-century chapel at Exeter College, which was inspired by Sainte-Chapelle in Paris.
Oxford's longest dining hall at Keble College.
The medieval chapel with its ornate carvings and stained glass at Magdalen College.
The Grove, just north of the main college buildings at Magdalen College where you can often spot deer if you visit during winter and spring.
The world's oldest quadrangle at Merton College, which all other quadrangles are modelled.
The Cloisters (dating from 1400) at New College, which features a 19th-century tree used in a scene from Harry Potter and the Goblet of Fire.
The 14th-century chapel at New College.
The original 12th-century city walls at New College.
The 15th-century Front Quadrangle at St John's College.
The Lamb and Flag pub on St Giles, which is owned by St Johns College and open to the public with profits funding the college's scholarship programme.