Despite constant grumbling from Londoners, London has a brilliant public transport system that is comprised of buses, trains, trams and the underground.
If you're planning on spending longer than a week in London, you should consider either getting an Oyster Card or using Apple Pay or a contactless payment credit card. Transport fares paid using Oyster Card or a contactless payment card are substantially lower than the regular cash fare.
Bus
London's double-decker buses are a tourist attraction in their own right and riding on the top deck is a must for every traveller. Although slower than the tube, buses are an excellent way to get around London since they give you a totally different perspective of the city.
The destination, along with major stops, is indicated on the panel on the front and sometimes the back of each bus.
Bus fares on London buses are £1.75 with an Oyster card or contactless debit or credit card. You can't use cash to pay your bus fare. These fares allow you to make unlimited bus and tram journeys within one hour of touching on, in other words it doesn't cost any extra to transfer to another bus route as long as you hop on the second bus within an hour of hopping on the first one.
Although train and tube services stop shortly after midnight, there are a number of bus route that operates throughout the night. These night buses have route numbers prefixed with the letter "N" and run from around 11pm to 6am. Most night buses stop in Trafalgar Square, which makes this the place to head for if you're in Central London and you don't know which bus to get.
There are also a number of touristy bus services that operate a circuit of the major tourist attractions. They give a running commentary, which some people may find entertaining and the open-top double-deckers provide excellent photo opportunities. Although these tourist buses may seem like a good idea at first, they are a bit tacky, they don't give you the opportunity to mingle with the locals, and most importantly they are expensive. It's a much better idea to grab a Travelcard (or use an Oyster card or another method of contactless payment) and take a regular bus and spend the money you've saved down at the pub!
Because so many local buses pass by Central London's top sights, some local bus routes (including buses 8, 9, 11 and 24) offer great low-cost alternatives to the expensive hop-on-hop-off tour buses. Click here for a great overview of the top scenic bus routes in London.
Tram
The Tramlink tram service operates around Croydon in the southern suburbs and it is unlikely that you will use this service. Fares are the same as the bus.
The Underground
The London Underground or the tube is the world's largest public transport network. Commonly referred to simply as 'the tube', the Underground network is made up of 11 lines plus the Docklands Light Railway which provides an elevated network in the East End. Each line in the London Underground is named and indicated by a different colour on tube maps that appear at stations and on each train carriage. Because each line generally runs on its own tracks, you will have to follow the signs to transfer to a different line.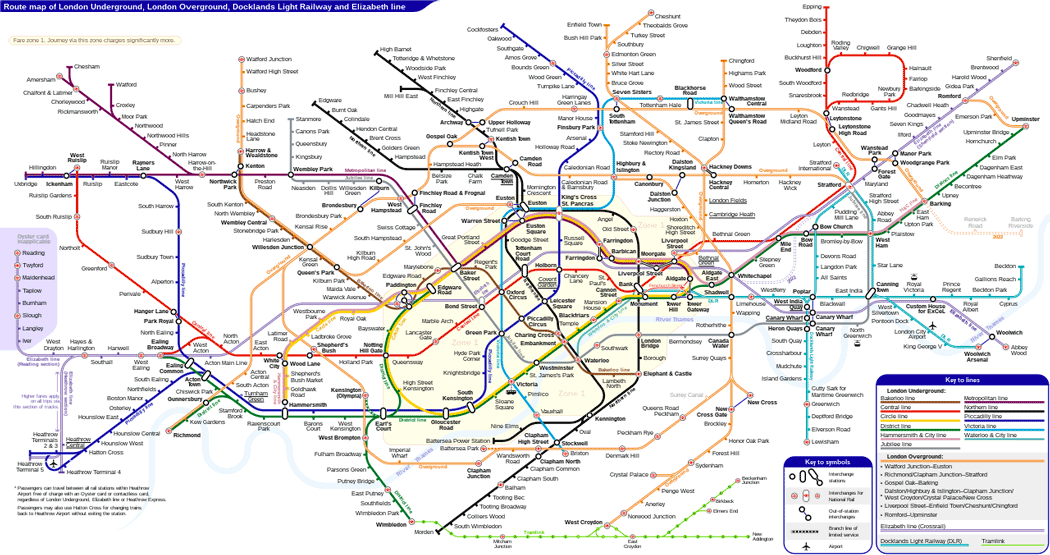 Some stations on the Underground network have curved platforms. This means that trains don't always stop flush to the edge of the platform creating a gap between the train and the platform. It is a good idea to pay attention to avoid falling into the gap when getting on and off your train. This has led to the Underground's most popular public safety announcement "mind the gap".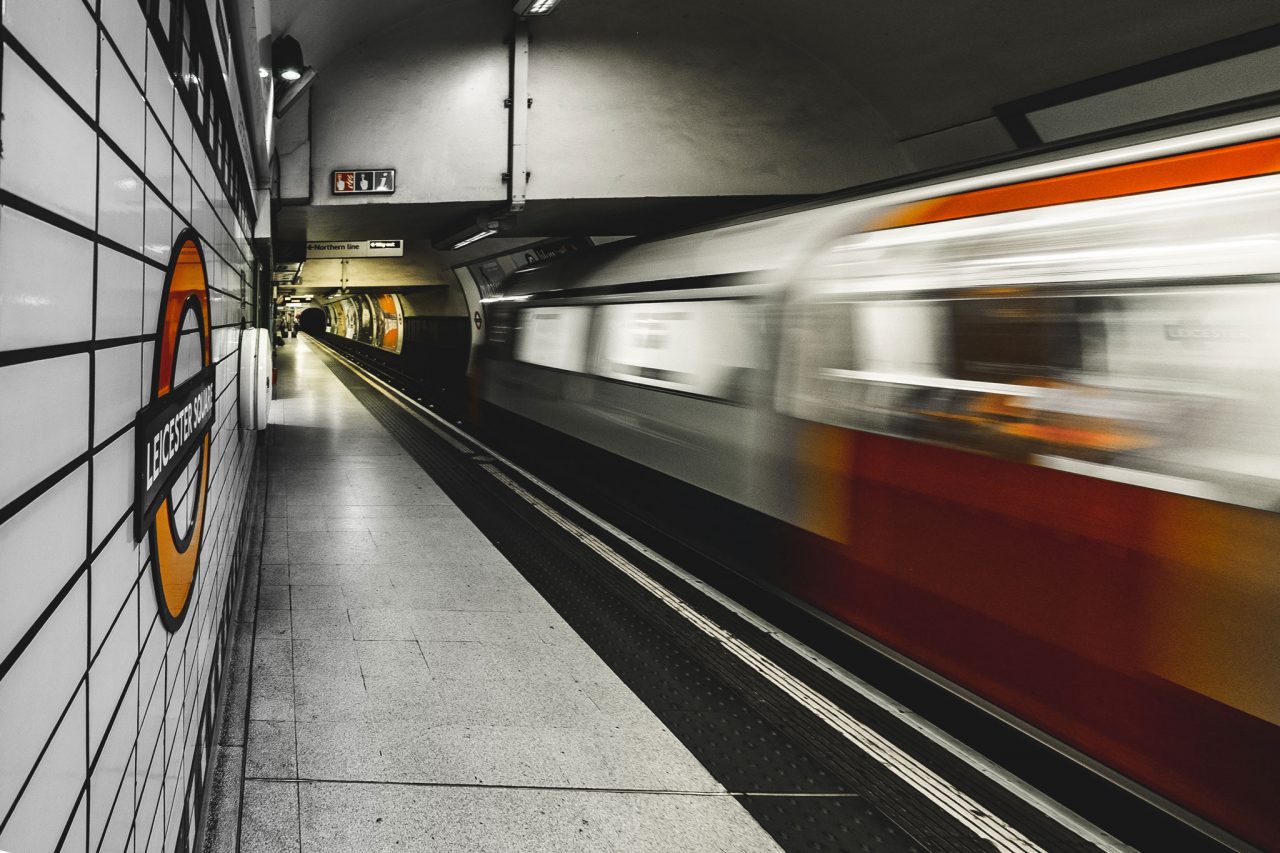 Suburban trains
London's suburban trains are run by several different companies and carry more commuters than the London Underground. Suburban train services fill in areas that aren't covered by the underground and generally run every 20 minutes or so, with more frequent trains operating the closer you get into central London. Trains on some routes (such as Waterloo to Clapham Junction) run as frequently as the tube.
The London Overground is a network of suburban rail lines (running a circular route through north and south London and also incorporating the former East London line of the London Underground) that are more closely integrated with the underground system than other suburban train lines. The London Overground appears on most tube maps.
The Elizabeth line is another rail line that is closely integrated with the tube network. This line is sometimes referred to as Crossrail (the name of the construction project) and its overground sections were previously known as TfL Rail before the full Elizabeth line was opened in May 2022. The complete line runs underground through Central London from Reading and Heathrow Airport in the west to Shenfield and Abbey Wood in the east, although you currently need to change at Paddington if you're travelling the full length of the service.
Thameslink is also closely integrated with the tube network. In many ways it is like a north–south version of the Elizabeth line running from Bedford, Luton, St Albans, Peterborough and Cambridge in the north to Gatwick Airport and Brighton in the south with the central portion of the line running underground through central London. This line appears on most tube maps and trains run at the same frequency as the tube along the central portion of the line.
Suburban trains are handy if you want to go to places in south London, if you're staying with friends or relatives in the suburbs or if you want to get to attractions outside central London such as Eltham Palace or Hampton Court Palace and the attractions in Greenwich.
Oyster card and contactless payment are accepted by virtually all suburban train services, the few exceptions include airport services such as the Heathrow Express, Gatwick Express and Stansted Express trains.
River ferries
The Thames Clipper ferry links piers along the River Thames, running from Putney, Wandsworth and Chelsea in the west to the Docklands, Greenwich and Woolwich in the east with the main commuter services run between Putney and Blackfriars Millennium Pier, between Battersea Power Station and the Tower of London and between Westminster and Greenwich (via Canary Wharf). There are also ferries operating between the DoubleTree by Hilton Docklands hotel and Canary Wharf.
Ferry fares range from £5.20 to £15.10 although tourist river cruises are more expensive. Some of these ferry services are co-branded with Uber and can be paid for using the Uber app.
There are also several shorter ferry services including a ferry linking the DoubleTree by Hilton Docklands hotel with Canary Wharf and a cross-river ferry at Woolwich. These short hops cost £3.80 each way.
The River Roamer ticket is an all-day pass that gives you unlimited all-day travel on river ferries for £21.20. Although it's not ideal for most visitors to London, it is a good option if you're staying at a hotel outside Central London that is close to the ferry route, such as the Crowne Plaza London Battersea.
IFS Cloud cable car
The IFS Cloud cable car (formerly known as the Emirates Air Line) is a suspended cable car that operates a short route in the Docklands offering a unique perspective of London. The fare is £6 each way and cable car fares are not included in your Oyster/contactless daily cap.
Fares
Fares are based on a zone system with six zones in the London area. Everything you are likely to want to travel to is located in zones one and two.
A single ticket valid for zone one on the tube costs £2.80 peak or £2.70 off-peak. One-way ticket prices for other zones are as follows:
| Zones | Cash fare | Oyster/contactless payment (off-peak) | Oyster/contactless payment (peak) |
| --- | --- | --- | --- |
| 1 | £6.70 | £2.70 | £2.80 |
| 1–2 | £6.70 | £2.80 | £3.40 |
| 1–3 | £6.70 | £3 | £3.70 |
| 1–4 | £6.70 | £3.20 | £4.40 |
| 1–5 | £6.70 | £3.50 | £5.10 |
| 1–6 | £6.70 | £5.60 | £5.60 |
As you can see from the above prices, the tube can be a very expensive way of getting around town. However, there are a number of ways of reducing the cost of getting around London.
If you're not getting an Oyster card then a Travelcard is a much better deal than individual tickets (although the Oyster card is usually much better value). Travelcards allow unlimited travel during a set period but with an Oyster card or contactless payment (as long as you always use the same contactless payment card), you have a daily cap that is never more expensive than using a Travelcard.
Many visitors to London buy a Travelcard each day but using either an Oyster card or a weekly Travelcard a better option if you're staying more than a couple of days. If you're staying outside zone two, it is considerably cheaper buying an off-peak Travelcard for travel after 9.30am.
One-day Travelcards are not valid on night buses, although travel on night buses is included in weekly and monthly Travelcards.
Zones
Oyster/contactless
anytime daily cap
Oyster/contactless
off-peak daily cap
Oyster/contactless
weekly cap (Mon–Sun)
1–2
£8.10
£8.10
£40.70
1–3
£9.60
£9.60
£47.90
1–4
£11.70
£11.70
£58.50
1–5
£13.90
£13.90
£69.60
1–6
£14.90
£14.90
£74.40
1–7
£16.20
£14.90
£81
1–8
£19.10
£14.90
£95.60
1–9
£21.20
£14.90
£106.10
Zones
Travelcard
one-day anytime
Travelcard
one-day off-peak
Travelcard
seven days
1–2
£15.20
£15.20
£40.70
1–3
£15.20
£15.20
£47.90
1–4
£15.20
£15.20
£58.50
1–5
£21.50
£15.20
£69.60
1–6
£21.50
£15.20
£74.40
1–7
£27.20
£16.20
£81
1–8
£27.20
£16.20
£95.60
1–9
£27.20
£16.20
£106.10
You will need a Photocard if you are buying a monthly Travelcard or a seven-day rail-only season ticket. Photocards are available from tube stations, Oyster ticket shops and London Travel Information Centres.
Although the Travelcard represents big savings over individual tickets, the Oyster card (or contactless payment) is still a better value option because the Oyster card daily price cap is usually lower than the cost of the corresponding Travelcard. However, a Travelcard may still be a better option if you're staying in London for seven days but you're not staying from Monday till Sunday.
Oyster card, contactless payment cards and Apple Pay
If you're planning to spend a lot of time in London, the pre-paid Oyster card can save you a lot of money. Transport fares are substantially lower – in some cases, you can save up to two-thirds of the cash fare – when you pay using this smart card. For example, a short tube journey in central London costs £2.80 with the Oyster Card compared with the £6.70 cash fare. Daily price capping means the maximum you pay is £8.10 a day for travel in zones one and two. This is a great idea since you don't have to buy a day pass if you're not sure whether you are going to travel enough to get the value out of it.
The Oyster may not be worth it if you're only in town for a couple of days as it is easy to leave some credit on your card when you leave town, but it is a great idea if you're in London longer than a week or if you plan on returning.
An alternative to the Oyster card is to use a contactless payment card (such as an American Express, MasterCard or Visa with contactless payment technology) or a contactless payment app (like Apple Pay). Using these contactless payment cards/apps gives you the same price as using an Oyster card and this can be the most convenient option since you don't need to buy, top-up and carry a separate card. You can use Apple Pay on an Apple Watch or compatible iPhone (iPhone 6 or newer).
If you're using Apple Pay, you need to ensure that your Apple Watch or iPhone has enough charge to complete your journey as you'll be charged the penalty fare if your battery is drained and you are not able to touch out at the end of your journey.
Most contactless payment cards will work on London's transport network, however there some MasterCard and Visa cards issued outside the UK that do not support contactless payment. Also, note that contactless payment cards issued outside the UK may incur additional foreign transaction fees. If you have a contactless payment card issued in the UK, then this is usually the easiest option, but otherwise buying an Oyster card may be your cheapest option.
It is important to note that when using a contactless payment card (or Apple Pay) you should always use the same card to touch in and out for each journey as using separate cards means that your daily price cap may not be calculated correctly.
You are charged the full adult fare if you use Apple Pay or a contactless payment card. If you are eligible for a concession fare (such as a child or senior fare) then you'll need to buy an Oyster card.
Remember to validate your ticket or you could be up for a £80 fine (£40 if you pay within 21 days).
Taxis
London's black cabs are as famous as its red double-decker buses, and many visitors consider a ride in a black cab all part of the London experience. Unlike taxi drivers elsewhere, London cabbies can't get their licence until they've passed a rigorous test called 'the knowledge'. Getting the knowledge involves 2–3 years of studying a map for three hours a day followed by another three hours whizzing around London on a scooter. By the time taxi drivers have graduated they know the shortest distance between any two places in London. Tipping isn't always expected although it is commonplace to add an extra 10%.
Minicabs are a cheaper alternative. Because they are unlicensed they are not allowed to pick up passengers off the street (although many minicabs hang around pubs at closing time) and you generally have to call them or wait for them at the office of a minicab company. Minicabs don't have meters so you'll have to negotiate a rate beforehand. Don't expect the professionalism of a black cab.
Santander Cycles
The Santander Cycle hire scheme is a ubiquitous bicycle hire service that is operated as part of Transport for London's overall transport strategy. It comprises 11,500 bikes that are available from 750 docking stations and it is a flexible option for short trips around central London.
It costs £1.65 for unlimited journeys of up to 30 minutes each within a 24-hour period. Journeys over 30 minutes are charged at £1.65 for each additional 30-minute period.
For most visitors to London, the Santander Cycles app is the easiest way to hire a bike and the app is also a handy way to find your closest docking station and check the availability of bikes.
You can also hire a bike by using the terminals at the docking station with payment by credit card. These terminals do not accept contactless payment by devices such as phones and watches so you will need to have a physical debit or credit card with you to book a bike.
If you live in London you can get an annual membership for £90 that gives you a year of unlimited rides and there are discounts on your annual membership if you are a student studying in London or if your membership is subsidised by your employer. Having an annual membership gives you a membership key that can be inserted in the docking station, which is the easiest way to access the system.
There is a charge of up to £300 if you fail to return your bike or if it is returned damaged.
The service is named after the bank that sponsors it (previously it was called Barclays Cycle Hire), although the bikes are colloquially known as Boris bikes after Boris Johnson who launched the service during his time as Mayor of London.
Driving
Although driving is one of the best ways to explore Great Britain, most travellers sensibly choose to avoid driving in central London. Although there is a fairly comprehensive network of motorways radiating from the outer suburbs, which are joined by the M25 Orbital Motorway (ring road), there are no motorways that run through the centre of town and this results in bottlenecks and traffic jams.
Congestion charge
In an effort to reduce congestion, a daily congestion charge of £15 is levied on every car driven into a designated area in central London. You are required to pay the congestion charge if you drive or park in the congestion-charging zone between 7am and 10pm Monday to Friday. Motorbikes and scooters are exempt from this levy.
A map showing the boundaries of the congestion charging zone is available for download from the Transport for London website.
From 8 April 2019, there has been an additional charge levied on any vehicle that does not meet the Ultra Low Emission Zone (ULEZ) standards. This will even apply to vehicles that wouldn't normally have to pay the congestion charge (such as motorcycles and scooters). The ULEZ charge is £12.50 per day for cars, motorcycles and smaller vans and minibuses but the charge is higher for larger vehicles such as coaches and lorries.
This generally isn't a problem for most people with a rental car as most petrol cars produced since 2005, motorcycles produced since 2007 and diesel cars produced since 2015 meet ULEZ standards. You can check if your vehicle meets ULEZ standards here.
The ULEZ zone is larger than the congestion charging zone and you will have to pay both the congestion charge and the ULEZ charge if you drive within the congestion charging zone (which also overlaps with the ULEZ zone). You can check the ULEZ zone here.
Payment may be made by sending a text (SMS) message from your mobile phone; however you first have to register your name, address, credit card and vehicle details either by phone (0343 222 2222) or online. Alternatively, you apply for CC Auto Pay, although this is designed more for residents and other frequent users and is not a popular option for visitors to London.
If you're planning on renting a car in London to explore Great Britain, it is a good idea to make sure that the rental car office you're picking the car up from is located outside the congestion charging zone to avoid having to pay the charge.
If you are renting a car outside London and will be visiting the capital, your best option is to stay at a hotel outside the congestion charging zone and take a train into town. There are some hotels in London's outer suburbs with free parking and excellent transport connections (in some cases these hotels are right next door to railway stations) and these hotels are usually a lot cheaper than staying in central London.