The Chatsworth Hotel is a large hotel right on the Hastings seafront. It is a cheap place to stay with an excellent central location but it is dated and in need of a thorough renovation.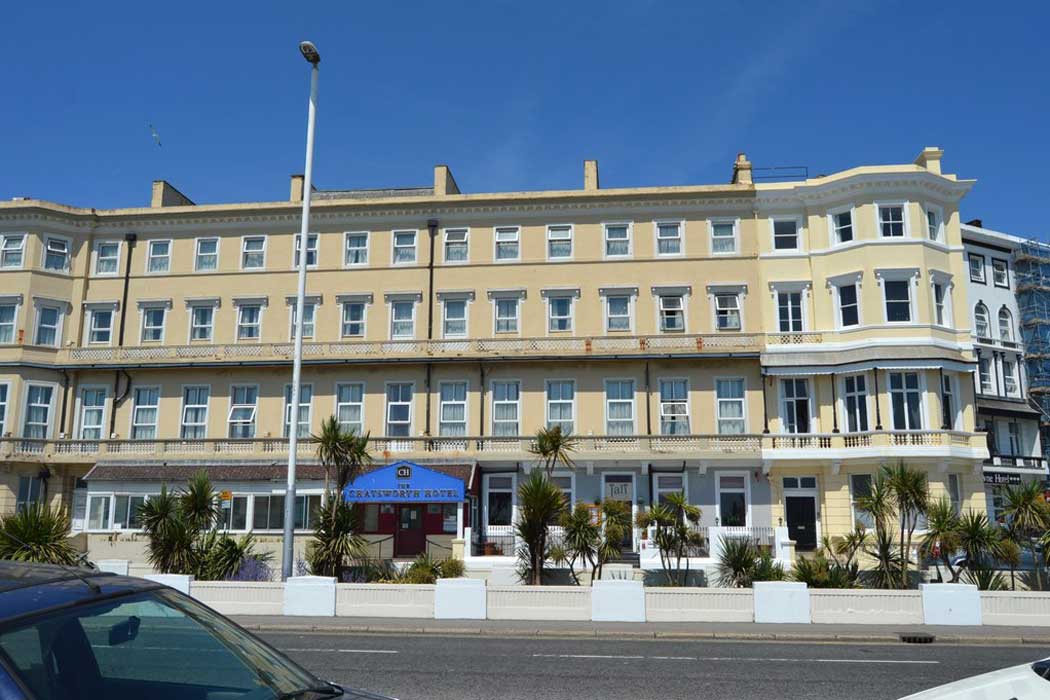 The hotel's 52 guest bedrooms have televisions and tea and coffee making facilities plus en suite bathrooms, although the showers are awful with mouldy tiles, rusty taps and enamel peeling off the bathtubs.
Free Wi-Fi wireless internet access is available but only in the reception area.
When you walk into the place it feels like it hasn't been renovated since the 1970s but it is clean enough and the sea view is better than what you get with hotels that cost 10 times as much (although the view from rooms at the rear of the building is utterly depressing).
In general, the hotel is poorly maintained with stained carpet, plaster falling from the walls and mould growing on the ceilings. Corners have been cut with what minimal maintenance has been done to the hotel with damp and water penetration simply painted over rather than repaired properly.
There is an Indian restaurant (Jali Indian) on the hotel's ground floor. The restaurant is not operated by the hotel and it appears to be much nicer inside and it generally is regarded as one of Hastings' better Indian restaurants.
The Chatsworth has a great location on the seafront within walking distance to most points of interest in Hastings. Most of the town centre is not much more than a five-minute walk from the hotel, the railway station and Hastings Museum and Art Gallery are a 10-minute walk, Hastings Castle is a 12-minute walk and the main attractions in the Old Town are around a 15-minute walk away.
This hotel really needs a good renovation but with that sea view, if it were properly renovated it would treble in price. Despite its drawbacks, it is nice that Hastings has such a cheap seafront hotel even if it means dealing with peeling paint and rooms that smell vaguely like old people's pants.
Check prices and availability for The Chatsworth Hotel
Check prices and availability on hotels.com for The Chatsworth Hotel in Hastings, East Sussex.
We may earn a small commission if you book your hotel after clicking this link.