London City Airport (LCY) is London's most centrally located airport but is almost exclusively used for business flights to Europe. City Airport's big advantage is that it has a shorter check-in compared with most other airports and it is also the closest airport to the City, the Docklands and East London.
London City Airport mostly has short-haul flights to European business destinations such as Amsterdam, Berlin, Dublin, Düsseldorf, Edinburgh, Frankfurt, Geneva, Glasgow, Luxembourg, Milan, Paris, Rotterdam and Zurich although there are now some seasonal flights to leisure destinations such as Palma de Mallorca, Menorca, Mykonos and Santorini and British Airways have a business class-only flight to New York.
Most flights from London City are operated by British Airways, although the airport is also served by Air Antwerp, Alitalia, CityJet, KLM, LOT Polish Airlines, Lufthansa, Luxair, SkyWork Airlines, Swiss International and TAP Air Portugal.
It is London's smallest, and the city's fifth-busiest, airport.
Facilities at London City Airport
London City is a small airport with a single terminal although it has all the necessary facilities such as shops, bars, cafes and restaurants. Like all international airports in the United Kingdom, this airport has branches of Boots and WHSmith and there is also a duty-free shop and shops selling luggage and travel accessories.
Bars, cafes and restaurants at London City Airport include Brick Lane Brews, The City Bar & Grill, Caffè Nero, Doughnut Time, Illy, Pilots Bar & Kitchen and Pret a Manger.
There are business and first-class lounges that anyone can access (provided they pay the entry fee) all with a selection of free food and drink and there is also a British Airways lounge that is used primarily for passengers on the British Airways flight to New York. However, this airport does not have any lounges that you have access to by showing a Diners Club card or Priority Pass membership.
Getting to and from London City Airport
The easiest way to get to London City Airport is by the Docklands Light Railway (DLR). DLR trains depart every eight to 15 minutes and the journey time to Bank station in the City is 21 minutes. The fare with contactless payment or an Oyster card is £3.30 during peak hours and £2.80 off-peak.
Hotels near London City Airport
There are 11 hotels within walking distance from London City Airport, the closest of these are a five-minute walk away and many of them are a 20-minute walk from the airport terminal.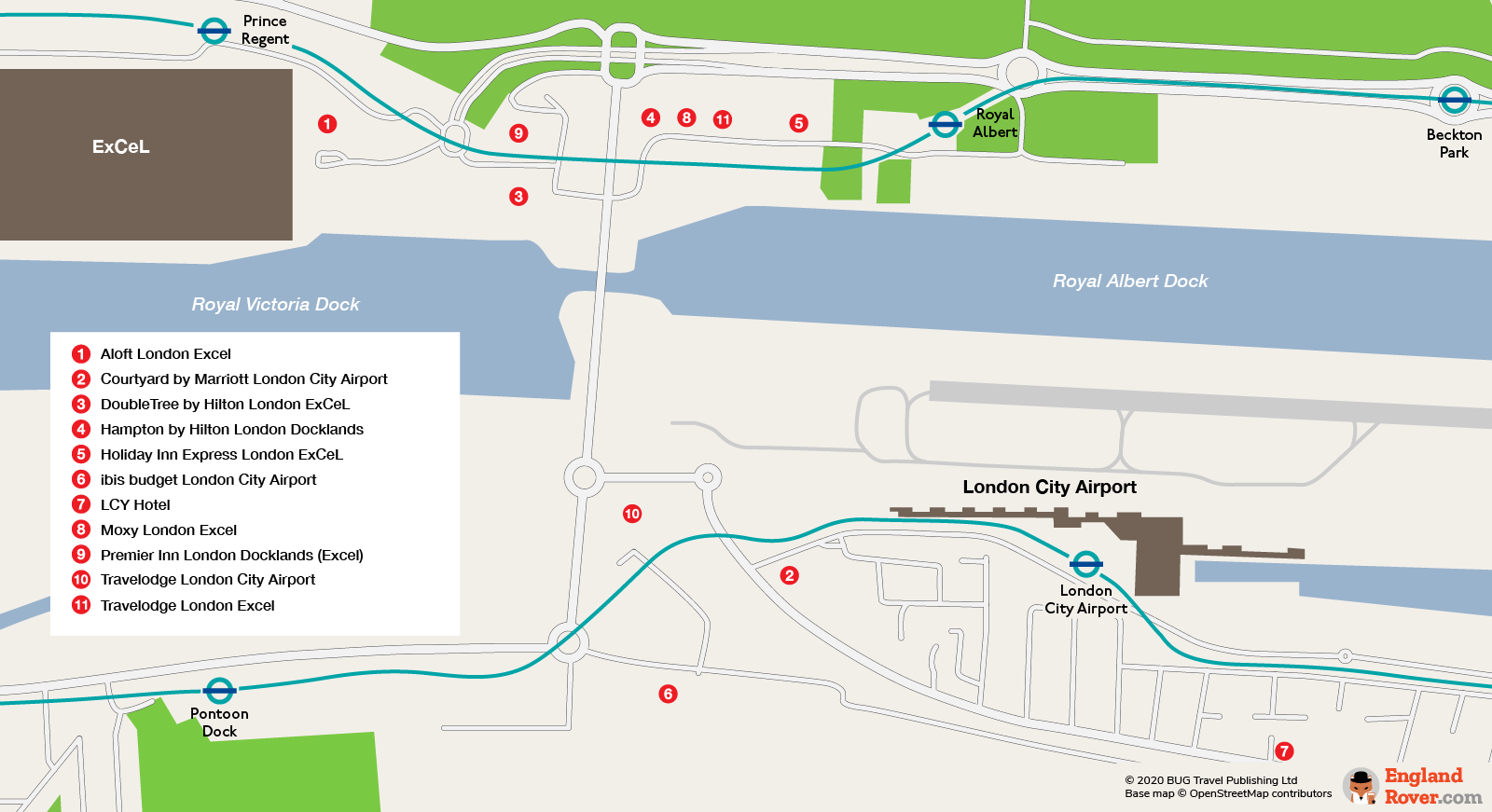 The closest hotel is LCY Hotel, which is less than a five-minute walk from the airport terminal, although the Courtyard by Marriott London City Airport hotel is not much farther away and offers a much higher standard of accommodation.
At a 10-minute walk, Travelodge London City Airport is the next closest hotel to the airport and the ibis budget London City Airport is a 15-minute walk from the airport terminal. Despite the airport catering mostly to business travellers, these two hotels are relatively cheap budget hotels.
However, the airport's proximity to the ExCeL exhibition centre means that there is a cluster of other hotels nearby that, although built primarily to cater to people visiting exhibitions at ExCeL, are also within walking distance to London City Airport. Because these hotels cater mostly to people visiting the ExCeL exhibition centre, prices can vary quite a bit depending on whether there are any events scheduled at ExCeL.
These hotels on the eastern side of ExCeL are located between a 15- and a 20-minute walk from the airport.
The ExCeL hotels cover a range of budgets from the budget Travelodge and Premier Inn hotels to the more upscale DoubleTree by Hilton and Aloft hotels with the Hampton by Hilton, Holiday Inn Express and Moxy covering the middle ground.
The walk to London City Airport is not a particularly pleasant one regardless of which hotel you're staying at and it can be difficult to find your way, particularly if you're making the trip after dark. Some people complain that not all the roads between the airport and the ExCeL hotels have pavements making the walk difficult, but there is a separate footpath that bypasses these roads and a footbridge that runs parallel to the Connaught Bridge. Once you've made the trip by foot once, it is pretty simple but many people give up and take a taxi, which should be not much more than a five-minute ride.